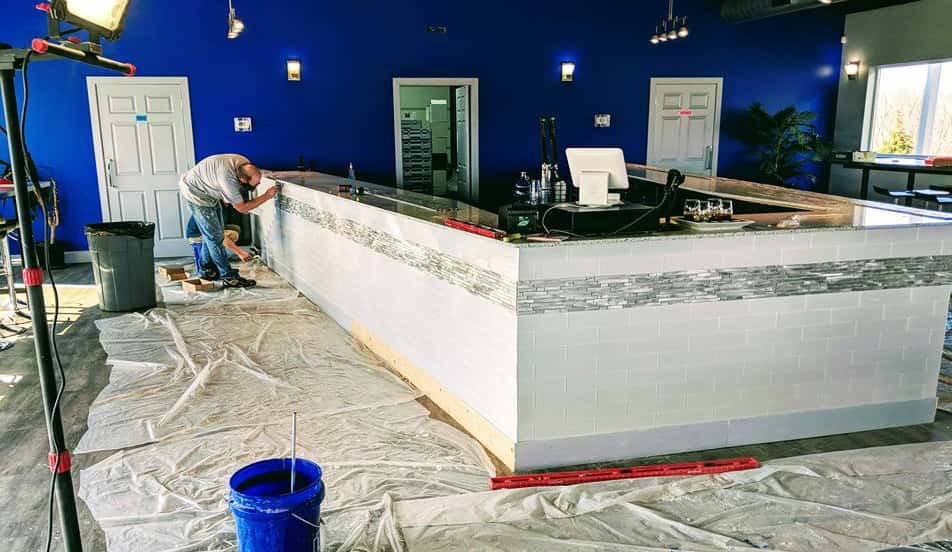 Since first launching Gravity Winery near Baroda seven years ago, Rockie Rick has been a veritable perpetual motion machine. He's always planting new ideas along with new grapes…he's always innovating to make the business bigger, stronger, better, and more welcoming to visitors along the Southwest Michigan Wine Trail and now he's growing once again.
Gravity's main tasting room alongside his rolling vineyards at 10220 Lauer Road in Baroda is getting a sister satellite operation coming to downtown South Haven late this spring or early in the summer season. Renovations for the new tasting room are already underway at 512 Phoenix Street in downtown South Haven. That's the space that was formerly McDonald's Drugs, and Rockie tells me you can expect a full tilt Grand Opening celebration when the tasting room is ready to roll. In the meantime, he's hiring for a Tasting Room Manager position there as well as a staff of outgoing, friendly people to welcome Wine Trail visitors to Gravity north.
Meanwhile, Gravity's main, 2,000 square foot tasting room has been undergoing a splashy makeover with an amazing new bar featuring a composite bar top that includes lots of recycled glass from Gravity's signature cobalt blue wine bottles and other fresh new looks. Even while renovations continue, the tasting room remains open for business on a regular schedule.
Rick is also adding an additional Vino Coach for 2018 to his ancillary operation at Fruitful Vine Tours of Southwest Michigan. The brand new luxury 14-passenger coach will be dedicated to taking guests staying in the South Haven area to wineries in both the South Haven and Fennville market areas. Rockie's plans are to launch those tours in June with a probable line up consisting of these stops along the trail:
Cogdal Vineyards
McIntosh Cellars
Fenn Valley Winery
Virtue Ciders
Fruitful Vine Tours will begin taking reservations for that route coming in April.
Gravity is a mid-sized vineyard and winery operation that raises approximately 35 acres of grapes and produces from 6,000 to 8,000 cases of still and sparkling wines annually. They also produce an assortment of hard ciders. They always pair their wine flights with cheese and chocolate samples to add to the experience, as well.
Gravity is currently on winter hour scheduling which has the tasting room open Friday, Saturday and Sunday from noon until 5pm or by special group reservation for larger groups. To learn more and find contact information, click the link below to see their website and more: