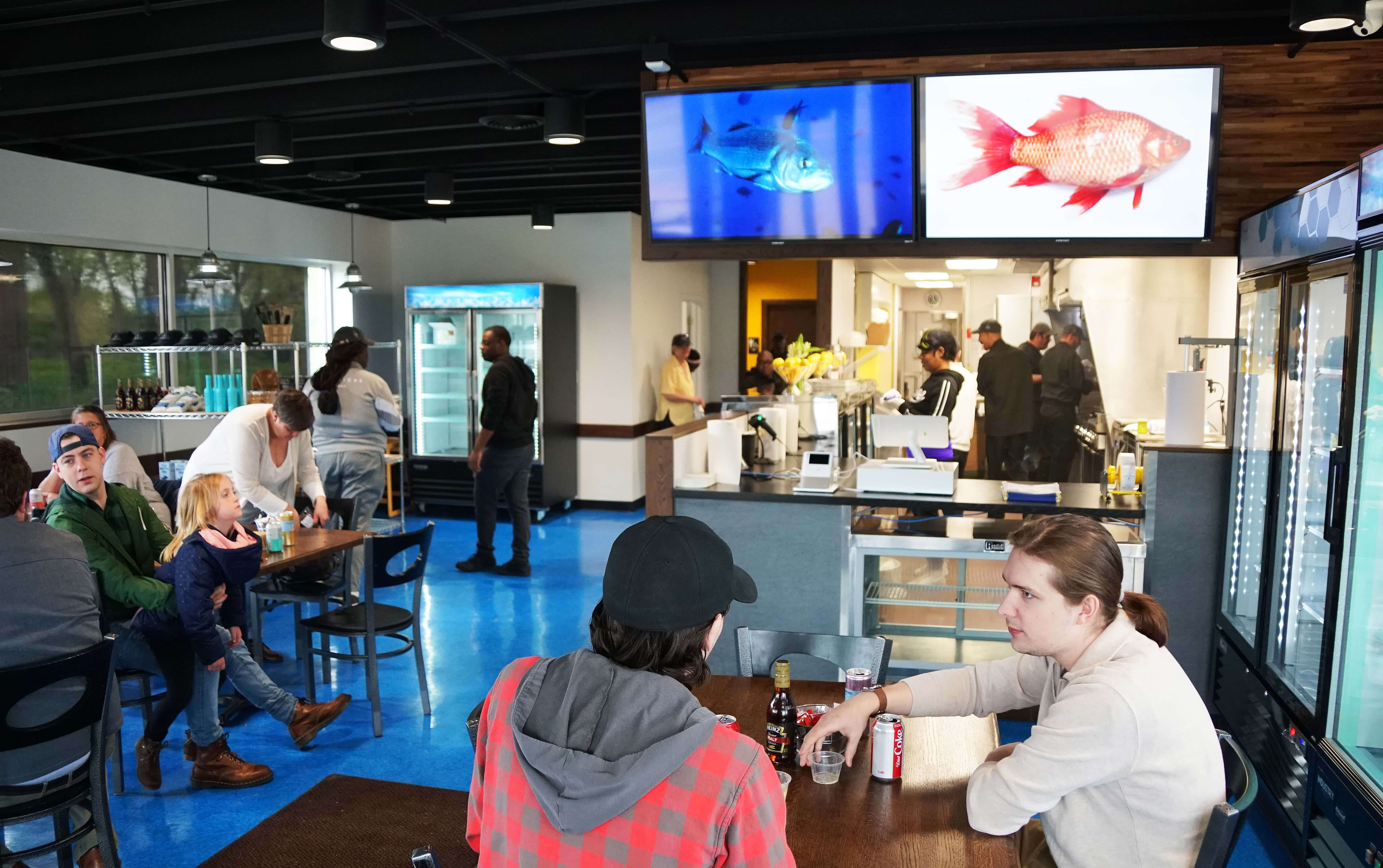 After three years of great success selling fresh fish from around the world to buyers around Michigan's Great Southwest, Harbor Country's Rachel Collins is expanding to meet the demand with a true north heading into downtown Benton Harbor, continuing the Main Street renaissance of recent years in that community.
Since 2016 Collins, who brings 30 years of experience in the seafood trade to the table, has operated Flagship Specialty Foods & Fish Market in Lakeside, is launching her second venture on Main Street in downtown Benton Harbor at what she is calling Flagship True North Fish Market. You'll find it at 325 W. Main in what most recently was the Mosaic on Main cafe. It's immediately recognizable by its soaring "Food" sign right outside.
Collins says, "We've had a wonderful experience since opening a fish market and gourmet to-go store in Lakeside, not far from New Buffalo, and we had a lovely group of people over the past three years coming in from Benton Harbor and St. Joseph —  a half hour each way just to get our fresh fish — so, I thought why not serve the local market?" She started the process last Labor Day, saying, "We looked around and finally found a really great place that seemed to be conducive to our set up, and thought, I'll just take the plunge." There was some negotiating that had to take place, because Mosaic wanted to sell the property outright, but she wants to make sure there's a good market for her product first by leasing for a year or two.
Opening day is tomorrow, Thursday, May 23rd, and she had a soft opening with invited guests to allow staff to train with crowds at hand. While there is in house food service, Collins nontes, "We are primarily a fresh and properly frozen fish market. We feature a lot of smoked fish, we feature all kinds of special shelf-stable products like sardines as well, that are generally seafood related, (not all of them), and we are known for our quality above all. Everything is extraordinarily fresh, and we're in the process of educating our new staff so they can be as helpful to customers as we are down in Lakeside, regarding whether its farmed, wild, where it comes from, where it lives, what are great ways to cook it. We also produce in-house — all of our recipes are scratch — we produce a lot of sauces, and relishes and topinades and things to go on your finished fish so you can really make a complete meal for yourself very easily even for the novice fish person."
Flagship True North Fish Market will be open from 11am until 7pm Wednesday through Sunday, and as the season progresses they'd like to add in Tuesdays, and then if possible, seven days a week for the heart of the high season, but they will be open all year round.
The nearly turnkey situation at Mosaic on Main attracted Collins who says, "This location happened to have a full restaurant kitchen, and we have what we like to think of as our Clam Shack Menu, with kind of a vibe as if you were heading out to the Hamptons for the weekend and you just pop into a little clam shack, so we have 8 or 9 things on the menu and may expand, but we are a scratch kitchen, and bring in absolutely clean, fresh seafood and we're offering amazing fish and chips, hand-cut fries, fresh fried clam strips, popcorn shrimp and just things that you can't find anywhere else and there's a small little dining area inside and we're happy to pack orders to go." Diners who choose to eat on site will place their orders at the counter and pick them up there as well.
Thanks to long running relationships with vendors, Collins promises you will get top notch seafood every day at Flagship True North in Benton Harbor. She tells me, "We source our fish from all over the world, which is really fantastic. I have a couple of key distributors that I work with who deliver every single day except Sunday, and that is a real treat. We have a long standing thirty year relationship, which is how long I've been in the seafood industry, and our relationship is very special, so I'm able to get smaller quantities of fish every day, so it comes in and it goes out and it's sold that day and there's never anything just sitting around, and it literally comes from all over the world."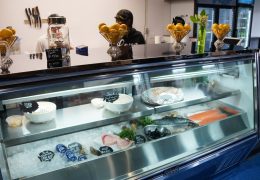 Further explaining her typical inventory, Rachel says, "We carry about half wild-caught and half ecologically-correct farm-raised fish, both are equally as good. I carry number one Ahi Tuna from the Indian Ocean, I can get Moon Fish and Opah and Wahoo from Hawaii and the Fiji Islands, and our Salmon is absolutely second to none. We carry live shell fish — Mussels, Clams and Oysters — and are also happy to get in customer orders and maybe we'll start to add that in about a month after we open and are all settled in. We'll have six or seven varieties of fresh fish every single day on offer, and five to eight types of smoked fish as well."
Talking about the difference between her dual properties, Rachel says, "In Lakeside the fish selection will be similar, we may be able to bring in more variety of species here, on an every day basis, but in Lakeside we also offer a gourmet to go section, which in our restaurant kitchen there we prepare separate entrees, sides, starches, vegetables and those are cooked and ready to go so you simply take them home, heat them up and enjoy them. We have that in addition at Lakeside." She adds, "We do quite a bit of catering in Lakeside, and we may grow into that here as well."
The seafood trade is in her blood all the way. She started young, noting, "My mother and I together started in 1985 —  when I was just getting out of college — an American Caviar company. So my background is caviar, and it was a very interesting position to be in because we dealt with everybody from one end of the spectrum being commercial fishermen, all the way to the manufacturing process and dealing with regulations from government agencies to sales and marketing, and getting to know chefs and retailers. So, in the course of 30 years you get to know a lot about fish, and fish-farming which is quite fascinating, and just really what a great business that you (pardon the pun) get hooked on! It's just such an amazing resource and one that people don't get access to, so it has really been my pleasure to be able to bring it to the communities that I'm in."
I asked Rachel if she has a particular favorite,to which she responds, "I like them all so much. I am particularly, however, fond of Sturgeon, a lot of people haven't had it. It is the famous fish that makes the black caviar, but it is an outstanding fish for eating and grilling, it's got a great fat content full of healthy Omega 3's and you can put it right on your grill and have it be charred crispy edges and wonderful, very, very good, very easy to cook and hard to ruin, and there are just so many things that I like. I adore shellfish as well, and in fact one of the items on our menu is a broth bowl with big, fat, plump east coast mussels and garlic and shallots and white wine, very nice. So, hopefully we can help people learn more about what they eat and what they may be missing out on. There's nothing like being a pioneer."
Nothing like it indeed. Having tasted her amazing recipe for fish and chips I can guarantee you she has mastered the perfect balance and you will go away extremely satisfied. Be sure to check out the amazing new Flagship True North Fish Market opening tomorrow, just in time for the Memorial Day weekend, in downtown Benton Harbor.