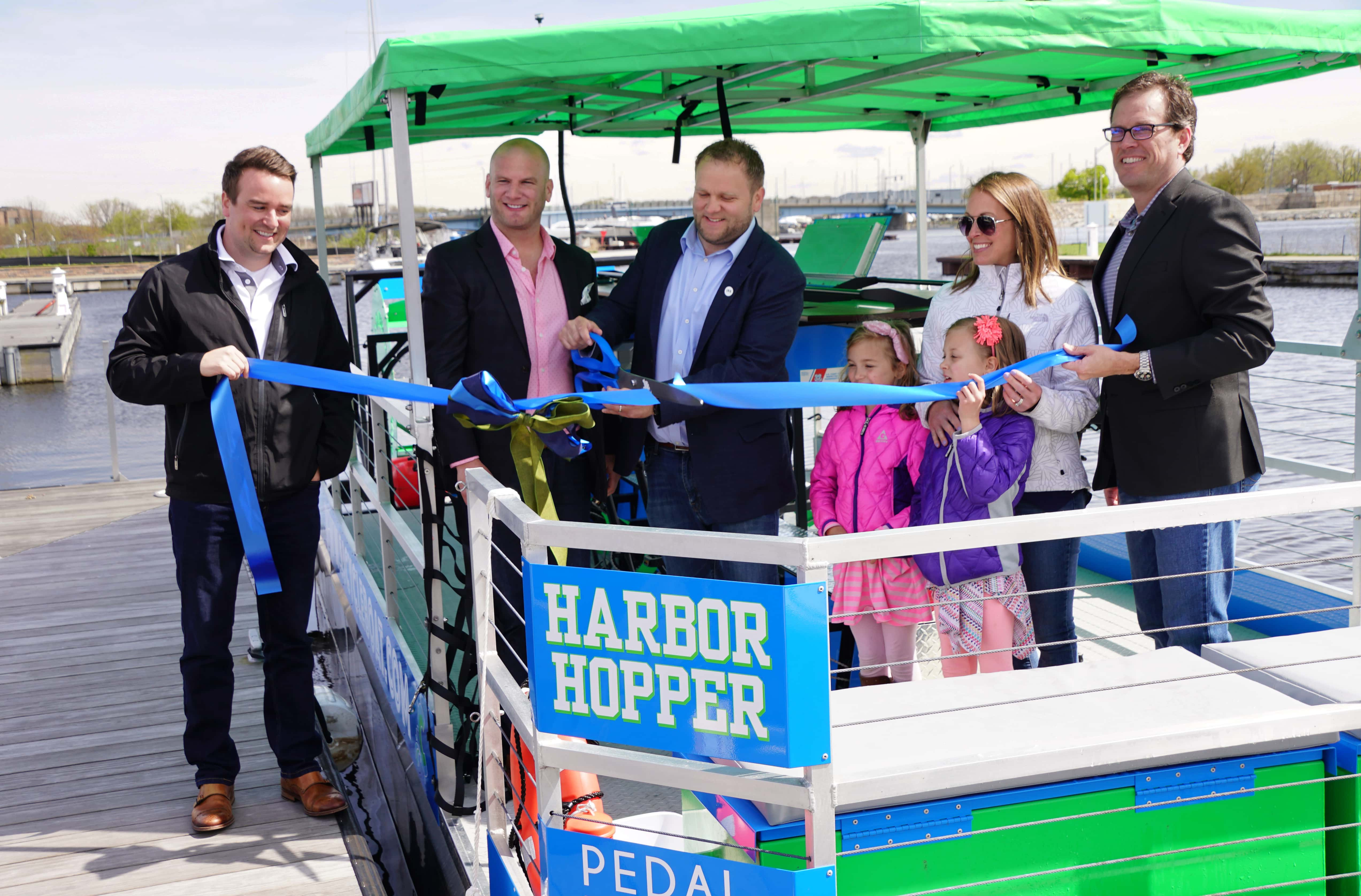 The Cohen brothers. family members and partners sliced a brilliant blue ribbon on this sunny Friday afternoon today commemorating the inaugural season of their new Harbor Hopper Cycleboat berthed at the Harbor Shores Marina alongside The Inn at Harbor Shores.
Brady and Brandon Cohen thanked Cornerstone Alliance the United Federal Credit Union for helping pave the way for their ambitious project designed to provide easier, fun, access to the waterfront in St. Joseph and Benton Harbor through their pedal-power cycleboat which made a maiden run on Blossom Parade Day last Saturday in a test outing.
Cornerstone Alliance President Rob Cleveland drove home the irony of it all when he referenced a major report on the importance of major ports in the Great Lakes and the economic impact involved in waterfront communities based on commerce driven by water access. That comprehensive new study shows a $19.7-billion economic impact, which is fully four times what previous studies have shown.
After watching the Cohen brothers christen their Harbor Hopper by breaking champagne bottles over the bow, and joining in the ribbon cutting ceremonies, Cleveland joined me at dockside to further delve into just how important this step onto the water is for the community, saying, "We've probably been underestimating the impact of the waterfront and the harbor, and it certainly speaks to all of the work that we continue to do in the harbor. It speaks to the importance of the harbor study that was done in 2015, the harbor charrettes that are being reviewed now, and how we can really maximize our waterways."
Cleveland, who has been working diligently to accomplish a designated DNR Water Trail for the waterfront locally says the economic impact is critical to the future viability of the entire community, noting, "It's the very reason that Berrien County and Abonmarche and Cornerstone Alliance and the Southwest Michigan Planning Commission over the last six months have applied for a Coastal Zone Management grant and a DNR Waterways grant."
The Cornerstone President says, "All of these activities are designed to create more infrastructure that will allow the public to be able to access the waterfront and waterways. It's key as we're trying to add more public space for people to access the water in whatever way they can, so the effort is really bringing this to the people so if you want to ride on the Cycleboat, if you want to do it yourself in a kayak, or you want to put your own boat in the water, the goal here is to try to meet people where they are and make it comfortable for them to access the water, making it far more accessible for everyone."
The new Harbor Hopper Cycleboat will certainly help get folks onto the water in a fun way. If this is the first you're hearing of the new operation, click the stories below for further details reported previously here on Moody on the Market:
https://www.moodyonthemarket.com/new-harbor-hopper-cycleboat-will-get-you-on-the-water-in-swm/
https://www.moodyonthemarket.com/swm-cycleboat-ready-to-debut-the-ultimate-lake-land-tour-opportunity/