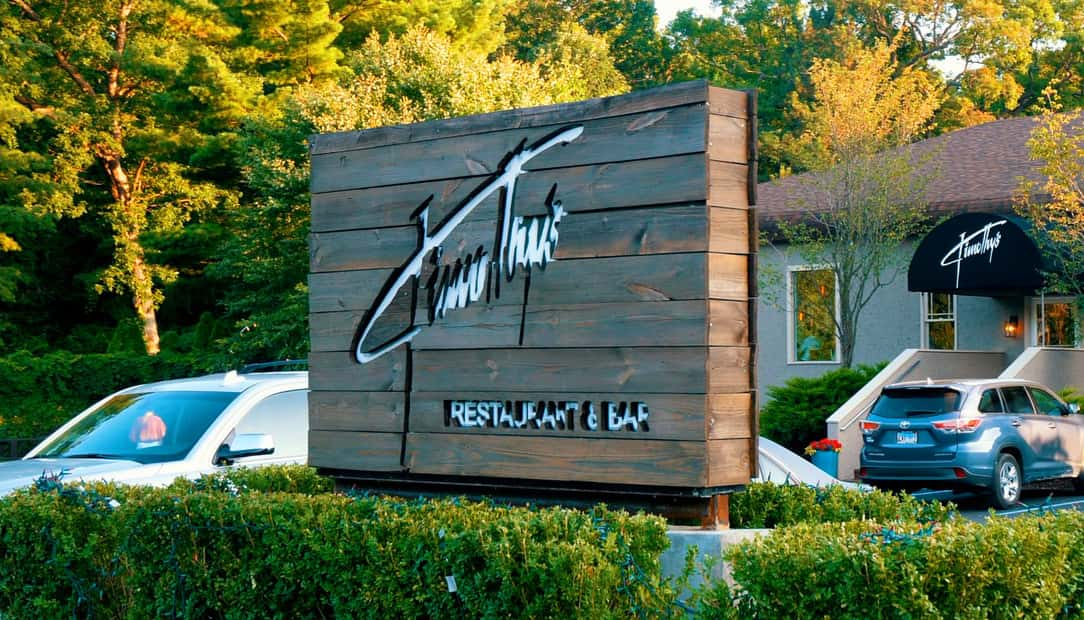 When restaurants and bars were first shutdown in Michigan under gubernatorial orders to Stay Home and Stay Safe, notable Southwest Michigan Chef & Restaurateur Tim Sizer knew immediately what he had to do. He didn't hesitate for one minute. That's what 19-years in business will do for you when you've seen it all.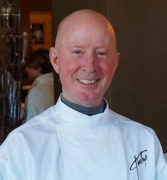 Sizer, who owns and operates Timothy's Restaurant at 16409 Red Arrow Highway in the Harbor Country community of Union Pier, tells me, "One of the first steps we took when this evolved in the middle of March, is on day one I called Taylor Rental and had them erect a tent out front, then had the gas expert put in a hard line for gas to operate a full kitchen outside, so we could cook right on the spot. I thought that would grab the attention of passers by, and eliminated the need for people to have to come inside to physically pick up their take-out orders."
Tim knew instinctively what to do because in the nearly two decades of roller coaster highs and lows precipitated by several disasters he's seen an uncanny degree of adversity side-by-side with exceptional traffic volumes and rave reviews for cuisine that has been pleasing palates across the region since his early days at the Gordon Beach Inn, a stone's throw from his current enterprise on Red Arrow.
Tim says, "Having been in this business for 19 years, you'd be amazed at what we've gone through. We've had fire, floods, cars crashing into the building, road closures, and just a lot of adversity. It's not all glamour and big money that lots of people see when they visit a successful restaurant."
It has been a rocky road at times. Timothy's original restaurant in the Gordon Beach Inn was only into their second year of operation when on the first day of August, his busiest month of the year, his entire kitchen burned down. He's apparently always had a remarkable resiliency because he says he immediately thought, "Okay, let's pick ourselves up and get through it." Amazingly, he had a contractor step in and do a spectacular job allowing them to get back open in just three weeks time.
Tim goes on, "Four or five years later we had a major summer storm, and in that neighborhood anytime you had any kind of a big storm you were down for a day or two or maybe three, but we ended up being down for 10 days at that time." Then, just a couple years after that the restaurant suffered such intense structural floor damage to the point that the health department came in and said you have to fix your floors, because it was just not safe. Tim says, "They closed us down for three weeks until we had another construction company come in and the landlord put in all new flooring."
But wait, there's more. Tim says, "Then there was the time I got a phone call from somebody that said they heard on a police scanner that somebody had just rammed their car through the front of the building on Red Arrow Highway."
Dumbfounded, Tim says, "You just end up in disbelief, and it's time and time again, but the only way you get to 19 years or longer in this business is when tragedy strikes, you just get up, dust yourself off, and you either have it in you to continue on or you don't." By way of explanation, he turns to those he admires the most, "If you look at the top restaurant people over the years, Emil Tosi, Marge Wiatrowski at Tosi's, Pete Racine at Grand Mere Inn, the Camp family at the Mark III…they've all faced adversity and issues to contend with over the years, but they are the kind of people that persevere, because the restaurant is in their blood. They survive and thrive when the average person would just throw their hands up and give in."
So, when the current coronavirus pandemic hit, Tim decided instantaneously, "I just couldn't stay closed. First of all, I'm not that financially stable, but it's not in my nature to close at all. That's why I called a tent company the next day and said I need a tent and I need it now, and we dragged our equipment out, fired up shop and marched forward." He adds, "I didn't want our clientele to have to face these hard times without our service as an option for them."
A fighter with great pride and dedication to his trade, Tim says, "I base my decisions on the fact that every day I have to get out of bed and go to work to figure out how to keep moving forward, because it's not in my nature to just give up. In fact, we're in a never-ending process of refinement, always working to make the business stronger, better, more attractive to the customer."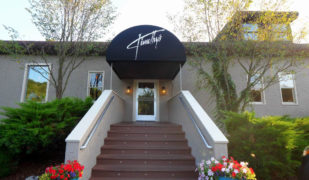 Timothy's Restaurant has become a very popular stop on many diner's "must go" list in Michigan's Great Southwest, and Tim was once again firing on all cylinders, hitting a great stride, finding the groove and operating optimally, only to have the pandemic hit.
Not only has he maintained a steady trade through curbside service at Timothy's, his visionary talents made him realize that even when they are allowed to re-open for dine-in business, the "next normal" is going to look a lot different than days gone by. He admits that he has ended up using much of the money he had saved up over the years in order to dramatically retrofit his restaurant and innovate his planning in order to re-open. He says, "We have to essentially start all over again to get people to come back."
Tim says, "Retrofitting everything for safety considerations was a lot of money for me, but it's always been a gut question of how can I not do this! I think our automatic doors alone will be highly appreciated. These are the types of amenities that you find in first-class airports, but not necessarily a lot of hometown restaurants."
Tim expects that a lot more will be opting to sit outside for their own peace of mind. "Fortunately," he says, "Our outside is really beautiful…but we've never done structured seating outdoors, having used groupings and benches, and the like. So, we're putting all of that and more like it that we ordered, all along the tree line in the grassy area out back."
Architect Chris Brooks did a schematic of Tim's backyard pad, called Jake's Backyard & Pizza Shack, and he's put traditional umbrella 2-top, 4-top, and 6-top tables spaced six feet apart for when they are allowed to reopen. Tim says, "That will be traditional seating where you would look out and see a dining room pattern layout. We have 52 seats out there, and we have space for an additional 50 guests or so, with social distancing, in the grassy area."
Sadly for Tim Sizer and restaurateurs all over the region, they're essentially flying blind, with no firm guidance on what will be expected and mandated by state law. He says, "To try to prepare for this, we're sort of blind. We don't know what the rules will be. So, we're streamlining all of our menus, for what's coming. It just won't be practical to maintain the full menu that we had come to offer. We don't know the capacity we'll be allowed. Plus, even though most of our people are ready to come back, we still don't know when to tell them to come back."
Nevertheless, he's been anything but idle. He says, "We're very close to being totally ready. I've actually spent more money getting ready to re-open than I did before we opened here on Red Arrow Highway. Anybody who is ahead of the curve for safety will draw more customers than those who are doing less for a safe experience, regardless of the quality of their product, so we want to make certain we are ready on every front."
Sizer had Brown's Locksmiths come in and install automated, hands-free, doors. He contracted  with City Plumbing to retrofit all of his faucets, toilets, and urinals converting them to hands-free, automatic operations, which was a substantial cost to undertake. He has re-paved the entire parking lot, painted inside, replaced all carpeting in the upper dining area, redone the bathrooms, and while little of that wasn't mandated for safety reasons, he says, "I just want people to know that we care and we're bringing them a first-rate, ultra-fresh, experience inside and out. I want people to say, 'Man, this place looks brand new!'"
He ordered all new porch furniture for the back, so it is all a synergistic, designed plan and layout pattern, rather than a haphazard approach. At the outside bar there are three large screen TVs, and — best of all — lots of room to help in social distancing.
Timothy's Restaurant has utilized their fish-logo to craft floor pattern graphics for traffic flows, with designated indoor and outdoor only areas. Once operations are allowed to resume beyond curbside takeout, you will just wait in your car for your table to be called and the staff will text you when ready. Tim adds, "We'll have online ordering, online reservations, options for hands-free menus using a QR Code on your smartphone, and one-time menus as well. We'll no longer have traditional menus that you look over and return to your server. All of our employees will be wearing gloves and masks."
Going above and beyond, Timothy's will feature at every table, a fresh, small white bag for the storage of your own mask while you dine. Included in those bags will be a 1-oz bottle of personal hand sanitizer for your use, and to take home, and the restaurant's mission statement explaining what they're doing, what they've been doing all along, and what they'll continue to do going forward to keep everyone safe because it isn't new to them. Tim says, "We've always had exacting standards, but we're actually adding a full time Risk Management Manager whose sole job will be to wipe down touch surfaces, computers, bathrooms, around the bar, tables, everywhere. They will not bus tables, or take orders, or carry food, just risk management cleanliness. Finally, in that bag, we'll even have a blank protective sleeve for your credit card for the payment process to hand it off to your server to minimize contact."
Inside the popular restaurant, Michiana Supply in Benton Harbor has manufactured plexiglass dividers for all of the booths, because, as Tim notes, "Most folks gravitate toward booth dining as a preference, and we wanted to make sure that we could seat all of those, but in a safe manner. They designed them so that separate each party in the dining area. They also crafted a plexiglass surround for the hostess station, and around one end of the bar in case somebody comes up to communicate with a bartender."
As if the pandemic's impact wasn't already a struggle, Tim says, "We're even further hamstrung by a three-phase road reconstruction project on Red Arrow Highway right in front of us, that will run a year with all of the work that needs to be done, but you can still get to us throughout the process."
The decision to immediately convert to curbside service has worked out very well, according to Tim, "But," he notes, "with no alcohol sales, and the simplistic design of a $12-menu, you have to do a lot of meals to be able to pay the regular bills."
Timothy's crafted the $12-menu to streamline everything and make it as easy as possible for the cooks and for what they already had in-house. They adapted it around their traditional $12-winter menu, and it worked very well as a speedy, simple enterprise with things that were very popular comfort foods including chicken, ribs, burgers and the like. As they get closer to re-engaging, Tim says, "Starting last week we've begun gravitating toward all of our appetizers from our regular menu going out there, too. We're also adding a little more complex offering like a fish entrée, soft-shell crabs which are in season now, and then we started up our pizza kitchen about three weeks ago." The pizza kitchen is in Jake's Backyard behind the restaurant building.
In closing, Tim says, "What we're going to do this summer is we'll still keep the curbside as a big deal, because we know that not everybody is going to be ready to go back to on-site dining, especially older, more vulnerable people. We'll keep that going all summer long, and we'll have our pizza kitchen, and then we'll have the outside dining that will be actually changed from just pizza to our entire menu from the inside."
It has been a memorable time for sure, but Tim Sizer and his team plan to be ready for whatever comes next, because that's the only way they know now to do it. They are definitely in it to win it, and head into their third decade of serving the region. As he has long told us, "Eating should be one of the great joys in life. At Timothy's, our goal is to fulfill that promise. We want you to leave having had a wonderful dining experience…and wanting to come back."