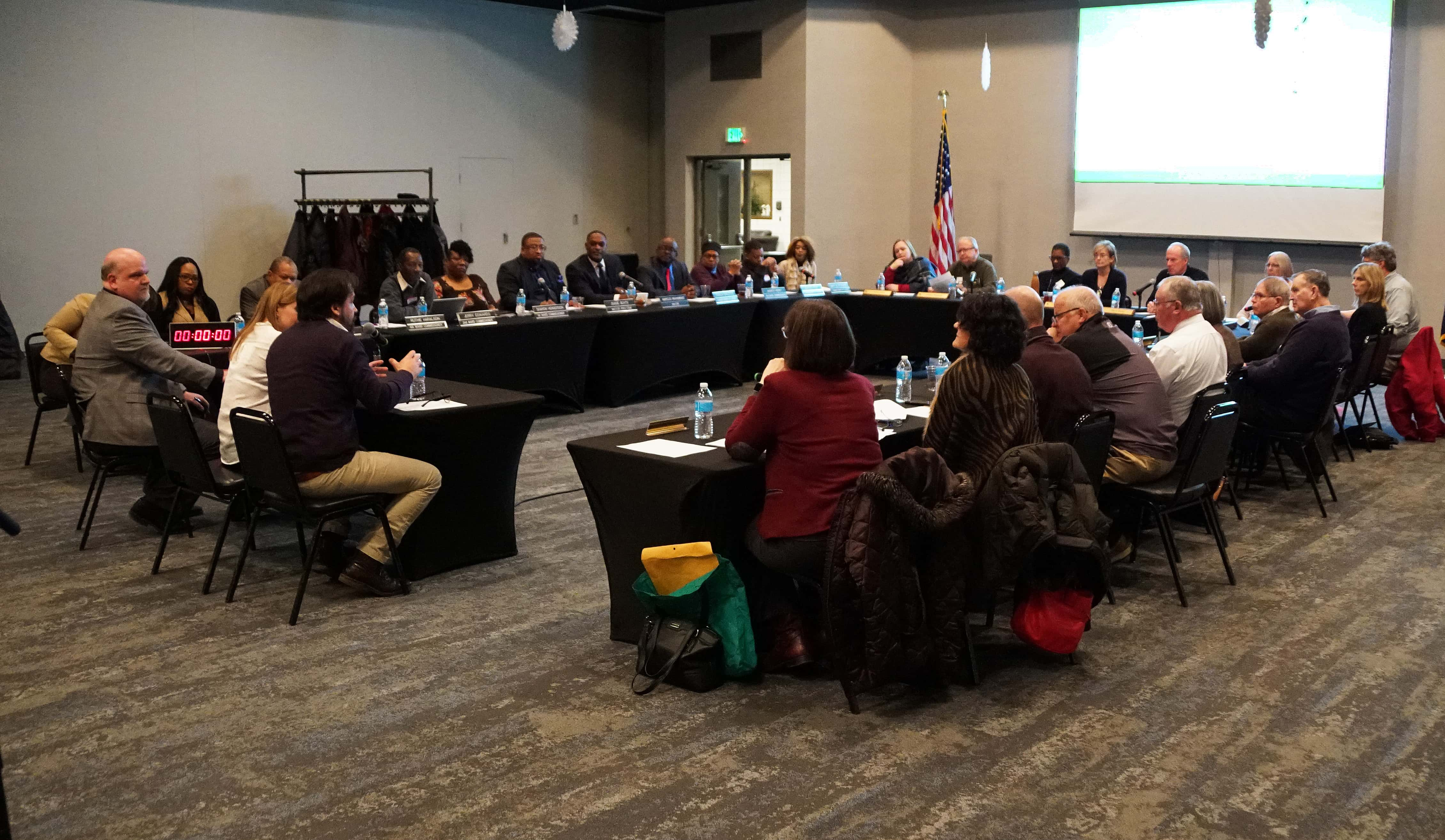 In an historic and unanimous vote tonight, the Cities of Benton Harbor and St. Joseph and St. Joseph Township have taken the first major step toward what could be a revolutionary revitalization of the entire waterfront region from the harbor to the common stretches of the St. Joseph River that they collectively share.
Recognizing fully that there is absolutely nothing binding about the joint resolution that all three communities passed in unanimous fashion at Lake Michigan College tonight, it is, nevertheless, a critical and necessary first step if they ever wish to establish a Harbor Authority or Harbor Agency to help guide any future vision for what the community waterfront could look like.
These are the shared Revitalization Goals:
Initiate revitalization of the harbor and adjacent waterfront through community collaboration…
Develop and implement long-term, sustainable strategies that maximize the benefits of the harbor and waterfront.
The two City Commissions and the Township Board of Trustees sat down in the Grand Upton Hall at Lake Michigan College to consider the resolution necessary to advance to the next level.
Berrien County Economic Development chief Dan Fette and Emily Finnell from the Michigan Department of Environment, Great Lakes, and Energy — EGLE — explained the available options for the three communities to consider if they want to collaborate on a common vision for the future of the harbor and waterfront.
Under the State of Michigan's Urban Cooperation Act and the later Joint Municipal Planning Act in Michigan, there are essentially three "Co-Governance Models" that the communities can pursue:
A Joint Planning Advisory Board
A Joint Planning Commission
A Harbor Authority or Agency
Fette detailed the pros and cons of each model, and what each would offer in the long run, but suggested that if the purpose of the communities is to eventually have the power to adopt and/or approve development plans, own property and enter into contractual agreements…to finance projects with grants, bonds, and assessments if granted authority…and have broad and flexible power with advisory components, the Harbor Authority would be the best approach.
As the individual members of each commission and board voiced concerns, or opportunities, everyone was assured that the first step is to simply create a Working Group which would consist of 13 people — four from each jurisdiction and an independent chair.
Each local unit will determine which four representatives they want to serve on the Working Group and then appoint them. The working group will then conduct further investigation of potential governance options for a governing body, come to a consensus on the governance option and develop proposals to present to each of the three elected bodies for them to vote on going forward.
Tonight's historic action simply gets everybody on the same page of saying, "Let's investigate what collaboration we want to undertake and bring that back to each unit for discussion."
The anticipated timeline going forward is roughly four months of discussion to determine the best route and best format for a Harbor Authority before any vote is taken to advance deeper into the potentials for the harbor and waterfront.
Most of the developable land in early studies of the waterfront lies in the city of Benton Harbor, and that city's commission has been understandably very cautious to assure that in these early days nothing is binding. By way of example, Benton Harbor Mayor Pro-Tem Duane Seats wanted it clear that "This is not an arm-twisting tactic, and it's not something that locks us into anything, if we vote yes, we're not locked into any set plan."
Each community will select its own delegation members to the joint board to study moving forward and those members will report back to the individual community and its citizens as discussions evolve.
Long time St. Joseph City Commissioner Jeff Richards called it the local communities, "Responsibility to take accountability for one of the most valuable resources in the entire community — our waterfront," adding, "It's up to all of us because we all border that resource and we need to maintain it whether the water is at record highs or record lows and show the people we're committed to whatever it takes to get the job done."
With four delegates from each community, the goal would be to find an independent and neutral chair or mediator, and Fette offered up the resources of Berrien County to take that task if the communities would like them to, or they would just as willingly step aside if that's what the local delegates would like.
Following each community's unanimous vote, Benton Harbor Interim City Manager Ellis Mitchell asked everyone at the conference table to tell how many of the others at the table they knew either personally or professionally, and as each individual spoke out, they all realized and concurred that more meetings like tonight's would go a long way toward stronger familiarity and commonality. It was even suggested that the full commissions should meet at least once every year or two as neighbors getting to know one another better.