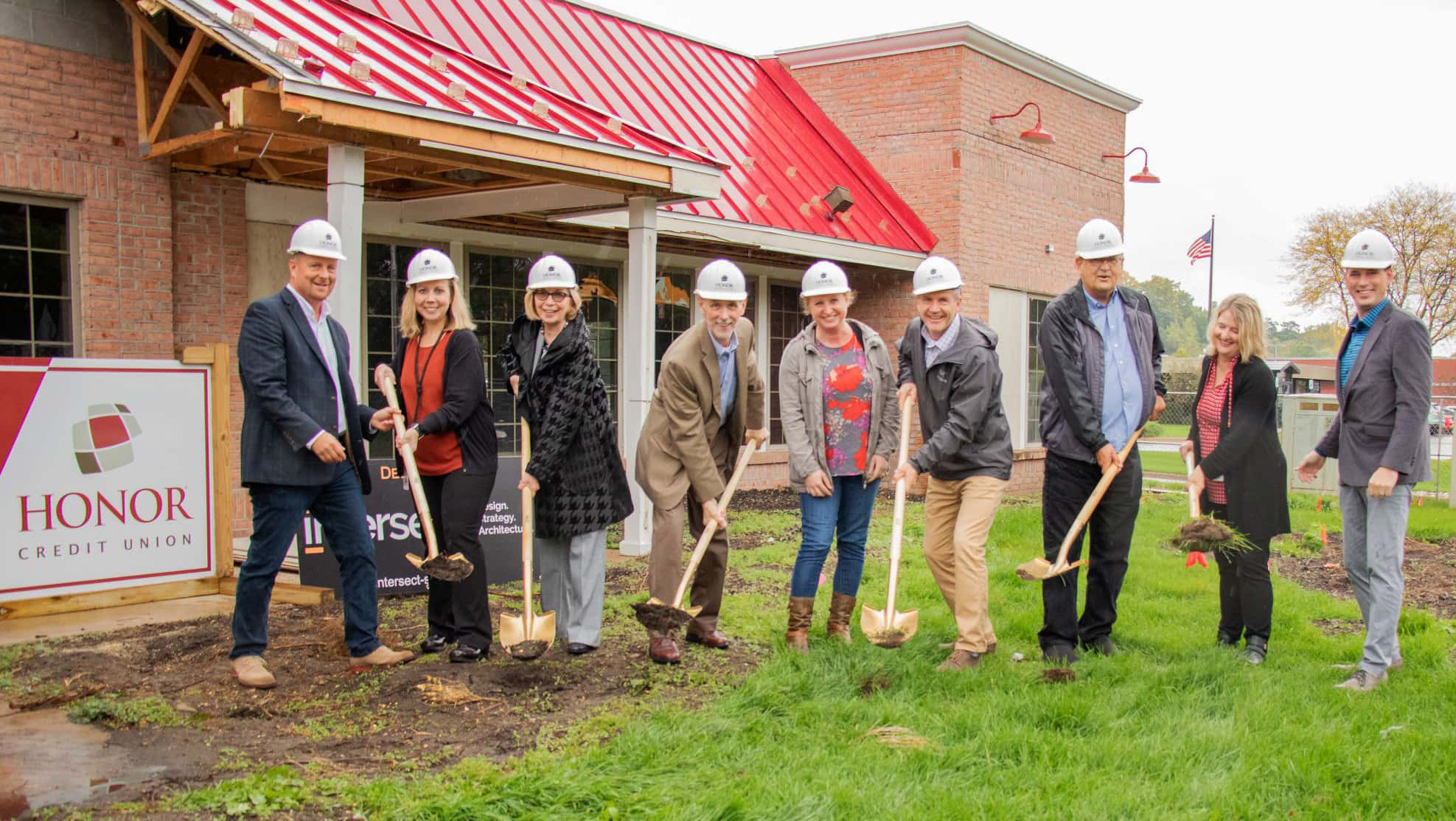 Remember how miserable that all day rain was a week ago on Friday, October 11th? Well, even that rainy day couldn't dampen the spirits of the Honor Credit Union team as they officially broke ground on expansion plans in the Kalamazoo marketplace.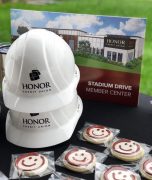 The crowds gathered at 4400 Stadium Drive in Kalamazoo last Friday, when, alongside representatives from Southwest Michigan First, Honor team members celebrated under the cover of umbrellas by tossing the first shovel of dirt that will eventually become the new 7,000 square foot retail member center and meeting space for Kalamazoo.
That new location will provide an optimized member experience by combining the resources of two existing locations, Oshtemo and Drake Road, into one larger and more accessible member center there.
The member experience remained top of mind as the new space was being designed with architect Bill LaDitka and designer Marissa LaDitka of Kalamazoo-based Intersect Studio. The Stadium Drive member center will offer a full-service experience, including a drive-thru, night deposit drop, and ATM. Resources such as meeting rooms and conference spaces will also be added to allow for educational offerings and community events.
The Kalamazoo build is being led by contractor E.C. Moore and is slated to open in the Summer of 2020. While the Drake Road Member Center will close November 1st, the Oshtemo Member Center will remain open until the completion of this new location.
Honor Credit Union CEO Scott McFarland says, "Kalamazoo is a thriving community and we can't wait to offer our members a more convenient location to handle all their financial needs." He adds, "We are committed to serving our members whenever and wherever they need us, and this new spot on Stadium will give us another opportunity to do just that."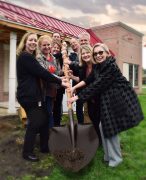 Honor Credit Union serves more than 85,000 members across the State of Michigan. For more information, you can call 800.442.2800, or visit online at www.honorcu.com.