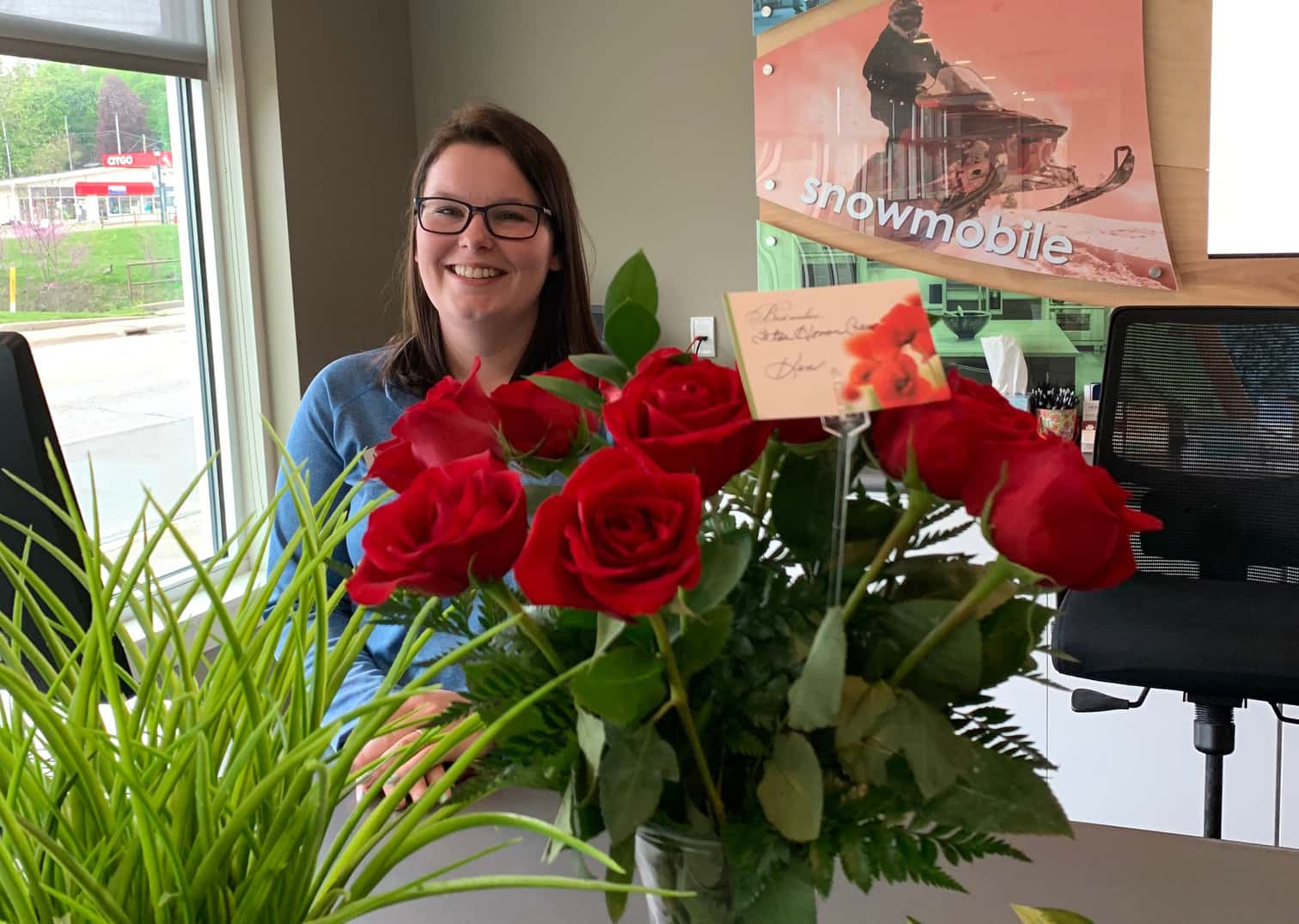 Sometimes it's the simple things in life that bring us the most joy. A prime example is on display at Lynzi Kujawa's teller station inside the Buchanan branch of Honor Credit Union. As a Member Specialist there, Lynzi and her colleagues received a bouquet of roses from a member who was so excited to get the call advising that the Buchanan Member Center lobby was open once again, he brought the team flowers in appreciation.
The good news for the membership at Honor is that their reopening plan is expanding to other branches in the days ahead.
As an "essential service" and community partner, Honor has remained committed to taking care of both their team and their members by adhering to governmental guidelines and best practices throughout the pandemic. Now, as communities begin to gradually reopen, rebuild, and reset together, they, too, are beginning the reopening process.
Utilizing a phased approach, Honor began welcoming members back into the lobby on Monday, May 18th, in Allegan, Buchanan, Decatur, and Gwinn. The member centers in the second phase to open next Tuesday, May 26th, include:
Coloma
Urbandale
Plainwell
Berrien Springs
Stevensville
Plans are to open the lobbies of additional Honor locations in the coming weeks once all of the necessary controls are in place to protect Team Honor, their members, and the community. As additional locations reopen, impacted members can expect to receive updates through email and online channels.
Honor's phased reopening plan is designed to ensure that their teams can continue to monitor public health recommendations, implement engineering guidelines, and utilize protective equipment. The plan, which is subject to change, allows Honor to remain flexible while reopening additional member centers over the coming weeks.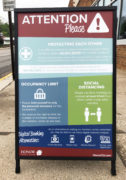 To ensure the safety of all parties, members can expect to see the following precautionary measures in place during their next visit:
Sneeze Guards –Plexiglass barriers will be installed at teller windows and most member specialist offices.
Masks / Face Coverings – The Stay Home, Stay Safe Executive Order requires face coverings to be worn in all enclosed public spaces. You'll notice Team Honor wearing face coverings at all times when social distancing cannot occur.
Social Distancing – Please use the floor markings to maintain at least six feet apart from others while inside.
Occupancy Limits – We ask that you please limit yourself to only the person(s) necessary to perform the transaction. We reserve the right to limit the lobby occupancy if needed.
While Honor's plan includes a phased approach to eventually open all member center lobbies, you can continue to use their drive-thrus, ATMs, and digital channels (online banking, mobile app, and mobile check deposit) to safely manage your money from a distance at any time. Their Virtual Member Center will continue to be available by phone at 800.442.2800 from 8:00 am-8:00 pm, Monday-Friday, and 9:00 am-12:00 noon on Saturday.
While most account needs can be handled remotely, they know sometimes it's easier to stop in and work with an Honor team member in-person. Honor is now offering a new option for members to reserve an appointment online. Some of the most popular items to book an appointment for include:
Account Maintenance
Applying for A Loan
Notary / Signature Guarantee
Open Additional Accounts
Wire Transfers & More
It's important to note that appointments are not required to see a Member Specialist but are encouraged to reduce wait times and to protect both yourself and Honor's team members.
Appointments can be booked up to 60 days in advance. For basic teller transactions (check and cash deposits), appointments are not needed at any time.
Scott McFarland, Honor's CEO, says, "The safety of our team, our members, and our communities remains our top priority," and adds, "As our communities begin to reopen, rebuild, and reset, we are confident that reopening our member center lobbies using a phased approach will help create a safe environment for everyone. We look forward to seeing our members in person while practicing social distancing and taking all necessary precautions. We're here for you, and we can and want to help. Let us know how we can serve your specific needs during this time of transition. Thanks for being a member!"
As Honor's member center lobbies reopen to serve members, they will do so under the following business hours:
Lobby Hours:
Monday, Tuesday, Thursday: 9:00 am – 5:00 pm
Wednesday: 10:00 am – 5:00 pm
Friday: 9:00 am – 5:30 pm
Saturday: Closed
Drive-Thru Hours:
Monday – Thursday: 8:30 am – 5:00 pm
Friday: 8:30 am – 5:30 pm
Saturday: Closed
Honor Credit Union serves more than 85,000 members across the State of Michigan, by "Providing solutions for financial success and giving back to the communities it serves." For additional information, you can call 800.442.2800, or visit www.honorcu.com.