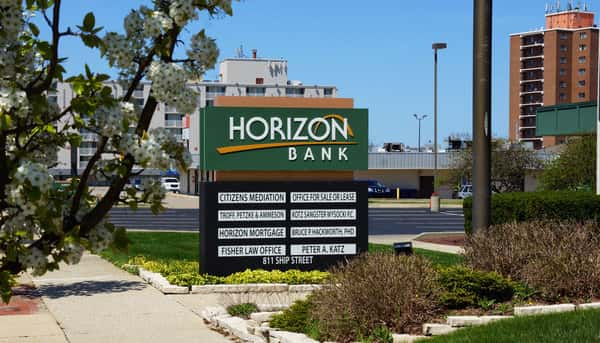 The deal is done. LaPorte Savings Bank is now fully merged with Horizon Bank. Horizon Bancorp, parent to Horizon Bank, has announced completion of the deal in which they acquired LaPorte Bancorp and its wholly-owned subsidiary, the LaPorte Savings Bank of LaPorte, Indiana.
Under terms of the merger agreement, shareholders of LaPorte Bancorp had the option to receive $17.50 per share in cash or 0.629 shares of Horizon common stock, or a combination of both, for each share of LaPorte Bancorp's common stock, subject to allocation provisions to assure that in aggregate, LaPorte Bancorp shareholders received total consideration that consists of 65-percent stock and 35-percent cash. As a result of LaPorte stockholder stock and cash elections and the related proration provisions of the merger agreement, Horizon issued 2,280,992 shares of its common stock in the merger. Based upon the July 15, 2016 closing price of $26.31 per share of Horizon common stock, the transaction has an implied valuation of approximately $98.9-million.
Bringing together two of the largest community banks in LaPorte County, the merger further expands Horizon Bank's branch network to 54 offices throughout northern and central Indiana and southern Michigan. Craig Dwight, Horizon Chairman & CEO, says, "As two long-standing community banks within LaPorte County holding similar core values, we are confident that this merger will prove beneficial to our customers and the community."
Michele Thompson is President & Chief Financial Officer at LaPorte Bancorp. She says, "We are excited about joining the Horizon Bank family and look forward to the increased opportunities this union will provide our existing customers, employees, and the communities we have served over the years." She adds, "I believe that our shared philosophy will help to ensure that a major and growing community bank remains in the LaPorte area."
As had been previously announced, the banks will ultimately operate under the Horizon Bank name, although the current offices of the LaPorte Savings Bank will continue to operate under that name until the systems integration process is completed in October of this year. The companies are finalizing integration plans that include a systems integration and sign change expected to take place the weekend of October 22nd. As a result, customer accounts will automatically change to Horizon accounts with no action required on the part of the customer. Customer checks, direct deposits, payments, and account numbers will remain unchanged in order to make the transition as smooth as possible.
Due to the shared markets served by both banks, three full-service offices and one loan production office will be consolidated upon the completion of the systems integration scheduled for October. The offices to be consolidated are the LaPorte Savings Bank's Indiana branches in Michigan City, Chesterton, and the LaPorte Savings Bank's West side location and the loan production office in St. Joseph. Each office to be closed is within 1.5 miles of an office that will remain open. As part of the consolidation, Horizon has retained the retail branch personnel to help ensure proper support to assist with customer retention and integration.
As part of the merger, Horizon and Horizon Bank have added Michele Thompson to their respective boards of directors and will add two representatives to Horizon's existing LaPorte County community advisory board.