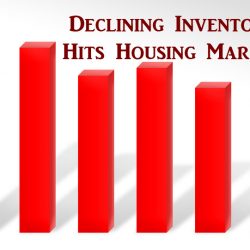 After a couple of record years in the marketplace, the housing market in Michigan's Great Southwest continues to struggle with near record-low inventories, forcing sales to decline not only for the month, but for the year overall to date as well. The dearth of available homes for sale continues to shorten the time that homes that do hit the market are in play, but also is acting as a depressant overall. Alan Jeffries says "Couple the shrinking inventory with the prolonged winter temperatures during April, and buyers had fewer choices in homes and perhaps less enthusiasm for purchasing." Jeffries is Association Executive for the Southwestern Michigan Association of Realtors, Inc.
By the end of April, the inventory of homes for sale in Berrien, Cass and the westerly two-thirds of Van Buren Counties had hit a historical low of 1,501 houses for sale. That inventory was down 16-percent from a year earlier in April of 2017 when it was 1,794.
Jeffries tells us, "The market had 4.9-months supply of houses for buyers at the end of April. That was a small increase from March when there was a 4.5-months supply. In April 2010, there were 3,452 houses for sale which was 15.6-months supply."
The number of houses sold in April 2018 was down 4-percent from April 2017 (278 vs. 290). That brings the year-to-date numbers down, as well...hitting a 7-percent lull of 900 homes sold so far in 2018 as compared to 965 at this same point in 2017.
Even the recent trend toward increasing prices eased off in April according to Jeffries, who says that following two months of double digit increases in selling prices, the average selling price in April was nearly even with April 2017 ($213,923 vs. $214,125) and the median selling price was down 8-percent ($154,950 vs. $169,000).
Year-to-date, however, the average selling price was still up 7-percent ($211,879 vs. $198,455) and the median selling price was also up 10-percent ($149,950 vs. $135,900). Looking back in April in the year-over-year comparison, April 2018 had the highest average and median selling prices.
The median price is the price at which 50% of the homes sold were above that price and 50% were below.
With fewer houses sold and the lower selling prices, the total dollar volume in April 2018 was down 4-percent from April 2017 ($59,470,755 vs. $62,096,508). Higher selling prices in February and March helped to keep the year-to-date total dollar volume almost even ($190,691,273 vs. $191,510,020).
The number of bank-owned or foreclosed homes as a percentage of all transactions increased in April to 8-percent from 7-percent in March. The previous lowest percentage in April was 10-percent in 2017.  The highest percentage in April was 54-percent in 2009.
Locally, the mortgage rate increased to 4.602 from 4.577 percent in March. Last year in April, the rate was 4.243.  Nationally, the Freddie Mac mortgage rate in April was 4.58 up from 4.44 in April for a 30-year conventional mortgage.
According to the National Association of Realtors, after moving upward for two straight months, existing-home sales retreated in April on both a monthly and annualized basis. All four major regions saw no gain in sales activity last month.
Total existing-home sales, which are completed transactions that include single-family homes, townhomes, condominiums and co-ops, decreased 2.5-percent to a seasonally adjusted annual rate of 5.46 million in April from 5.60 million in March. With last month's decline, sales are now 1.4-percent below a year ago and have fallen year-over-year for two straight months.
Lawrence Yun is Chief Economist of the National Association of Realtors. He says this spring's staggeringly low inventory levels caused existing sales to slump in April, arguing "The root cause of the under-performing sales activity in much of the country so far this year continues to be the utter lack of available listings on the market to meet the strong demand for buying a home." He adds, "Realtors say the healthy economy and job market are keeping buyers in the market for now even as they face rising mortgage rates. However, inventory shortages are even worse than in recent years, and home prices keep climbing above what many home shoppers are able to afford."
The median existing-home price for all housing types in in April was $257,900, up 5.3-percent from April 2017 ($245,000). March's price increase marks the 74th straight month of year-over-year gains.
Yun also reports, "With mortgage rates and home prices continuing to climb, an increase in housing supply is absolutely crucial to keeping affordability conditions from further deterioration." He also suggests, "The current pace of price appreciation far above incomes is not sustainable in the long run."
Regionally, existing-home sales in the Midwest were at an annual rate of 1.29 million in April (unchanged from March) and are 3.0-percent below a year ago. The median price in the Midwest was $202,100, up 4.6-percent from a year ago.
First-time buyers were 33-percent of sales in April (which is the highest since last July), which is up from 30-percent last month but down from 34-percent a year ago. NAR's 2017 Profile of Home Buyers and Sellers revealed that the annual share of first-time buyers was 34-percent.
Elizabeth Mendenhall is a sixth generation Realtor from Columbia, Missouri and also acts as President of the National Association of Realtors. She says, "Especially with mortgage rates going up in recent weeks, prospective buyers should visit with more than one lender to ensure they are getting the lowest rate possible." Mendenhall is also CEO of RE/MAX Boone Realty. She says, "Receiving a rate quote from multiple lenders could lead to considerable savings over the life of the loan. Ask a Realtor for a few recommendations of lenders to contact to get a quote."
All-cash sales were 21-percent of transactions in April, which is up from 20-percent in March and unchanged from a year ago. Individual investors, who account for many cash sales, purchased 15-percent of homes in April (unchanged from last month and a year ago).
Nationally, the total housing inventory at the end of April increased 9.8-percent to 1.80 million existing homes available for sale but is still 6.3-percent lower than a year ago (1.92 million) and has fallen year-over-year for 35 consecutive months. Unsold inventory is at a 4.0-month supply at the current sales pace (4.2 months a year ago).
The numbers reported for local sales include residential property in Berrien, Cass and the westerly 2/3 of Van Buren counties and should not be used to determine the market value of any individual property.  If you want to know the market value of your property, you should contact your local Realtor.
The Southwestern Michigan Association of Realtors, Inc. is a professional trade association for real estate licensees who are members of the National Association of Realtors and ancillary service providers for the real estate industry in Berrien, Cass and Van Buren Counties. The Association can be contacted at 269-983-6375 or through their website at www.swmar.com.