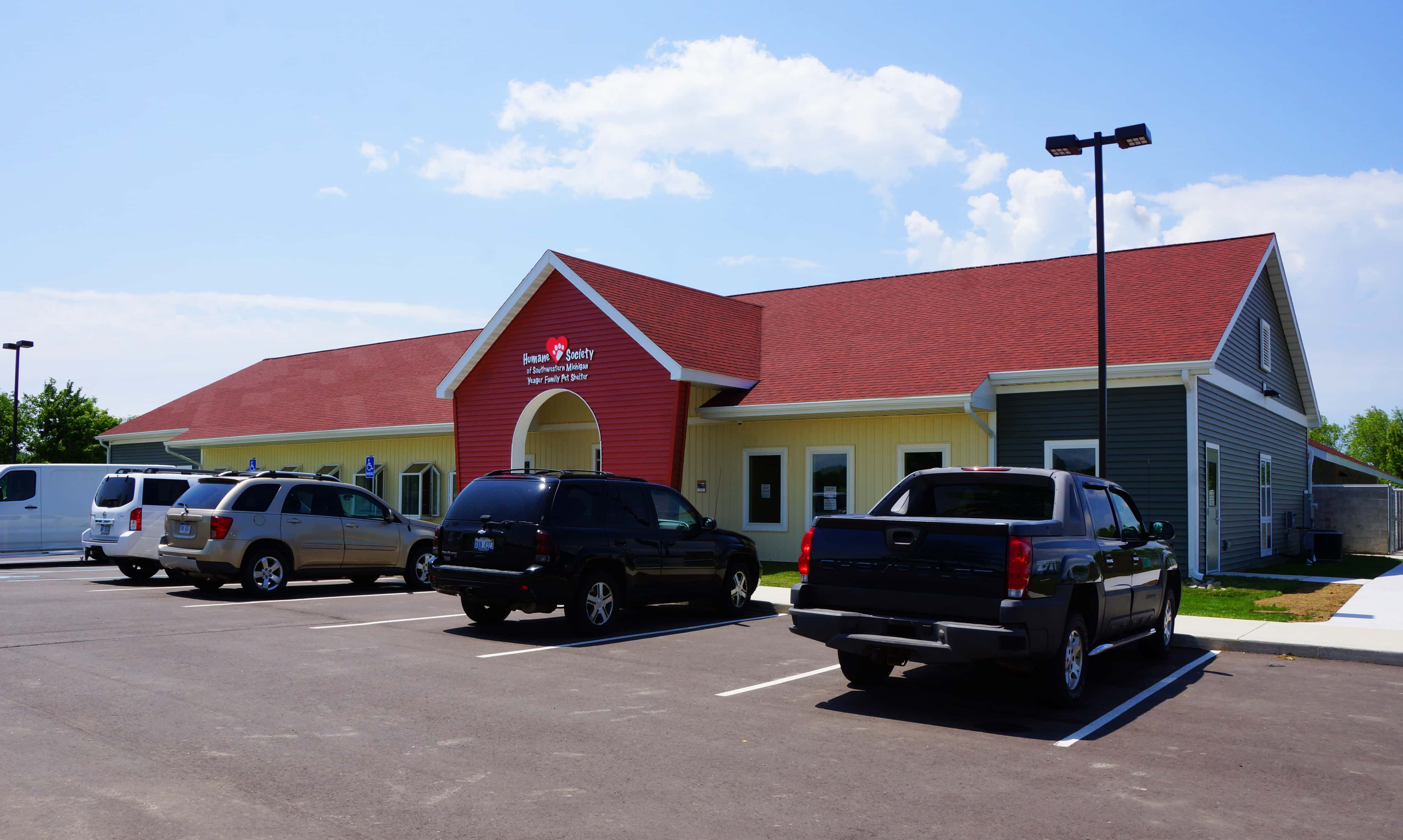 It's the day that Jill Svboda, Don Blackmond and many others have dreamed about for a long time.
The Humane Society of Southwestern Michigan announced today that they have retired their mortgage loan on the new Yeager Family Pet Shelter.  Jill Svoboda, the Executive Director, and Board Chair Don Blackmond are ecstatic, to say the least.
When the Humane Society opened its state-of-the-art, no-kill, Yeager Family Pet Shelter on June 9th of 2018, it had a mortgage debt totaling $740,587.30. Thirteen months later that debt is zero thanks to extensive fundraising efforts and generous donors, aided by $350,000 in matching grant money provided by the Yeager family, the Hanson family, Hilda and Steve Banyon, Eric and Tiffany Jackson, Karin and John Janick, and Phil and Sue Radics.
It has been a long road. The Humane Society formed a building committee in 2012 to discuss revamping its old shelter, and soon decided on new construction at a new location. Land was purchased in June of 2013. Pearson Construction Co. was hired in December of 2013.  Groundbreaking occurred on June 8th, 2017, and the Yeager Family Pet Shelter opened 1 year later on June 9th, 2018.
The total project cost is $2,286,970. The land itself cost $68,500. Pearson Construction charged $2,036,789.35. There were many other additional expenses, including:
$35,000 for the sewer connection fee
$14,874 for gutters/downspouts/drains
$3,500 for a water softener
$10,050 for office equipment/fixtures
$24,900 for cat kennels
$8,755 for administration
$37,200 for phones/computer/fire/security/wiring
$5,572 for signs/plaques
$41,830 for fundraising
On July 8th, 2019, the Humane Society finally crossed the fundraising marathon finish line, and completed payment for the project. The Yeager Family Pet Shelter is officially mortgage debt-free!  Everyone is invited to head out to celebrate with the staff and supporters at the Yeager Family Pet Shelter as they burn the mortgage papers at 12 noon on Saturday, September, 14th, with an open house to follow until 2pm.
Meanwhile, regular fundraising continues since the Humane Society receives no federal, state or local government funding and relies solely on private donations to pay for monthly operating expenses, which average about $40,000.
The Humane Society of Southwestern Michigan, originally formed in 1934, provides food, shelter and medical care for unwanted cats and dogs, and helps find them safe and loving homes. The Humane Society operates as a no-kill shelter, meaning dogs and cats reside at the Yeager Family Pet Shelter until they are adopted. The Humane Society is a 501(c)(3) not-for-profit corporation.  All donations are tax-deductible in accordance with state and federal law.
Click here if you'd like to donate to ongoing operations at any time: