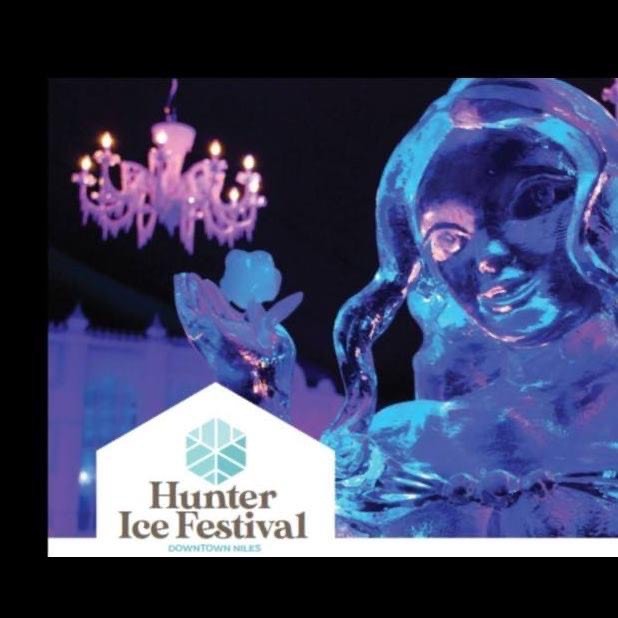 2022 is here, and January 14, 15, and 16th brings the 18th Annual Hunter Ice Festival back to Niles.  Sponsored by the Niles DDA and underwritten by the Hunter Foundation, the Ice Festival fills downtown Niles with celebration, history, and fun.
From 5th Street and Main Street to Riverfront park, the city will be dotted with frosty ice sculptures that glisten in the sun, catching the eyes of shoppers and friends mingling downtown. 180 blocks of ice, 27 tons, will be used by world class ice masters to produce art like you've never seen before. Watch former National Ice Carving Association Champion Aaric Kendall, as well as many other sculptors, wow the crowd with skill and precision.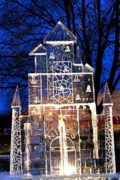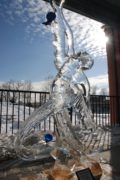 Hunter Ice Festival 2020
The Niles Frigid 5K will take place on Saturday the 15th, in sun or snow. Walk or run the familiar route, and you can register up until the morning of the race. Nonprofit organization LifePlan will benefit from this year's proceeds, helping men, women, and families, locally. Registration is $35 per person and online signup is available. The race will begin when the festival opens for the day, at 9 a.m.
Downtown, the restaurants, cafes, and shops will be open, providing the perfect opportunity to support small business and share in the excitement of the weekend. Family friendly foods will be available for purchase, like chili to warm you during the Chili Crawl, and of course Hunter Ice Cream. Learn about the history of ice carving, and be sure to look for the interactive ice arena, craft area, ice games, and sledding, as you will find no shortage of fun things to do.
In 1898, brothers Henry and Lemont Hunter moved to Niles and started the first documented commercial ice harvesting company in Michigan. In 1914, the Hunter Ice Company branched out into local dairy farms, and added 'and Ice Cream' to their name. The Hunter Foundation was founded in 1981, and since 2004, the city of Niles has presented the Hunter Ice Festival to showcase the history of our local industry, and honor the winter season. Follow the Hunter Ice Festival page for updates, changes, and times of events.
By Jocelyne Tuszynski, MOTM contributor