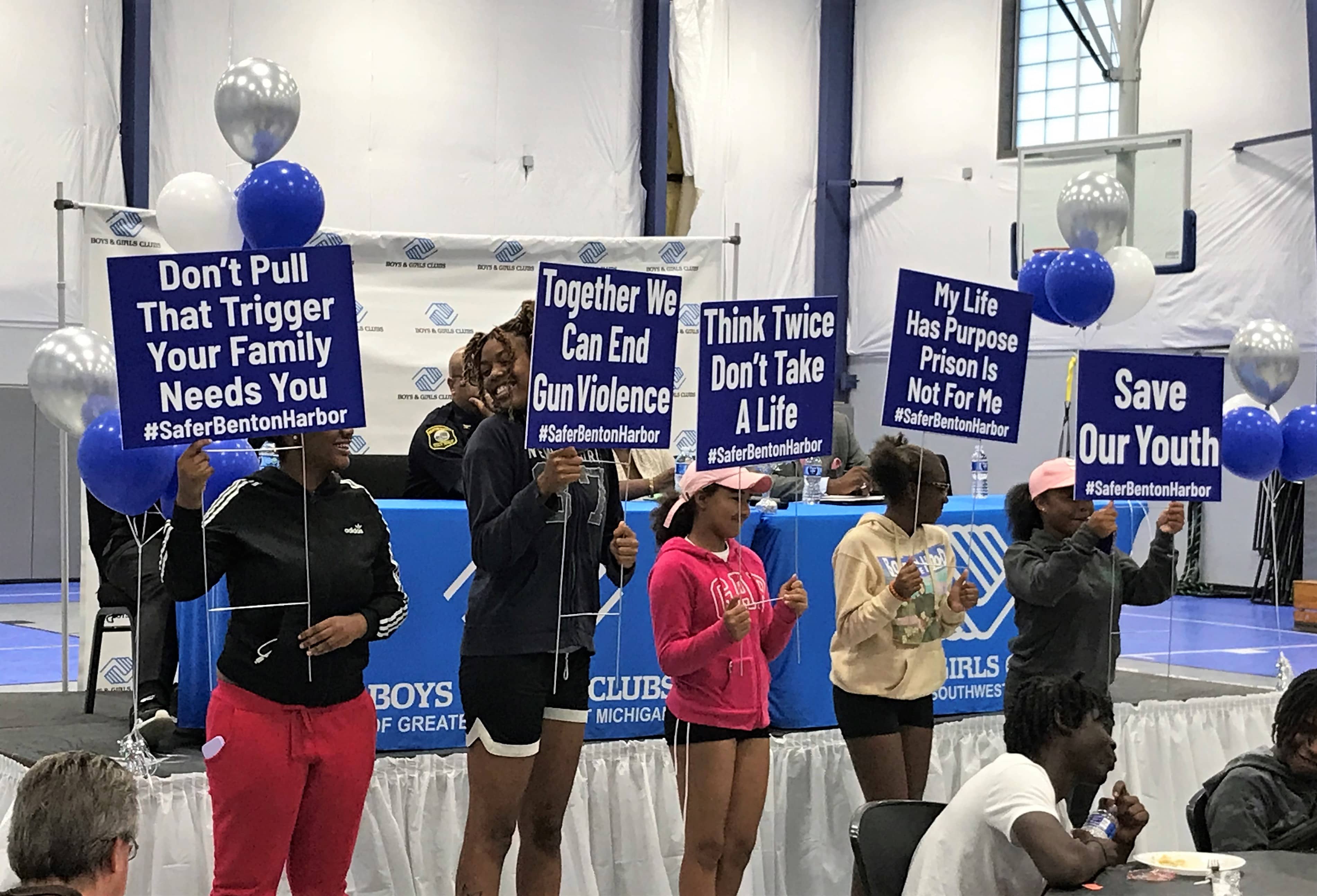 When asked if they knew someone who had been killed by gun violence, nearly every person in the audience of local teens raised their hand.
When asked if they were willing to do their part to make the community safer, the hands remained up.
The Boys and Girls Club of Greater Southwest Michigan, based in Benton Harbor, hosted a Gun Violence Summit between local leaders and teens on Monday to discuss what can be done to curb gun violence in the community, and what resources are out there for those affected by the violence.
Mayor Marcus Muhammad, Berrien County Chief Judge Mabel Mayfield, Benton Harbor DPS Director Daniel McGinnis, former Michigan State Police Trooper Maurice Burton and Harbor of Hope Pastor Taurus Montgomery each participated in the panel, providing personal stories and answering questions from the community.
Montgomery, who is also an author and motivational speaker, shared his story of growing up around violence in Mobile, Alabama during his keynote speech.
"The neighborhood I grew up in reminded me of Benton Harbor," said Montgomery, who has been in Benton Harbor for about 10 years. "Violence is a learned thing. When we see it so much, we get used to it."
Montgomery described watching his father physically and verbally abuse his mother as a child.
"I saw these these things at a very early age, and thought that's how you resolve conflict when you dealing with someone who has an issue with you," he said. "So what did I do? I started carrying a gun. I started getting involved with selling drugs."
The crowd intently listened as Montgomery told a story of how he was shielded by from a hail of gunfire one day by a man who knew his father, and how it changed the course of his life.
"If we're going to stop the violence in our community, it will not change until we all take it personally," Montgomery said. "This is a small community where so much of this stuff happens. We will not see any change until we take it personally. … You have to say to yourself 'I want something different in my community. You can even do that as a young man, as a young woman in high school as a teenager. You can make a difference. There's nothing more powerful – I've seen this with my own eyes – than a young black girl, a young black boy doing something good in the community. It's powerful because nobody even believes that is possible."
Mongtomery said the first step is taking it personally, and the second step is healing the pain from being affected by the violence.
"Hurt people hurt people," he said. "There's no such thing as a hardcore gangbanger. … What exists is boys who grew up to be men who were hurt when they were little boys. Something happened to them and they never got healed. They never got the issue resolved, and as a result, they never learned how to deal with conflict. So, as a community, we have to heal our pain. We have to seek therapy. We have to seek counseling."
Montgomery, as well as the rest of the panel, encouraged those in attendance to "see something, say something."
"We have to cancel this idea of a no-snitching culture," Montgomery said. "So many families are still hurting. So many murders are unsolved … because the person who knows something won't say anything. I just wonder if there's any young people in here who have the courage to do the right thing."
The event also featured a Q&A session with the panel, answering questions about how to access resources for healing and what the leaders are doing to make the community safer. Mayor Muhammad also shared his own reasoning for returning to Benton Harbor, where he grew up.
"So many people from Benton Harbor left and were so successful, but … most didn't come back and live here," Muhammad said. "How can our young people be inspired by those who have gone out and become successful if they can't actually touch them and feel them and hear from them? So, I decided if I ever grow up and be successful, I'm coming back home."
Muhammad, as well as the rest of the panel, also spoke to having the courage to do the right thing. Muhammad shared a story from his college days when he had to speak the truth when pressured into lying for a friend.
"Like the pastor said, if you see something, say something … be strong enough," Muhammad said. "If I did something wrong, I'm going to stand up for what I do. … Call it snitching, ditches, whatever you want – but I'd rather die standing up for the truth than live for an hour standing up for something wrong."
Watch a video recap of the event below:
By Ryan Yuenger
MOTM Contributor