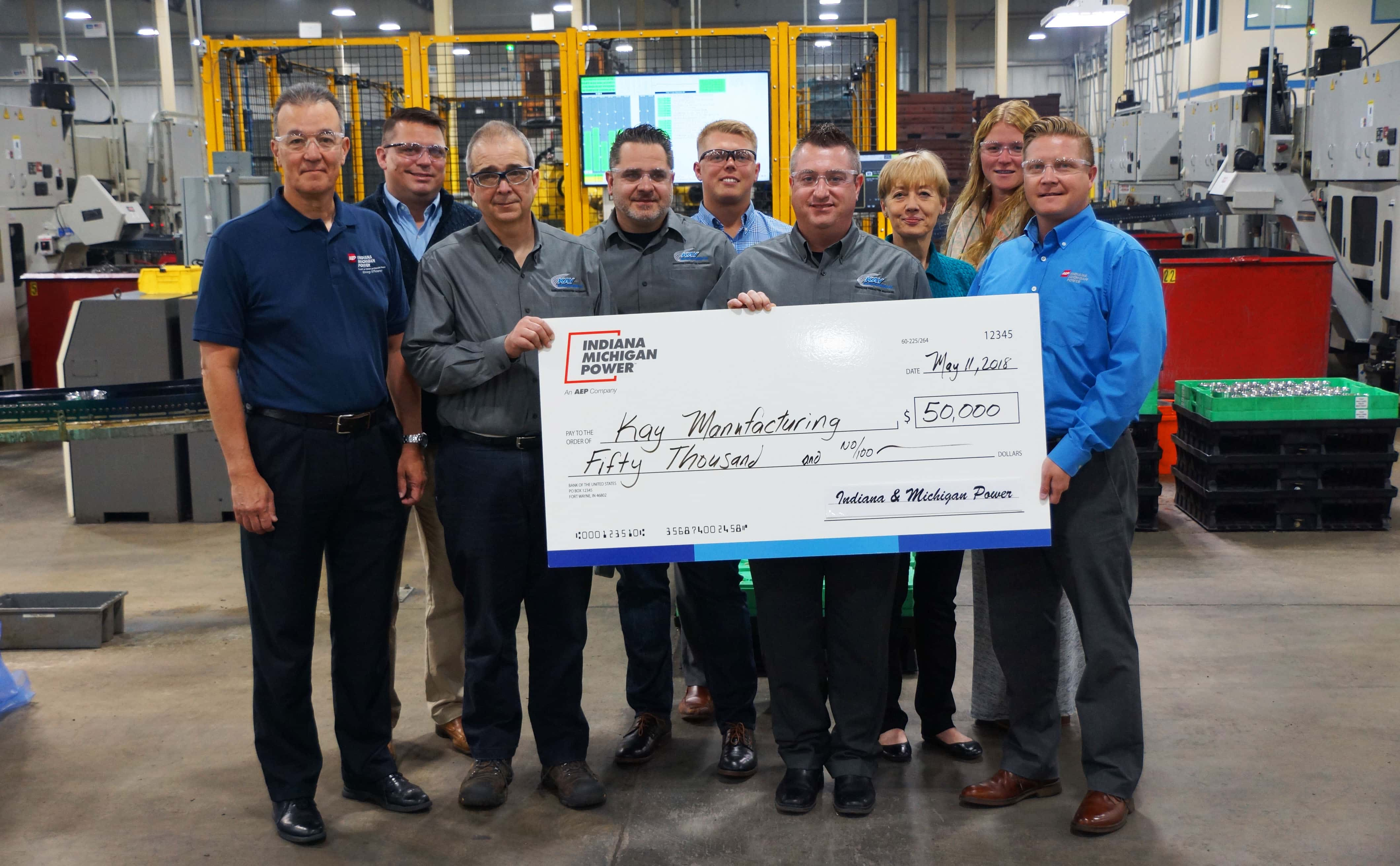 Brian Pelke will be the first to tell you that his decision five years ago to establish a Michigan manufacturing facility in St. Joseph Charter Township was one of the best of his career. As President of Kay Manufacturing, he continues to gain great admiration for the state and the amazing things his team is able to accomplish along the shores of Lake Michigan. He had a broad smile today when another piece of the puzzle fell into place thanks to Indiana Michigan Power.
This morning Pelke's management team and officials from I&M celebrated the company's recent success at implementing Smart LED technology at the company's Lakeshore Drive plant, and says it's that success that will likely result in the not-too-distant future in the need for further expansion and potentially new manufacturing jobs in Michigan's Great Southwest.
It's all working like a fine-tuned engine as Pelke says, "We are quoting like crazy, and we're on the brink of getting a lot of new business, and we plan on putting a lot of that business right here in the current footprint, but also hope to expand that footprint in the coming years." Pelke says he currently has 80 employees at the S. Lakeshore Drive facility, adding, "That's exactly what we forecast to be at five years ago when we started and we're right at where we needed to be. We hope to add to that number, too."
Jason Whitman is Coordinator of I&M's Energy Efficiency & Consumer Program. He and several AEP colleagues presented an over-sized ceremonial check for $50,000 to Pelke's team for Kay Manufacturing's efforts to reduce its future energy usage at the sprawling plant which may need additional space in the coming years.
The plant produces parts for automobile transmissions, and thanks to their enrollment in the I&M energy efficiency program they will save more than 631,000 kilowatt hours of electricity every year. That's enough to power 80 homes in the region for a full year.
Implementing Smart LED technology to greatly reduce power consumption and lower costs in manufacturing,is continuing to make Michigan manufacturing competitive on a global scale, especially for Kay.
Pelke tells me, "Because of programs like this, in addition to all the other things that this community and the state have done for us, they make us competitive on a global scale. It's fun to be able to win business when we're going up against guys from Asian and low cost nations. It just makes it competitive."
Pelke says he was just talking to his management team earlier this morning, prepping for the check presentation, and he says, "Right on our quoting template we have cost-per-kilowatt hour," to help determine their cost of doing business, and he adds, "Then we know that if we drop in a new piece of equipment,it's that rate that is a piece of what's making us competitive."
I&M's Whitman says the Kay project "Exemplifies the goals of I&M's energy efficiency programs." He says, "By replacing outdated lighting technology, such as fluorescent lighting to modern LED fixtures, Kay Manufacturing is doing its part to save energy and becomes more efficient in the way it conducts business."
Kay performed upgrades at its plant located at 3491 S. Lakeshore Drive at Shoreham, including upgrading old lighting with new LED fixtures and installing occupancy sensors designed to reduce energy waste while a room is empty. It was that project that qualified the manufacturing firm for the Michigan-Custom Incentive Program from I&M.
Pelke tells me, "It's a big part of what we love doing — being lean and looking at things to be very precise in everything that we do, and we're so precise with our lighting that we can, of all the 230-some fixtures out there, we can determine exactly what we need and control each light individually. It's a lot of fun, but it gives us the exact control that we were looking for."
Pelke thanked the I&M contingent for supporting the company's commitment to growth. He added, "At Kay Manufacturing, we are always striving to find the best way to integrate new measures that accelerate our business. By taking advantage of the I&M program, the company will deliver on being cost-effective and energy efficient for both our customers and our workforce."
As Pelke led a walking tour of his plant, lights would come on about 10-feet ahead of the contingent and about a minute later, if there was no other action behind the group the lights would either dim back down or go out completely, saving considerable energy.
Kay Manufacturing is a minority owned, precision machining services company, that excels at using their engineering expertise and creativity, coupled with the latest technology, to continuously improve processes as they drive to remain a global leader in the automotive supply chain.  Kay's primary work is within the automotive, powersports, industrial, and off-highway industries.
Incentives for I&M's business customers in both Michigan and Indiana are available for qualifying energy efficiency upgrades. During the program, customers work with approved service providers to help identify system improvements and efficiency measures. Energy saving incentives are available to help offset the cost of implementing the new efficiency measures. A few of the benefits of the program include – reduced energy consumption, enhanced building performance and extended life expectancy of equipment.
For more information on the Energy Efficiency Program you can visit www.electricIdeas.com.