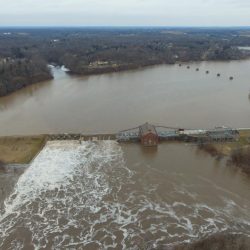 You'll have to forgive boaters and other waterfront recreation fans along the St. Joseph River if they start getting a little schizophrenic this month over water levels. Record historic flooding earlier this year and torrential rains over the last 48 hours have left some of those folks scratching their heads over the varying conditions. Now, in the midst of all that, the folks at Indiana Michigan Power report they will initiate plans to drawdown the St. Joseph River two weeks from now at the Berrien Springs Dam for maintenance work.
As that work gets underway at the utility's Hydroelectric Dam at Berrien Springs, the St. Joseph River will be lowered 3.5 feet, at a rate of six inches per day, starting on Tuesday, May 29th. That drawdown will primarily affect a 3.5 mile section of the St. Joseph River located upstream of the Berrien Springs Hydroelectric Dam, commonly referred to as Lake Chapin. Some effects of the lowering of the river may be noticed further upstream.
I&M officials caution that during the drawdown homeowners and those using the river for recreation should be aware of shallow water depths and submerged objects being closer to the surface than usual. Those who own or operate boats in the area to be affected are advised that watercraft moored at marinas and private piers could be dry docked if not removed from the water during the drawdown period.
After work is complete on or before Monday, June 18th, the elevation of the St. Joseph River at the Berrien Springs Hydroelectric Dam will be returned to normal operating levels by or before Monday, June 25th, 2018.
Stay tuned.
The photo of the Berrien Springs Dam accompanying this story on Moody on the Market.com is courtesy of Jacob Burkart of St. Joseph who captured many dramatic photos and aerial videos during the historic flooding this spring. We appreciate his willingness to share.