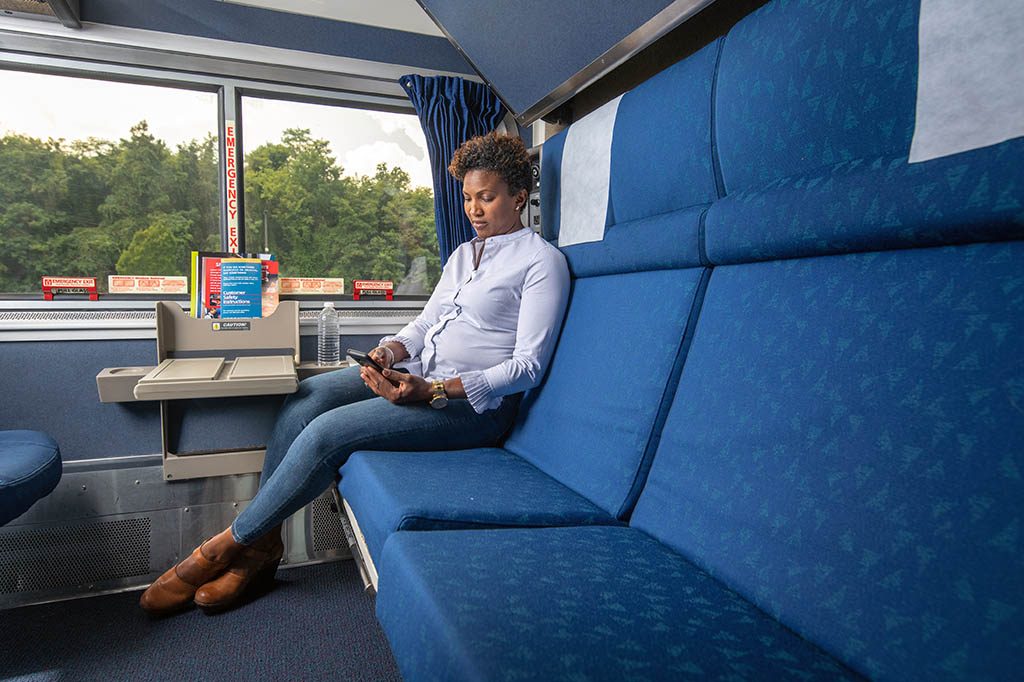 At a time when the traveling public is working to remain as safe as possible while still getting where they want to go, the team at Amtrak is leading the way by setting a new standard of travel with enhanced safety and cleaning measures. In an effort to simplify and safeguard the travel experience, several cleaning, contact-free and convenience measures have been implemented into every part of the customer journey — from time of booking to the moment of arrival.
Amtrak's Pere Marquette service connects Grand Rapids and Chicago with daily stops in St. Joseph along the way at the Amtrak Train Depot below the bluff alongside Silver Beach Pizza and the Whirlpool Compass Rose fountain and splash pad.
With a full-time medical director and public health and safety team who have been on the front lines throughout the COVID-19 outbreak, the team at Amtrak has studied, analyzed and made improvements to the Amtrak passenger rail travel experience – from beginning to end – for the safety and health of both their own people and travelers alike.
Amtrak app: The Amtrak app makes contact-free travel easy. Customers can book, board, check train status and access information from the convenience and safety of a mobile device. Amtrak encourages boarding with eTickets, which conductors scan from the Amtrak app.
Seamless gate service: To reduce crowds at departure boards, Amtrak app users automatically receive boarding gate and track information via push notification at select stations.
Enhanced cleaning protocols: Amtrak is following industry recommendations for deep cleaning and sanitizing of its trains prior to service, with additional en-route cleaning to disinfect restrooms and frequently touched surfaces along the journey.
Limiting bookings: Amtrak is limiting bookings on reserved trains to allow for more physical distancing in seating areas. Individuals traveling alone may use the seat next to them for personal belongings, while friends and family members will easily find seats together.
Air Quality: All Amtrak trains are equipped with onboard filtration systems with a fresh air exchange rate every 4-5 minutes.
Contactless movement onboard: To move between cars, customers can use an "automatic door open" button with their foot.
Upon arrival: When the train is approaching a destination, conductors will make announcements regarding where and when customers can disembark to minimize door crowding.
Café service: Café cars are temporarily operating as carryout only.
Flexible dining: Amtrak is temporarily offering flexible dining service on all long-distance routes (except the Auto Train) and encouraging customers in private rooms to opt for room service.
Dining and lounge seating: Dining and lounge seating will remain available on select long distance routes with physical distancing protocols in place.
Amtrak continues to evaluate current practices and launch new initiatives to support personal safety.