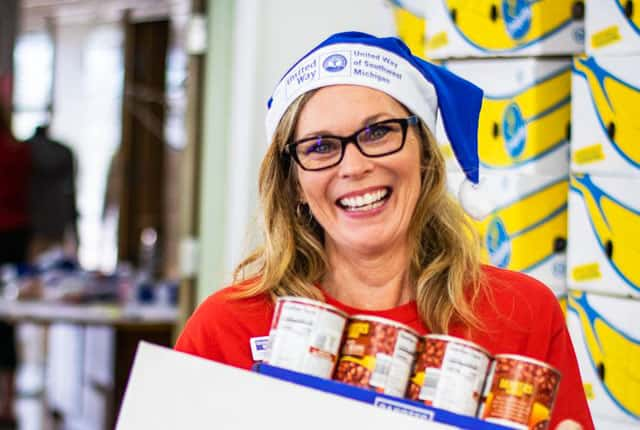 Whether it's keeping the lights lit on your Christmas tree or making Christmas in June an overwhelming success, never underestimate the power capabilities of the team at Indiana Michigan Power. That team blew away all contenders in the chase to be the most prolific provider for pantries in this week's United Way "Christmas in June" food drive.
In fact, the American Electric Power Company team from I&M accounted for more than two-thirds of the donation total of the 18,600 food items for 32 regional food pantries in the first ever battle for bragging rights, while the overall total surged to more than 20,000 items.
While a total of 26 local businesses participated in the third annual United Way of Southwest Michigan event, 12,000 of the food items generated in the competition originated with the I&M team, as they knocked out power to Gast Manufacturing, Spectrum Health Lakeland and Whirlpool Corporation.
Every year, food pantries across Southwest Michigan are fully stocked in the winter months thanks to generous holiday donations—but when summer comes, donations drop dramatically and pantry shelves become sparse. That can leave low-income, hard-working families with limited options during this time of year. So, for the third year in a row, United Way of Southwest Michigan asked local businesses and community members to participate in its Christmas in June event to stock local food pantries with items to get them through the warmer months.
This year, more than two dozen businesses in Berrien and Cass Counties participated in the Christmas in June collection efforts, racking up more than 20,000 items that were delivered to 32 area pantries—and bringing much-needed cheer to local families and those in the community who serve them.
New this year, four local companies went head-to-head to win a United Way "Christmas in June" challenge. Indiana Michigan Power, an AEP Company…Gast Manufacturing…Spectrum Health Lakeland…and Whirlpool Corporation competed to out-collect each other in the food drive for local pantries. All four companies hustled hard and together gathered 18,600 food items—but AEP emerged the winner with 12,000 food items collected –64.5-percent.
Originator of the concept and Director of Annual Campaign at United Way of Southwest Michigan, Charlotte Becker, says, "It was amazing to see these four local companies step up as leaders of our food drive this year because it helps motivate everyone in the community. Our heartfelt thanks to all of them, and congratulations to AEP for a year of bragging rights!" She adds, "All the donors and volunteers made a big difference in the lives of people in need in Southwest Michigan."
Christmas in June is part of a worldwide United Way "Day of Action" effort, held in June, during which tens of thousands of people across the globe volunteer with local United Ways to fight for the health, education, and financial stability of every person in every community.
United Way of Southwest Michigan extends special thanks to the St. Joseph High School Football Team, UPS, Cass County Family Court, and AEP for delivering all the items to the pantries across the region.