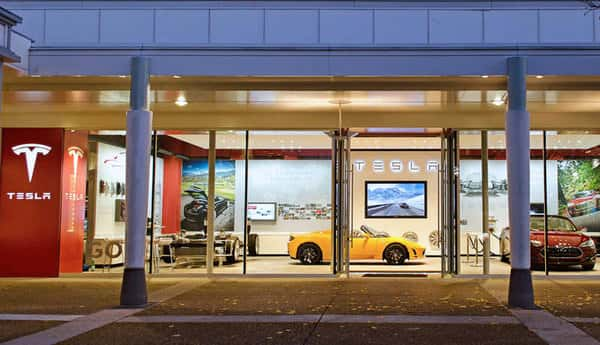 As Michigan law currently stands, automobile manufacturers cannot be automobile dealers in this state. If you want to buy a new General Motors vehicle, you have to visit a General Motors franchised dealership. If you prefer a Ford or Chrysler product, you have to visit the franchised dealers of those manufacturers. Now comes Tesla, the California-based manufacturer who uses an entirely different sales model of selling directly to the consumer, seeking to establish a Michigan showroom.
MIRS News was the first to report on Tesla's dealership application back on Friday, and Detroit-based media have picked up on the story, contending it will become a battle ground issue based on legislation passed and signed by Governor Rick Snyder two years ago prohibiting automobile sales directly from a manufacturer to a consumer in Michigan.
For now the speculation isn't on where a Tesla showroom might be established in the Great Lakes state, rather it is centered on whether or not the Michigan Secretary of State will even approve the application which was apparently first made back in November.
The Detroit News reports that Tesla officials confirmed via e-mail that applications have been made, saying, "Submission of the application is intended to see the Secretary of State's confirmation of this prohibition." Essentially, the revolutionary auto maker is hoping to upend the Michigan law calling it "anti-consumer" in nature. Michigan's bill, passed in the fall of 2014 was the brainchild of the Michigan Automobile Dealers Association, the unit that advocates on behalf of more than 650 franchised new car dealerships across the state.
St. Joseph was among the first communities in the entire state to host a Supercharger vehicle charging station, located in the Panera Plaza at the Niles Road interchange with I-94. Only three other Superchargers are located in Michigan and they can be found in Grand Rapids, Ann Arbor and Cadillac.
The nearest Tesla dealership to our area can be found in the Chicagoland area, where there are four including the one at Oakbrook which is pictured in the photo accompanying this story at Moody on the Market.com.
Detroit media outlets are reporting that the Secretary of State's office will have a decision on the applications "sometime in the next month or two." Stay tuned.