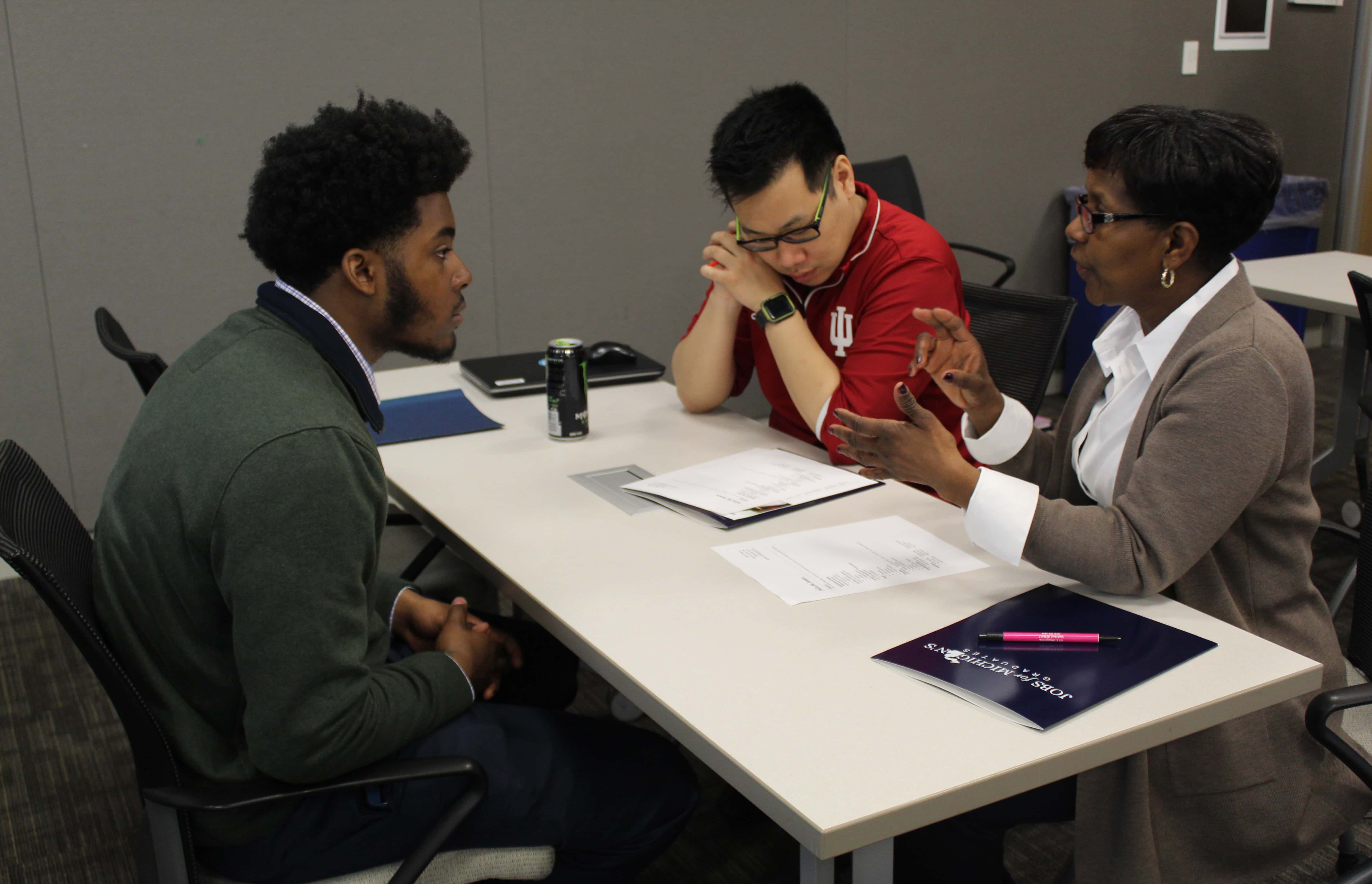 Recognizing that nothing will get you ready for real life situations more than a staged real life situation, more than four dozen students from Benton Harbor High School, the Bridge Academy and Hartford High School got the benefit of a day filled with mock interviews and workplace tours at Whirlpool Corporation on Thursday.
A total of 50 students and a number of Whirlpool volunteers joined together in the day of mock interviews on the 9th Annual Mock Interview Day, which is a partnership between Jobs for Michigan's Graduates (JMG) and Whirlpool Corporation's Employee Resource Group FOCUS.
Together, they provided students the opportunities to test various skills learned through JMG programming in an interview format and receive valuable feedback from the Whirlpool employee interviewers. The ongoing partnership between the two organizations is part of a long-term strategy to develop the youth talent pipeline in Michigan's Great Southwest.
Whirlpool volunteers, many returning from previous Mock Interview Day collaborations, represented a variety of business units. As volunteers, they provided critical feedback to further help students develop the success skills that are essential for post-secondary success and eventual employment. Students learned about entry-level opportunities within the company as well as various pathways for career growth.
Event Coordinator Tameka Robertson, Care Advisor at Whirlpool, understands the value opportunities like this provide to local youth, saying, "The whole intent of the day is to get these students ready for their next step after graduation," and adds, "We want them to be prepared to answer those questions that help prepare them for their future state."
Sean Sargent, a JMG student at Benton Harbor High School enjoyed the opportunity and says, "Attending Mock Interview Day was really beneficial. I will take the feedback and improve the skills I need in college and throughout my life. I also feel more aware of careers and opportunities available for me once I complete my education."
Jobs for Michigan's Graduates, the leading program of Youth Solutions, Inc. is on a mission to equip students with the skills to win in education, employment, and as citizens in order to ensure a workforce that is prepared to meet the needs of Michigan employers. With headquarters in Southwest Michigan and a labor force exceeding 3,000 local employees, Whirlpool and FOCUS, have been significant partners in this effort.
Kristin Harrington, Executive Director for Youth Solutions, says of the event and partnership, "Jobs for Michigan's Graduates teaches young people success skills that are essential in post-secondary education and the workplace." She adds, "Today's mock interview event is a great opportunity for our young people to practice these success skills in a real-life setting while also receiving valuable feedback for future opportunities. Moreover, the event provides our young people the opportunity to see how their talents fit into a diverse and inclusive company like Whirlpool."
Jobs for Michigan's Graduates is the premiere program of Youth Solutions, Inc. a statewide non-profit organization equipping youth with the skills to overcome barriers and win in education, employment, and as citizens. JMG delivers employability and education services to over 2,950 young people across 40+ cities to include 510 in Southwest Michigan. For more information about Jobs for Michigan's Graduates and Youth Solutions, Inc. or to become a partner, visit online at www.ouryouthsolutions.org, follow along on Twitter at JobsforMIGrads, or "like" them on Facebook at JobsforMichigansGraduates.
In the photo accompanying this story on Moody on the Market, courtesy of Kinexus Group, Benton Harbor High School JMG student, Jalin Jones spent the morning interviewing with Whirlpool Volunteers at Mock Interview Day 2019.