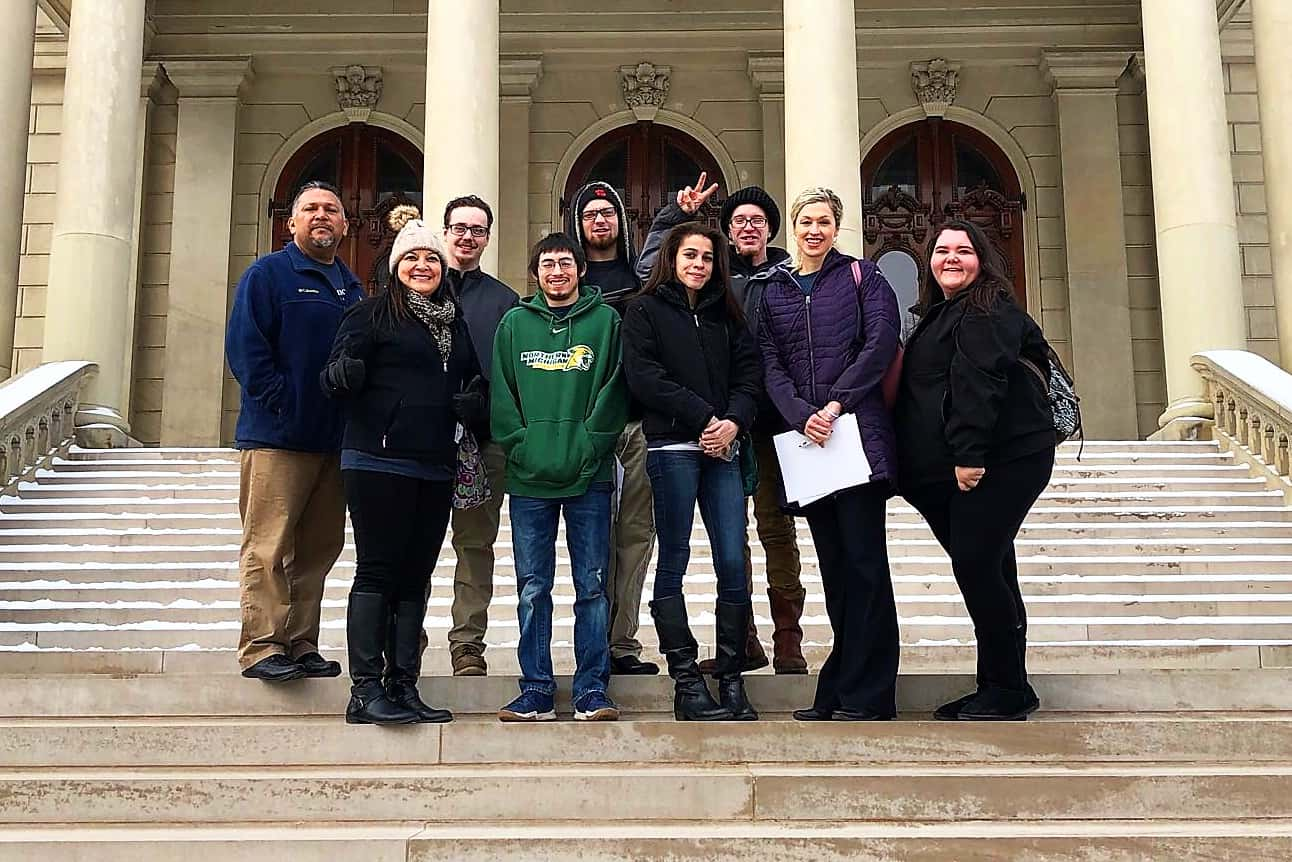 When you've worked your tail off to learn the ultimate in communication, professionalism and employability skills, you cherish the opportunity to share that knowledge with people in power. That's why the smiles were broad and the high fives were genuine when more than 125 students from across the state met with over 50 elected officials in Lansing Thursday to share the impact that their Jobs for Michigan's Graduates (JMG) program is having in local communities.
Yesterday, February 28th, marked the 3rd Annual JMG Legislative Day, providing students the face to face opportunity to talk to their local elected officials about education and employment-related barriers within their community and discuss potential solutions to those challenges.
The annual Legislative Day event is one of two capstone events for the JMG year-long programming, where students demonstrate the communication, professionalism, and employability skills learned throughout the year. During the event, students visited the Capitol building in Lansing, had the opportunity to talk one-on-one with State Representatives and Senators and connected with other youth from across the state who are also in the JMG program.
As the premier program of Youth Solutions, Inc. -- under the flag of team Kinexus in Benton Harbor -- JMG equips young people with the skills needed to overcome barriers and ensure Michigan's youth win in education, employment, and in life. Operating across 208 Michigan cities, JMG works with nearly 3,000 young people annually.
Kristin Harrington is Executive Director of Youth Solutions, Inc. She says, "Thanks in part to support from the Michigan legislature and the state's Talent Investment Agency, JMG has experienced a 530-percent growth rate over the past five years in the number of young people served." Harrington adds, "The rapid growth is a testament to the impact JMG has statewide." She reports, "Legislative Day is a unique opportunity for youth to use the skills they learned to collaborate with those that can help create change in their region."
During the event, Tianna Carr, a JMG student from Pershing High School in Detroit, shared her excitement about the day, noting, "It was great to talk with Senator Adam Hollier, (D-Detroit), and share some of the challenges that my friends and I are facing. I'm looking forward to sharing my experience with friends and family back home. Thanks for the opportunity JMG!"
The event was made possible thanks to multiple agencies including:
The State of Michigan Talent Investment Agency
State of Michigan Department of Talent and Economic Development
The Annie E. Casey Foundation
Kinexus Group
Jobs for America's Graduates (JAG)
Additionally, Michigan Works! partners play a leading role in the program with special recognition to these agencies:
Capital Area Michigan Works!
GST Michigan Works!
Detroit Employment Solutions Corporation
West Michigan Works!
Michigan Works! Southeast
Michigan Works! Southwest
Upward Talent
Networks Northwest
Michigan Works! Northeast Consortium
SEMCA
Michigan Works! Region 7B
The Michigan Works! Association
Youth Solutions, Inc. is a premier youth opportunity organization. Their leading program, Jobs for Michigan's Graduates, delivers employability and education services to nearly 3,000 young people annually across 200+ cities.
For more information about Youth Solutions, Inc. or to become a partner, you can visit online at www.ouryouthsolutions.org, follow along on Twitter @JobsforMIGrads, or "like" them on Facebook at @JobsforMichigansGraduates.
Photo caption: Jobs for Michigan's Graduates visit Lansing to talk with their elected officials at the 3rd Annual Legislative Day.