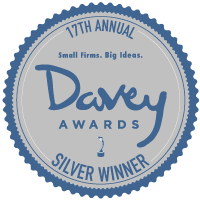 JohnsonRauhoff (JR), a world-wide creative content agency headquartered in St. Joseph and Benton Harbor, is adding more awards to its shelf. The independent agency won five silvers in the annual Davey Awards, which features a pool of entries from some of the best small businesses in the world.
The competition, now in its 17th year, is judged and governed by the Academy of Interactive and Visual Arts (AIVA). Judges from some of the most prestigious brands around the globe, such as Spotify, Nissan, Conde Nast, Disney, Microsoft, and Wired, evaluate entries based on the distinction of the creative work presented in the submission. This year's competition featured over 2,000 entries from advertising agencies, production houses, brand creative professionals, graphic designers, and public relations companies.
"Our primary goal is to drive results for our clients." said Marino Puhalj, Group Creative Director at JR. "When we have a deep understanding of their needs, we are able to generate insights that fuel powerful creative work. We are excited about the global awards; they are an additional benefit of our client-focused approach."

JR was recognized this year with 5 Silver Davey Awards in the categories of photography (3), best use of animation (1), and general/products and services (1). The entries featured creative work from some of the agency's iconic accounts such as Elmer's, A.O. Smith, and Lexus Yachts.
"What we love about this competition is it favors ideas and new ways of thinking versus focusing solely on campaign size and scale," stated JR President Mike Huie. "These awards are a testament to our great client partnerships and the hard work and innovation of the team at JR."
About JohnsonRauhoff:
Founded in 1969, JR is an independent creative content agency that partners with many of the world's most admired brands. Company success is attributed to a diverse talent base that disrupts the status quo with creative work that gets results strategically, creatively and efficiently. Learn more at johnsonrauhoff.com.