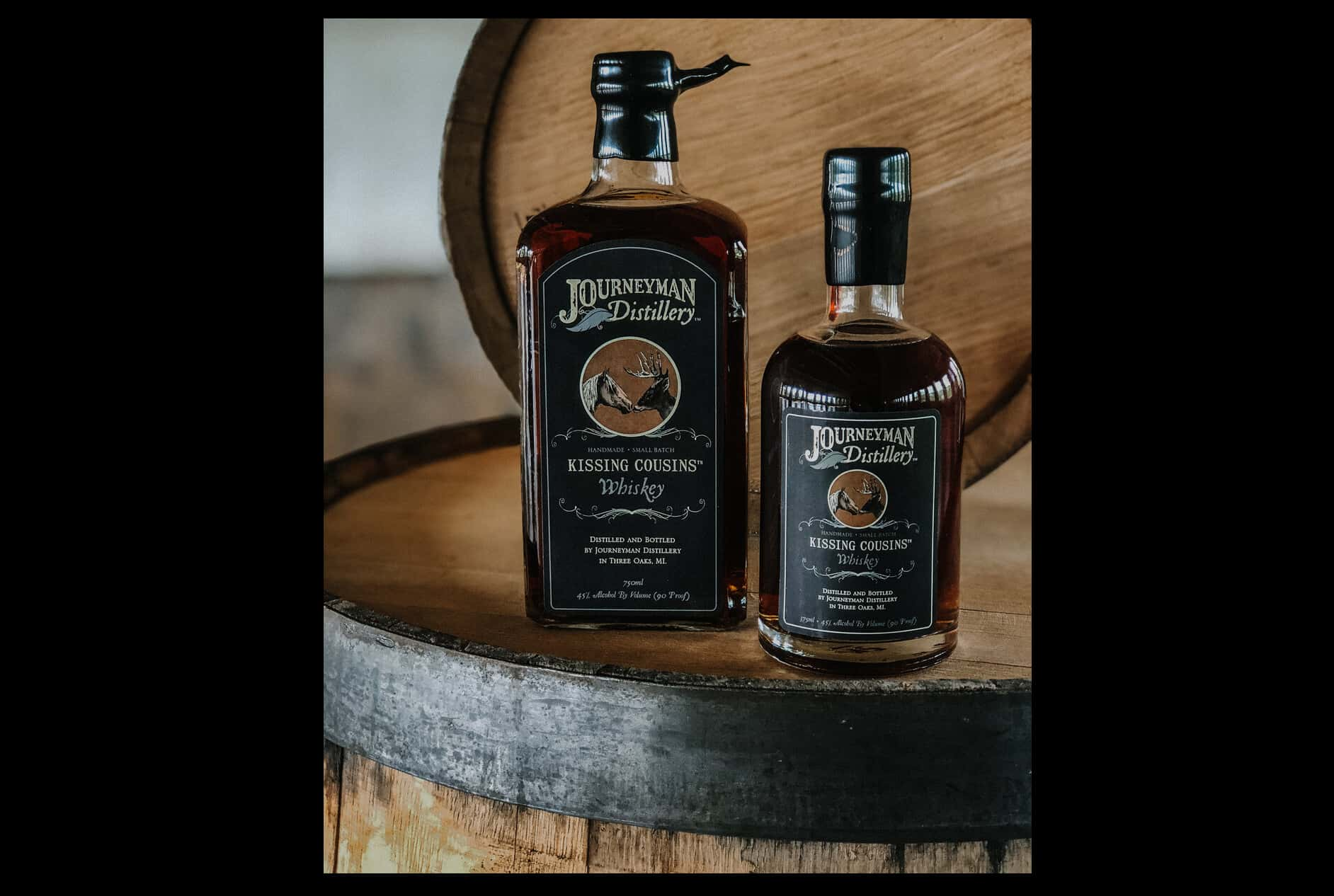 Optimistic anticipation of summer has a tradition in Michigan's Great Southwest and it's name is Kissing Cousins. That's the name given over to the Journeyman Distillery Whiskey in which "Grain Meets Grape" through a collaboration with Baroda's Dablon Vineyards. Best of all, today is release day for Journeyman's Kissing Cousins.
Esquire Magazine named it the "Best Whiskey in Michigan," and it's a limited batch spirit with all the character of Journeyman's award-winning Featherbone Bourbon, with deep earthy notes gained from an extra finish in wine barrels from the nearby vineyards at Dablon.
Kissing Cousins debut this year takes place today, Saturday, May 23rd, at the distillery in Three Oaks, creating great happiness for the spirits' myriad fans who await this day as much as they await the season of summer every year.
For Batch #8, Featherbone Bourbon was aged in new, charred, white oak 30 gallon barrels for 2.5 years prior to finishing in Dablon cabernet sauvignon reserve and chardonnay barrels.
Tasting notes for the resulting spirit include dried stone fruit on the nose with fresh cut tobacco. The wine barrel influence is noticeable right away, as are hints of candied pecan and vanilla cream soda—followed by nutmeg and cinnamon as the taste develops. Journeyman Production Manager Tom Balich says, "Red Licorice becomes very present as well as an underlying juiciness that is just phenomenal."
Available at Journeyman's Three Oaks distillery today, May 23rd, Kissing Cousins Whiskey is attractively priced at $34.99 for 375ml or $69.99 for 750ml. Custom engraving of 750ml bottles is available for just $10.
This local cross-town classic is ready to be enjoyed today or saved for a special occasion. For more, you can visit online at the link below:
http://journeymandistillery.com/kissing-cousins-whiskey
Founded in 2010, Journeyman Distillery crafts, bottles, sells, and serves organic and kosher certified spirits at the historic Featherbone Factory in Three Oaks. The distillery prides itself on using the highest quality grains sourced from Midwestern organic farmers in its award-winning spirits as well as at its Staymaker restaurant. Journeyman products are distributed in eleven states across the country and available for purchase direct from the distillery. Learn more and find your spirit at journeymandistillery.com.