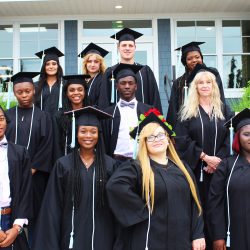 Nine words delivered to two dozen graduates could be the next step to fame and fortune for those wearing the cap & gown regalia of the Bridge Academy and Adult Education of Heartland Alliance powered by Kinexus. Those nine words are: "If it's meant to be, it is up to me."
Those nine words capped the keynote address of Coy Brown III, Author, Founder and CEO of You Deserve to Win, LLC, who addressed the graduating students in ceremonies at the Harbor Shores Resort complex last night.
It was a night of celebration for 24 graduates from the Bridge Academy and Adult Education/Heartland Alliance, powered by Kinexus. Over 150 family members, friends, Kinexus board members and community partners joined in the celebration at The Inn at Harbor Shores Tuesday evening. Graduates were honored for achieving either a GED or high school diploma to help them get prepared for the next steps of their lives.
Speaker Brown shared other encouraging words, as well, suggesting to the graduates, "You are a source of power and abundance; there is nothing that can stop you. So live freely and live courageously."
There was also special recognition included at the event:
Alumni Award: Sabrina Feliciano
Karrington Penny Memorial Academic Achievement Award: Rose Roseburgh
The Bridge Academy, powered by Kinexus, offers academic programs including GED or Career Online High School. In addition, the Bridge Academy offers vocational training programs in high demand industries such as National Retail Federation, Pre-Apprentice Construction Training, and Certified Nurse Assistant training.
The Bridge Academy serves youth ages 16-19 that are committed to achieving academic and vocational goals. Enrollment for fall will begin in less than a month, on July 9, 2018. Anyone with questions is encouraged to contact Administrative Officer Yolanda Gill at 269.927.1064, x1400, or GillY@kinexus.org
Kinexus is an organization that invests its time and resources into creating integrated solutions for business, workforce, and community challenges to promote economic vitality in the Southwest Michigan region. For more information, you can visit online at www.Kinexus.org, follow along on Twitter @KinexusGroup or "like" them on Facebook @KinexusGroup.
The photo showing some of the graduates from last night's ceremonies is courtesy of team Kinexus.