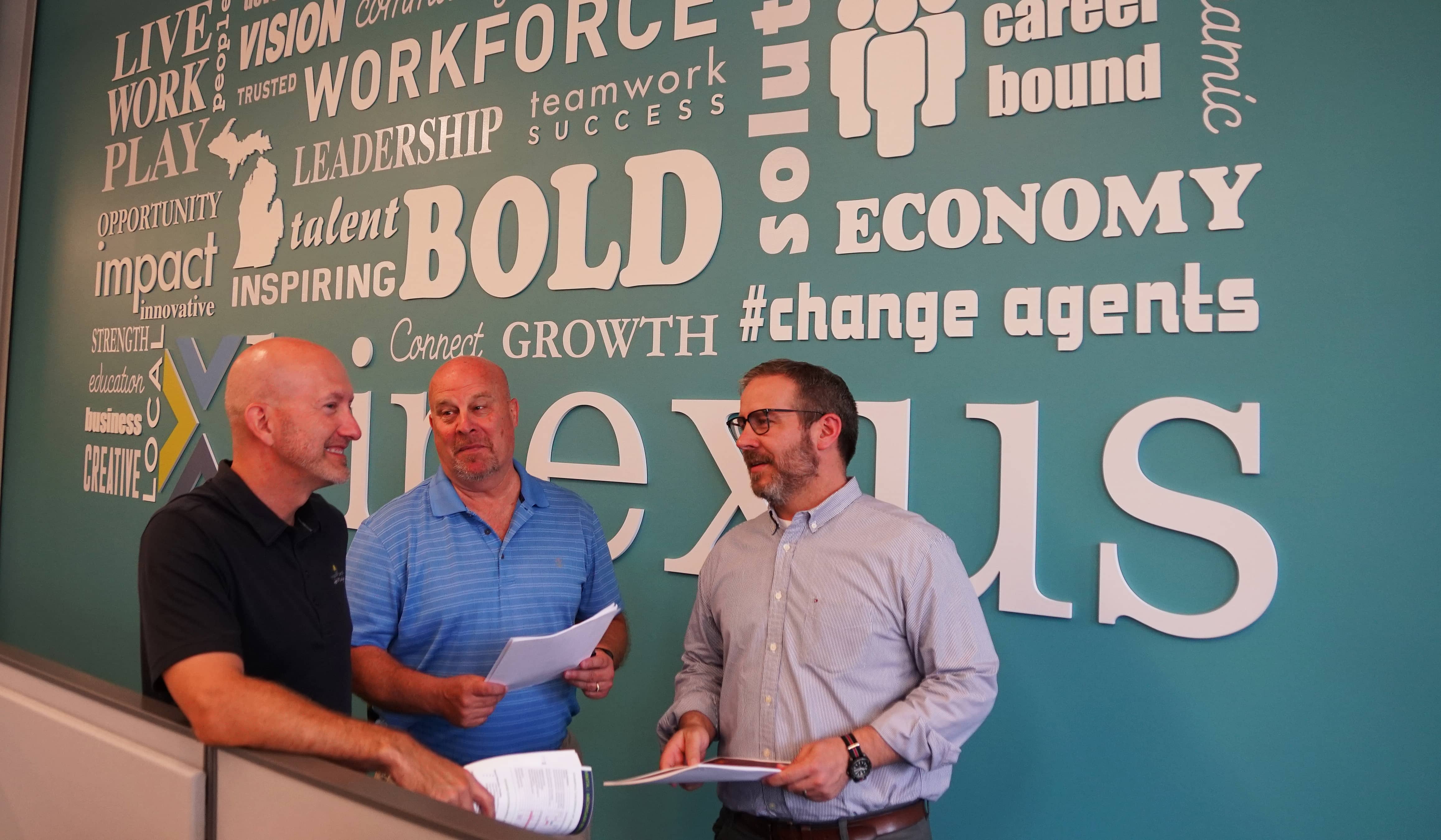 In Michigan's Great Southwest, "We went from 4-percent unemployment to 20-percent unemployment back down to 9-percent unemployment, and as you can imagine that kind of disruption causes a lot of issues for employers, job-seekers, and everybody else." That's the scene-setter today from Kinexus Group Vice President of Public Relations & Government Affairs Al Pscholka who joined President & CEO Todd Gustafson and Chief Operating Officer Jake Gustafson in a media roundtable.
Jake Gustafson provided the vast majority of the commentary as the unofficial "Data Nerd," sharing a lot of statistical data and anecdotal information regarding the region's ability to bounce back from the economic ravages of the coronavirus pandemic. He launched right into the data telling us, "It's really good news, the job bounce-back is much better than we expected." He explained, "The concern had been we thought we would be in double-digit unemployment numbers, in a pretty conservative estimate, through the end of the year at least. However, due to some really strong consumer spending numbers, some rebounds in the hospitality and manufacturing sectors, and even a few other odd sectors like census hiring and some other components that have come in and had a higher impact than we expected, not just Michigan, but also especially our region of Berrien, Cass and Van Buren Counties have really experienced a high degree of growth. In fact we're below double digits a quarter early here by registering in this month at 9.9-percent unemployment."
Gustafson quickly noted, "Not that we're celebrating 9.9-percent unemployment, since that's still more than double what we were sitting at in February, but you have to recognize that's a one-month change — a positive change — of over 3-percent, whereas at the end of July we were sitting at a mid-13-percent range, now we're in the high 9's. Michigan as a whole is in the high 9 range, and Michigan had a really good August, especially compared to the rest of the country." Michigan had been trailing by a few tenths of a percent through most of the summer, but actually had a really strong end of the summer season, and has come back to even with the national average for unemployment.
For the management team at the Kinexus Group, anchored in Benton Harbor, "That's great news," as Jake continued, "We're beating expectations. As disruptive as the COVID 19 lockdown and pandemic and all of the associated lockdown effects have been, we'd really be remiss not to talk about the good progress that we have made. The reopening is working, and we're starting to see some jobs come back. There's still a big hill to climb, and we still have ground to make up before we get to the pre-COVID levels, which was an historically low unemployment level in our region. While we're still double that, we're clawing back in."
The numbers oriented exec took an even deeper dive saying, "If you look at the unemployment rate, you often look at a few other things, including the total size of the labor force, and ours is doing very well. In Berrien, Cass and Van Buren Counties, we've actually avoided a trend that is a little bit disconcerting in the rest of the state, where we're seeing a shrinking of the labor force. The general trend in our region is stable, if not just a slight amount of growth. One of the component trends that we've seen across the state of Michigan as a whole is a decrease in the size of the labor force, especially when you get close to the Detroit Metro area, where areas like Oakland County has experienced an almost 80,000 person decline in their workforce."
So how does that add up for the region as we still have businesses hurting from the pandemic? Gustafson says, "If we were to put our crystal ball cap on and ask where do we think we are headed from here, we believe we will have at least one more month of incremental growth, or positive gains, and maybe drop us down around 8-percent unemployment come October, but after that there are a few things to raise a red flag of caution on, like the seasonal nature of the local marketplace, that give us concern – not a crisis, like the pandemic was – but there are things that might slow growth slightly."
By way of reasoning, Jake adds, "There are some things that you can't fix when you have a big economic crisis like this if your labor force leaves, or migrates to another area, but we're not seeing that now, nor any effects of that, so that's in the realm of good news, that is something that we can build on and will be the foundation for a strong economy here regionally."
The CEO, Todd Gustafson, notes, "Historically that number has shrunk here as well over the past decade, so to see the trends that we're seeing now is actually very encouraging."
Drilling beyond just the numbers, Jake returned to what it means to the Average Joe out looking for work, saying, "If you take an x-ray and look at the opportunities for folks that are looking for work today, what do they look like? That's a bit more mixed news, but there's still the notion that there's probably no better time to be entering the workforce, strangely enough, in the recent history, especially if you're interested in careers like manufacturing, or hospitality, but really advanced manufacturing, the numbers are really unusual there."
Manufacturing in Southwest Michigan got hit hard, like everyone else did. In fact, the Kinexus Group team says that manufacturing in the region took a 10-percent hit on its labor force thanks to COVID, and they're still building back. Jake points out, "I think manufacturing is a really resilient resilient sector and there are some indicators that (according to the Institute for Supply Management) indicate that there might be some positive growth trends coming, but what we have seen is manufacturers are starting to hire again."
A prime role at the Kinexus Group is making the match between those employers with jobs that need to be filled and the potential talent to fill them. In that regard, Jake Gustafson reiterates, "It might be the best time for those who are looking for a job to join the workforce. Our overall hirings, if you take a look at all of the jobs that are posted, we are down, with slightly fewer jobs being advertised in the region – 6,000 as opposed to this time last year when there were 8,500, however inside of that number, the entry level to mid-point manufacturing jobs have actually grown," and adds, "If you're looking to enter fields like advanced manufacturing, there's actually more opportunity now than there has been before, and a really important message that we've tried to start amplifying is that while you may hear a lot of things —  and its true that there's high unemployment, and there are a lot of headwinds in some sectors — but if you're entering the workforce, or if you've been on the sidelines for a while, or you're a young parent who took some time out to be with your family or whatever the reason, if you're looking for opportunities to enter into a field like advanced manufacturing, now is a very competitive time for you to do that."
At Kinexus, 58-percent of the job postings are positions requiring few, if any, special qualifications, and and their leaders suggest that for those looking for mobility, or a career change and are willing to make a lateral or parallel move to another career, it's actually a good time for that, especially in fields like manufacturing and hospitality.
Todd Gustafson says, "Anecdotally, many of us have had conversations with manufacturers who are actually taking orders into next year — January and February — who are also hiring people now, and they're thinking about growth, and being able to hire people to not only maintain, but to grow as well, so I think there are a lot of positive signs out there."
Jake doubles down on that comment suggesting, "We have empirical data right now which says while the volume of pure openings are down, there is a decided unique opportunity for folks entering the job market. There are still opportunities where manufacturers do need skilled talent, but aren't able to rely on the typical pipelines. Before it might have been just word of mouth, while employers may now be looking for different techniques or tactics to be able to find talent." He adds, "That's not just due to the pandemic, it has been a challenge for employers in our area even previously to find the right skilled talent for specific jobs, particularly in advanced manufacturing and health care. That's something that the Kinexus Group tries its best to help employers match up to talent, or to skill up talent where possible."
If you'd like to learn more about the opportunities, reach out at http://Kinexus.org
Amid all of the other myriad stats that the Gustafsons (who are not related to one another, by the way) and Pscholka have at hand is a new set of metrics we hear about frequently on the national scale: the rate of Consumer Spending.
Kinexus is venturing into track that data for the first time, working to determine how  consumers are spending their money and some of the broader factors that influence the economy, and the workforce in Southwest Michigan. Jake admits, "We've never tracked the data before, but we have been over the summer, with the idea of consumer spending and consumer confidence, recognizing that it has an impact on all sectors, but especially in the leisure and hospitality sectors. The news for our region (Berrien, Cass and Van Buren Counties) has been very good."
Looking at the chart graphing the data, Gustafson says, "If I just told you, that the region had a great summer, you could pick out the trend line very easily. Berrien, Cass and Van Buren have done a great job of being open for business, and being the destination of choice over the summer months. It reflects a more than 20-percent growth in consumer spending with most of that directly tied to leisure and hospitality. Most of it derived from the height of summer in the region. It's great news."
Looking back over the late spring and early summer, Jake says, "We were deeply concerned, and with many businesses closed, we were down about a third compared to most years, but what we were seeing towards the end of summer was that start to equalize back out, and to even out that negative trend line.  That helps move us back closer to levels that are sustainable or status quo. It's really great to see that come out of the back end of summer with a little bit more of what would be a normal economic activity level, especially for those areas in leisure and hospitality."
They openly admit, the battle has not been won yet, as Jake says, "There's no doubt there are areas that are still struggling, with gyms only being allowed to reopen this week, bowling alleys and entertainment centers are areas that have been affected longer than most by some of the regulations placed upon them through the lockdown. But when you look at the bread and butter of hospitality – accommodations, restaurants and retail – it has done really well." Nevertheless he adds, "We know no matter what in a non-COVID year, Southwest Michigan has a high degree of seasonality with a lot of business in the summer, and then we tend to trail off. In the fall and winter there's still some business, especially around the holidays, but the first quarter of almost any year is a tough one for many of our restaurants and retailers, and you'd be hard-pressed to say who doesn't have a tough first quarter around here that does business locally. It's great to see this spike of business activity going into the winter, to help smooth out some of those lean times that we would expect to come ahead no matter what."
But, it doesn't take a genius to take a look at the charts and say we didn't have a full year of positive or even normal economic growth, and Gustafson says, "Our suspicion is that there will be many small businesses, especially those in the retail and hospitality sector, that are going to need assistance again." Although they're encouraged, saying, "This spike of activity is great, and it has probably helped keep them afloat and moving forward as a viable business," Jake adds, "You can't undo almost two quarters of no economic activity, and for those folks who often use that time to build up a cushion to take them through lean times, we're going to expect to see a second period of — not necessarily crisis — but just difficult operating times for small businesses especially in the retail and hospitality industry."
Looking into his crystal ball again, Jake says, "If we had to peg it and determine when it will most likely occur, it would be at a time when we expect low business activity anyway, so likely the first quarter of 2021. Kinexus Group would probably want to ring the bell and say there was a lot of programs here from the State of Michigan, things that Cornerstone Alliance did that we were very proud of, and Market Van Buren, to help small businesses in the April, May, June time frame, and they all had great effect and you could point to a lot of tangible success." That said, he suggests, "We may need to do some of those things again, because we're probably not out of the woods just yet. It could be more targeted, and likely not to the same scale, but some assistance may well be needed."
Todd Gustafson reminds us, "We were looking at it as a sprint, and it's become a marathon. The one-time assistance that was provided to a lot of businesses may not be enough. We have to think through that and figure out what it looks like going forward."
What does that look like? Jake says, "We'll likely be feeling the effects for at least the next 24 months at a minimum. We continue to refocus our efforts to raise a lot of awareness by knocking on doors, talking to local, state and federal officials about our concern to help smooth out this path for small businesses in the first quarter." He concludes, "We don't have all of the answers, but hopefully we can help build a coalition and find a lot of folks around the table so that it's not a surprise and we can bring some effective answers for our small business enterprises going forward." Stay tuned.
The photo of the leadership team at the Kinexus Group accompanying this story is a file photo from a previous roundtable discussion. Today's roundtable was conducted in the virtual realm, not at an in-person event.