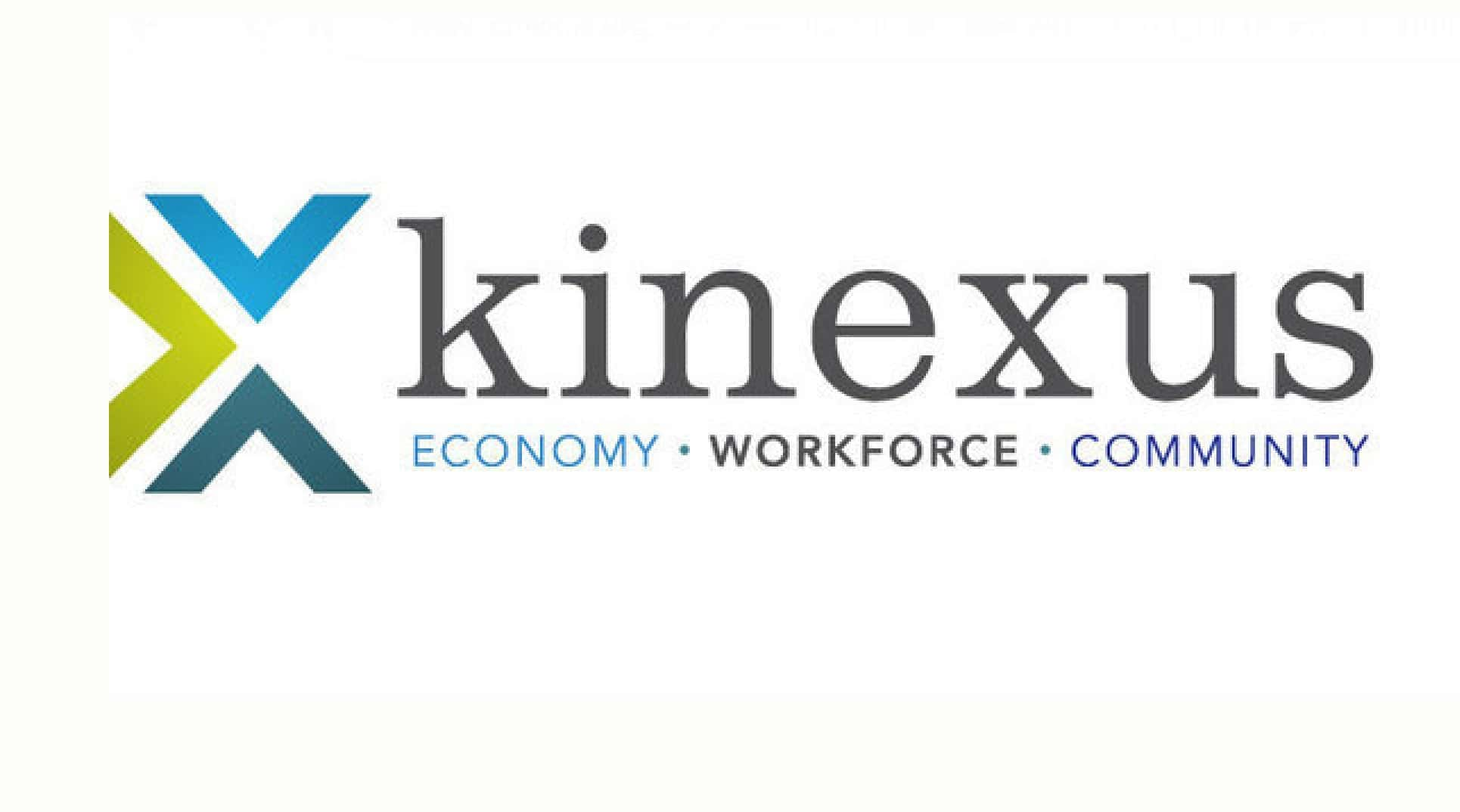 If all has gone according to plan, Kinexus Group teammates should be seeing this headline in their corporate newsletter — they can only pray that the vacation part is reality, too — KINEXUS GROUP ESCAPES THE POLAR VORTEX WITH AN ALL INCLUSIVE CARRIBEAN VACAY FOR MAKING MOODY'S BEST PLACE TO WORK LIST. That was the fantasy headline crafted by nominators for the inaugural Moody on the Market 20 Best Places to Work in Michigan's Great Southwest competition. Now that they've won, the fun begins. They also crafted a recruitment bit that says in part: Looking for a new career that rewards you with more than just a paycheck and has just the right amount of work/life balance? Come to Kinexus Group and learn about how you can make a difference in your community while having fun. Read on for still more of the dynamic story that has earned Kinexus a slot in the Top 20 Best Places to Work this year.
What is the name of the business you are nominating?
Kinexus Group
Who are the owner(s) and/or principals in this company?
Todd Gustafson, CEO
Business Contact Information
Erin Wright
330 West Main Street Ste 110
Benton Harbor, MI 49022
How many people work at the company you are nominating?
87
Tell us the story behind the nominated company. What does it do, and what sets them apart from other companies in the region?
Kinexus Group is an organization that invests its time and resources into creating solutions for business, workforce, and community challenges. The organization and all of its subsidiary organizations are committed to inspiring positive economic change, one person, one business, and one community at a time.
One thing that sets us apart from other organizations is that when we see a gap, we fill it. We have started subsidiary organizations based off of employer and community needs. Our family of brands play a role in creating solutions that make our communities great places to live, work, and play.
In your own words, why do you think this company deserves to be declared to be one of the 20 Best Places to Work in Michigan's Great Southwest?
We're advocates for change. Leaders. Partners. Forever working to make our communities better. Every day is a challenge, but each day also brings new opportunities to change lives. We reward bright, entrepreneurial thinking, and hard working individuals. And no one at Kinexus Group would have it any other way!
Kinexus Group deserves to be declared one of the 20 Best Places to Work because we are an organization of 87 people working hard everyday to impact the lives of others, whether it be an employer, a job seeker, or an entire community.
What makes workers proud to say they work there, and keeps them a part of the team?
Team Kinexus has a unique culture that requires individuals to be BOLD, INSPIRATIONAL, and ENTREPRENEURIAL. Aside from making an impact in the community, which is rewarding enough to those that work at Kinexus Group, when it comes to perks and benefits, we do everything we can to provide the best for our employees. Some of the benefits include a flexible work environment, a wellness program that includes an hour a week to workout as a team, competitive salary and benefits, and endless professional growth.
The outcomes for our community make us proud. The high performing and friendly team culture make us stay.
Let's pretend you're writing a review for Yelp! or Trip Advisor. Give us your best recommendation for the nominated company that would make the rest of us wish we worked there, too.
It feels really good to work with people you consider family, while making a difference in the community around you. It also feels good to work for an organization that genuinely cares about you. From the time off and benefits, to the parental leave and preventive healthcare programs, student loan assistance, and flexible work environment- I never have to question if I am cared about by my employer. You can't take ten steps in the building without getting a welcoming greeting or a smile from a teammate.  I highly recommend Kinexus Group if you're looking for a fun and rewarding place to work!
What three key words best describe why this company is a Best Places to Work caliber company?
Performance…2. Teamwork…3. Trust…
As a Best Places to Work company "Super Hero," what are the two most magical "Super Powers" this company has on a day-to-day basis? (i.e., Ability to read minds, fly, invisibility, etc) And why?
Super Power One One of our magic super powers would have to be telepathy, which is purported transmission of information from one person to another without using any known human sensory channels or physical interaction. This would mean that we are constantly motivating the people we serve and remain that positive, motivational voice for them whether we are sitting right next to them or they're off on their own!
Super Power Two Another super power that Kinexus Group has on a day-to-day basis is super stretch, which means that we have to be adaptable in order to help out with complicated problems. It's important to be adaptable in difficult times and provide the solutions that the people we serve need and/or require.
Tell us about the leadership of the nominated company and what they do to:
A] Keep spirits and motivation high? We put a lot of accountability on leaders to serve the organization and team before themselves. We provide a variety of feedback loops for people to understand what winning looks like, so even if they are not having success right now, they know how they can get there. Formal discussions occur quarterly between employees and leaders to keep spirits high, evaluate performance and celebrate team wins.
B] Keep innovation and fresh ideas advancing? Our leadership team is constantly bench-marking against other organizations statewide and nationally, taking best practices from both the private and public sectors. In order to best address the unique challenges and opportunities in our community, we also use an outside-of-the box approach as a non profit with subsidiaries to allow more creative thinking and customized results. In addition, we offer a robust internship program each summer where we bring top college students to Kinexus Group. They learn from us and we learn from them.
C] Keep communications open? Internally we have physically re-aligned to an open office space that fosters a team atmosphere and promotes integration. Additionally, we have digitally re-aligned our organization by utilizing a communication tool called Slack, which has allowed our team to gain shared consciousness, break down silos, and build team culture. Weekly, we hold an Operations & Intelligence Meeting, where all members are encouraged to share the most relevant information to the team, as well as highlight the decision making process so that teammates are better suited to make high quality decisions in the future. This meeting was adapted from a highly effective military practice developed in Afghanistan and Iraq.
Explain a specific "wow!" moment in this company's history that is virtually "Hall of Fame" or "Best Practices" worthy, as an example to other companies in the region.
In 2017, we launched Youth Solutions, Inc., a premier youth opportunity non-profit delivering promising practices to our most vulnerable youth. This subsidiary organization has a vision that ensures every young adult in Michigan is educated, employed, and career-bound. Youth Solutions is capitalizing on the exponential growth of its leading program- Jobs for Michigan's Graduates (JMG)- to bring impactful services to youth populations statewide.
The program started at Benton Harbor High School in 2008 serving 76 at-risk-youth. Today, the program serves more than 2,500 students ages 14-26 in 69 programs.
Best Places to Work have a reputation for not only working hard, but also for playing hard. How does the nominated company:
A] Honor or reward success? We have an employee recognition program along with significant informal recognition practices that take place at company-wide forums.
B] Socialize as a team? Informally, our open office environment allows for employees to engage with one another easily as well as break rooms that are designed more like kitchens so people can hang out around the kitchen table. More formally, twice a year we have All Staff Days where the entire organization is able to socialize outside of the office. We also have something we call the "Kinexus Experience Group" which is made up of employees from all around the organization. They plan fun events throughout the year to help engage staff.
C] Get involved in community events? Giving back – this is especially important in the work we do at Kinexus Group. Our team members are represented on roughly 20 different community organization boards. We are integrated with the community, which allows us to create new solutions to community challenges. In addition, we participate in many community events, such as the Southwest Michigan's Mini Maker Faire, and United Way's Rock the Boat, as well as many others.
D] Celebrate life? When people go through major life events, Kinexus takes time to recognize them whether it is when they get married, have a baby or start a new business. Respecting grow-and-go as part of personal and professional development is important at Kinexus and when it is time for a Kinexian to move on, we compose personal, outgoing videos for long serving, impactful employees.
Write a brief, but compelling, recruitment ad telling people about why they should come and work there, too.
Looking for a new career that rewards you with more than just a paycheck and has just the right amount of work/life balance? Come to Kinexus Group and learn about how you can make a difference in your community while having fun. Purpose-driven high performers are encouraged to visit us at www.kinexus.org to learn about the opportunities that we have waiting for you!
What one thing is special about your nominated company that most people in the community have no idea actually happens there, but should be shouted from the rooftops because it's that cool?
We started Kinexus Strong, which is a team wellness hour that takes place from 4-5 PM every Thursday. This time together encourages us to be better leaders and communicators while improving our health at the same time. We have played basketball, beach volleyball, yoga lead by a local expert, and even gatorball (ask us about that one later)!
Give us three employee perks or benefits that you think make the company you have nominated worthy of a Best Places to Work trophy?
Tuition Loan Assistance…2. Parental Leave, which includes maternity, paternity, adoption or surrogacy…3. Flexible Paid Time Off
If this is your company and you win, write the best headline ever for your company newsletter describing your successful selection to the list, and be as specific as you can about how you would celebrate the win if money were no object.
KINEXUS GROUP ESCAPES THE POLAR VORTEX WITH AN ALL INCLUSIVE CARRIBEAN VACAY FOR MAKING MOODY'S BEST PLACE TO WORK LIST
Tell us anything else you want about this company that you suddenly realize we haven't asked you about, but you're sure will be the thing that puts you squarely into the winner's circle! (Wait a minute! Can you put a square in a circle?)
At Kinexus Group, we know that we cannot make a positive impact in the community without a strong team. We are always on the lookout for talent to join our team and we know that awards like this one would help us attract and retain talent. Being named one of Southwest Michigan's Best Places to Work would mean that we can recruit people from RIGHT HERE in Southwest Michigan that are hoping to make a positive impact on our region. Thank you for your consideration!