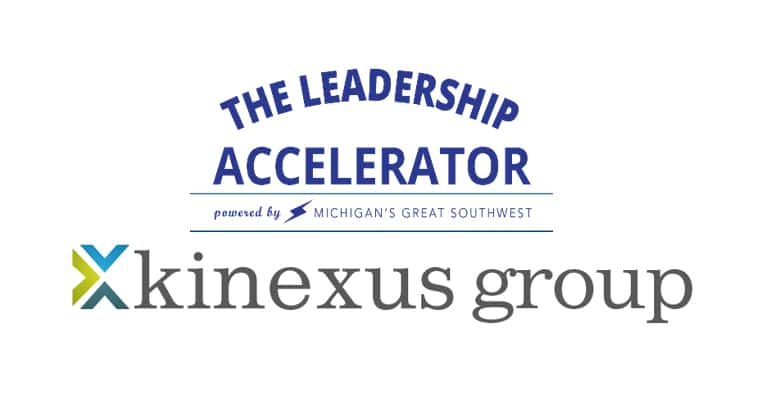 You could probably call it the most logical leadership progression plan in the region today. With 120 local leaders graduated from the program over the past four years, the Leadership Accelerator will fall under the purview of the Kinexus Group beginning this fall. The transition will be made from the Michigan's Great Southwest Strategic Leadership Council this fall, with team Kinexus taking the lead and hosting the intensive training regimen going forward.
Todd Gustafson is President & CEO at Kinexus Group. He says, "The opportunity to host and grow the Leadership Accelerator Program to reach more leaders in our region is one we take seriously," and adds, "As we think of the future of our region and state, we know it requires good, prepared leaders to influence outcomes and inspires others. Perhaps now more than ever, leadership development matters. The Leadership Accelerator program is all about developing leaders so they can grow and help our region and state prosper."
Each year 35 local leaders, representing all sectors from across Berrien County, come together to go through the intensive 10-month leadership development program.  The Program focuses on self, career and community leadership development.
Camille Pierce, Advisory Council Chair for the community-owned and led Leadership Accelerator Program says, "What we hear from local businesses and organizations is that the region needs more leadership development opportunities for their employees and volunteers. Moving Leadership Accelerator to Kinexus Group allows us to continuously improve the Program with the required infrastructure to grow and expand into more learning opportunities." Pierce adds, "Kinexus Group is committed to supporting the growth of this Program and to invest resources to create opportunities for leadership development in our region. We are glad that Kinexus Group has agreed to take on this role and appreciate the roles that all of our community partners have played in making it a success."
Nominations for the next Leadership Accelerator cohort are due by this Friday, September 6th. To fill out a nomination for you or someone you know, visit the link below:
The next cohort begins on Friday, October 4th. For more information, reach out to Donna Porter at DP@leadswmi.org.
Kinexus Group is an organization that invests its time and resources into inspiring positive economic change one individual, one business, and one community at a time. For more information, visit www.Kinexus.org, follow along on Twitter @KinexusGroup or "like" them on Facebook @KinexusGroup.