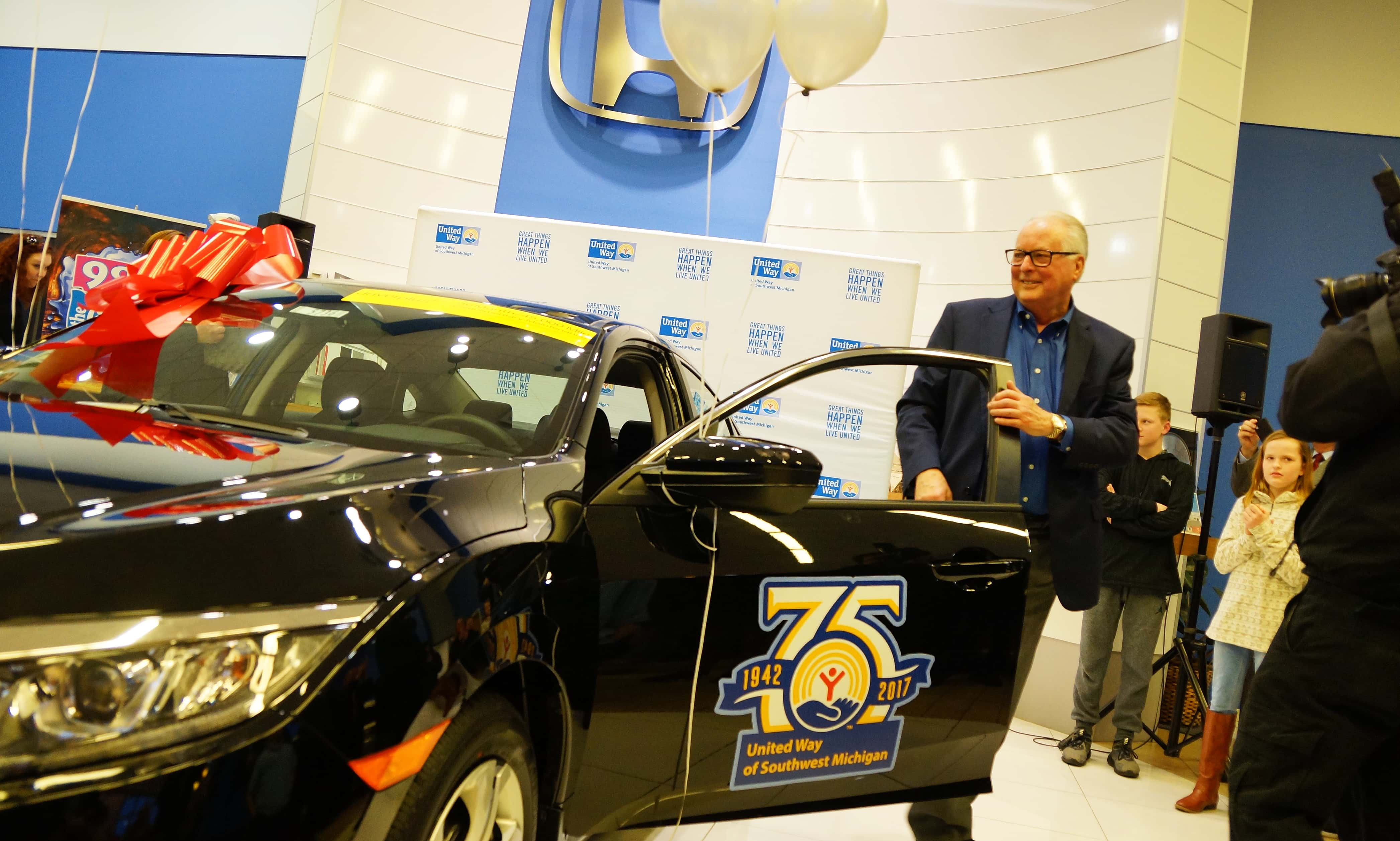 Duane Berger lit up almost like the headlamps on the new Honda Civic he was sitting behind the wheel in this evening when the key in his hand successfully fired the engine of that shiny new black car on the showroom floor at Tyler Honda of Stevensville. He was the fourth of ten finalists to give the ignition switch a try with the key he had randomly selected from a bag offered up by auto dealer Chris Tyler and it proved to be the right key at the right time, as it made him the winner of a new 2-year lease as part of the 75th Annivesary celebration at United Way of Southwest Michigan.
Berger has been a regular annual donor to the United Way campaign through the workplace for some 35 years or better, and shortly after his key successfully turned over the 2-liter engine on the new Honda Civic with a giant red bow on the windshield he suggested it might be a good time to "go buy a lottery ticket, eh?"
Berger says, "It's always great to give to the United Way, as I said I think the return on investment is pretty solid." He adds, "But, to be recognized for it, and to win something exchange makes it pretty cool."
Berger, who is Director of Innovation at Kinexus in downtown Benton Harbor, currently drives a Lincoln, but he says it has a lot of miles on it, and even if the new vehicle becomes an alternative "fun car" for a couple of years, it has been a "very exciting day," and he's proud to be a regular contributor to the United Way campaign.
The Civic is actually just one option that Berger can select from, with several other alternatives including upgrading to a larger or more expensive vehicle and paying the difference in the monthly lease rate from what the promotion offers and what he might eventually select.
Chris Tyler was delighted to see a showroom filled with fun-loving people this evening as the 10 finalists and their family members and friends, United Way staff and volunteers, Tyler's crew and other onlookers joined in light refreshments leading up to the key ceremonies. Three of the ten had tried, unsuccessfully, to fire the engine of the Civic before Berger's key worked, leading the remaining six on the sidelines, recipients of consolation prizes from United Way and Tyler Automotive.
For those who missed out on the opportunity in this milestone year, both Tyler and United Way President Anna Murphy confirmed tonight that the promotion will be renewed and an identical offer will be made to donors in the 2019 campaign next year.
Every donor in the entire campaign this year who donated at least $156 ($3-per week) was automatically entered into the drawing and for every $100 in donations beyond that level, additional entries were added to the bin making for lots of entries in the sweepstakes this year.