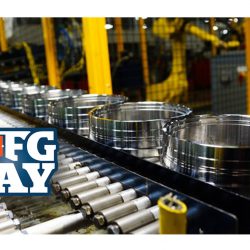 In the beginning, Sunset Tool of Bridgman opened its doors to the first ever Manufacturing Day in Michigan's Great Southwest alongside the change agents at Kinexus of Benton Harbor. The response was remarkable. A year later, students from across the region swarmed Mach Mold and Gaishin Manufacturing, both located in the Urbandale Air Park near Southwest Michigan Regional Airport. Up next they set a record for attendance when Edgewater Automation in St. Joseph played host, and last year Kinexus doubled down with simultaneous events in both Berrien and Van Buren Counties with students scoping out Kay Manufacturing, Eagle Technologies and others. All in the name of addressing the misconceptions that manufacturing is a dirty and dying industry.
Well…they're back…and hoping to establish further attendance records for the upcoming 5th Annual Manufacturing Day with simultaneous events running in St. Joseph and Niles this time.
The excitement at Kinexus is palpable as they lead the planning and logistics for the big day on Friday, October 6th, 2017, when they will celebrate the $2.1-billion manufacturing industry in Southwest Michigan and celebrate the fact that manufacturing is not only alive, but growing and thriving right here in our own region.
Students and others who attend the 2017 version of Manufacturing Day will have an opportunity to learn about the vast array of things that are made in their own backyards, and get a chance to see demonstrations by local career and technical education students and robotics teams.
To accommodate an even larger geography, Kinexus and local manufacturers will be holding this year's Manufacturing Day events simultaneously in Saint Joseph and Niles.
Last year's event drew hundreds of students, school administrators, local officials, and the community. Over 1,300 students, manufacturers, elected officials, and community members are expected to attend this year's dual events. The event is free and open to the public.
A legislative update and business roundtable discussion will take place at Bosch in Saint Joseph.
Manufacturing Day will be happening simultaneously from 8:00am until 3:00pm at both host sites. The Saint Joseph host and tour location is Bosch, located at 3737 Red Arrow Highway. The Niles host and tour location is AACOA, located at 2005 Mayflower Road.
Questions about Manufacturing Day can be directed to Dan Peat, Senior Director of Business, at 269.927.1064, x1184 or peatd@kinexus.org.
Employers who would like to register for a booth or teachers who would like to register their students for Manufacturing Day 2017, are encouraged to visit MFGDAY2017.eventbrite.com.
Manufacturing Day is an annual national event that brings together hundreds of manufacturers to host students, teachers, parents, job seekers and other local community members at open houses designed to showcase modern manufacturing technology and careers. To learn more about the national movement, visit mfgday.com.
Kinexus is an organization that invests its time and resources into creating integrated solutions for business, workforce, and community challenges to promote economic vitality in the region of Michigan's Great Southwest. For additional information, you can visit www.Kinexus.org, follow along on Twitter @KinexusGroup or "like" them on Facebook @KinexusGroup.