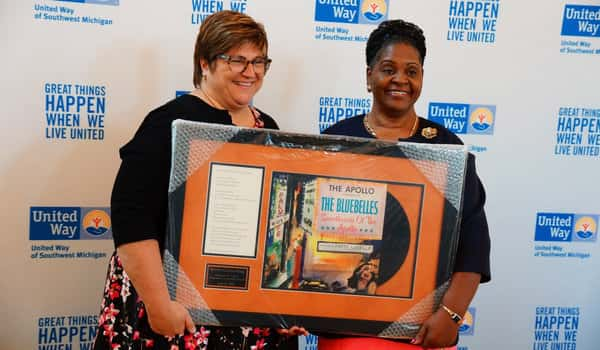 Bertha Carson-King has done amazing work in the community of Michigan's Great Southwest, and now she's a King who reigns supreme over the world of volunteerism in our region as the 34th Annual winner of the Margaret B. Upton Volunteer Leadership Award presented tonight in St. Joseph.
Betha received her award from Congressman Fred Upton and Priscilla Upton Byrns representing the Upton family which has been awarding the high honor to top volunteer leaders dating back to 1982. She received a beautifully framed artist rendering of an album cover from her favorite musical artist Patti LaBelle, as part of The Bluebelles at The Apollo. She will also have $3,500 to award to her favorite non-profit agency.
As she accepted the award, beaming brightly, she talked about how her volunteer work is just one piece of the puzzle that we all assemble together when we do things to uplift the community.
Also presented tonight were the winners for United Way's Live Untied youth scholarships, and Emerging and Sustaining andVolunteer awards were also announced.
Bertha Carson-King was nominated by Berrien County Cancer Service, and is recognized for her years of volunteer service, specifically to Strong Women of Faith Cancer Support Group (SWOF), where she serves as the Co-founder and Director. SWOF inspires women of all ages and socioeconomic levels to come together in a vibrant, lively way to support each other. While SWOF started out as a cancer support group, Carson-King encourages all women to attend, particularly those with health challenges.
United Way of Southwest Michigan President Anna Murphy told the crowd, "Throughout the years, Bertha has willingly given her time in serving Strong Women of Faith Cancer Support Group and other community organizations."She adds, "Bertha has done amazing work in our community, and she's very deserving of this award."
The Margaret B. Upton Volunteer Leadership Award is presented to one volunteer in Berrien County who demonstrates a long-standing history of volunteer contributions, diversity of volunteer experience with multiple organizations, and teamwork and
leadership experience. Carson-King will receive $3,500 from the Upton Foundation to donate to the non-profit organization of her choice.
Murphy says, "This is a night to recognize the amazing work that all of these volunteers have done in southwest Michigan, and every individual here tonight has made a significant difference in our community, and we appreciate it." Bertha was one of three nominees recognized for this great honor. The others include:
Harry Burritt
Nominated by Junior Achievement (JA) serving Berrien and Cass counties, Harry revolutionized the Junior Achievement program in Berrien County by introducing inschool programming, where they had been previously offering after-school programing. He has volunteered in the classroom for JA every year for more than 25 years and on the board of directors for more that 10 years. As Chairman of the board for 2 years, he resided over a period of substantial growth and increased financial stability.
Linda Wendholdt
Nominated by The Readiness Center, Linda has volunteered consistently for seven organizations over the past ten years. She was involved with the HOST program for 17 years and is presently a preschool aide at the Readiness Center. Her organizational skills have helped other organizations with fundraisers over the years such as Sarett Nature Center, The Kickers Club (Cure for Cancer fundraiser), Girl Scouts and Boy Scouts. Linda brings members of her parish together for group building days at Habitat for Humanity. Linda is a professional volunteer whose gift to all the organizations is faithfulness and longevity.
Both Burritt and Wendholdt will receive checks for $750 to be awarded to the non-profit organization of their choice, in a first ever move for the "runners-up" thanks to a bit on on the spot lobbying performed by 2015 winner J.C. Anderson who admitted that he's never been afraid to ask individuals, businesses or organizations for money to help a good cause.
The LIVE UNITED Youth Scholarships are presented to a high school senior, one from Berrien and one from Cass, who demonstrates a commitment to volunteerism through innovation, dedication, and advocacy for community improvement. A $500 scholarship is awarded to each, made out to their college on their behalf.
LIVE UNITED Youth Scholarships
Joseph Avance
Joseph was announced as the winner of the Cass County Live United Youth Scholarship Award. Joseph has been a volunteer/mentor at his church and school. He also volunteered at Big Brothers/Big Sisters, The Salvation Army and the Youth
Advisory Council. As a member of the Youth Advisory Council of Gateway Foundation, Joseph was chosen to attend the Summer Leadership Conference representing Cass County at the national level.
Sahana Harikrishnan
Sahana was announced the winner of the Berrien County Live United Youth Scholarship Award. As a member of the Key Club at St. Joseph High School, at the local level and the District Board level, Sahana helped form several new committees which has increased leadership options and improved the working of the club. As District Governor, she has helped plan the 2016 Service Leadership Convention and hosted leadership trainings for all officers around the state.
The Sustaining and Emerging Volunteer Awards recognize volunteers from Berrien or Cass County who show a commitment to United Way's goals in the areas of Education, Income, Health or Basic Needs. These volunteers are those that elevate their organization to new levels.
Emerging Volunteer Awards
Rick Klitchman – winner
Nominated by the American Red Cross of Southwest Michigan, Rick has been an active member of the Disaster Action Team and is the Home Fire Campaign Coordinator.
Other nominees were:
Michelle McAdorey
Nominated by Caring Circle, Michelle has accumulated over 400 hours of service within the last year by providing office support along with other projects at Caring Circle.
Mariane Faria
Nominated by United Way of Southwest Michigan, Mariane has provided a wide-range of marketing assistance from managing the social media accounts to designing materials.
Brett Lutz
Nominated by the LOGAN Center, Brett serves as the St. Joseph liaison on the LOGAN Board and has helped secure a corporate relationship for support of the new center at Stump School.
Sustaining Volunteer Awards
Loraine Frobel – winner
Nominated by Caring Circle, Loraine volunteers as the Volunteer HR administrator and bereavement office assistant and also can be found at the Soup Kitchen, recruiting, scheduling and overseeing Trinity Lutheran volunteers.
Other nominees were:
Ellen Ryan-Scarpello
Nominated by the LOGAN Center, Ellen has been an advocate for those in the autism spectrum and has overseen the fundraiser, "Bowling for Austism," for 7 years.
Chris White
Nominated by Well of GRACE Ministries, Chris has served as a board member for over 5 years and is committed to helping the ministry be successful through fundraising events, finding new board members and sharing the mission with others in the
community.
Colleen Cullitan
Nominated by Harbor Habitat, Colleen serves as a Harbor Habitat board member, providing legal services for 8 years and sits on the boards of First Tee, Boys and Girls Club, Berrien County Health Plan and the Berrien Community Foundation.
To see more information on the nominees and winners, visit www.uwsm.org.
United Way of Southwest Michigan improves lives by mobilizing the caring power of communities. Improving lives happens through advancing the building blocks of a good life; Education, Income, Health, and Basic Needs. We all win when a child succeeds in school, when families are financially stable, when people are healthy and have all their basic needs met. It takes everyone in the community working together to create a brighter future. United Way invites the community to be a part of the change. That's what it means to LIVE UNITED. For more information about United Way, please visit www.uwsm.org or www.liveunited.org.

Bertha Carson-King is congratulated by previous Upton Volunteer award winner Bill Marohn