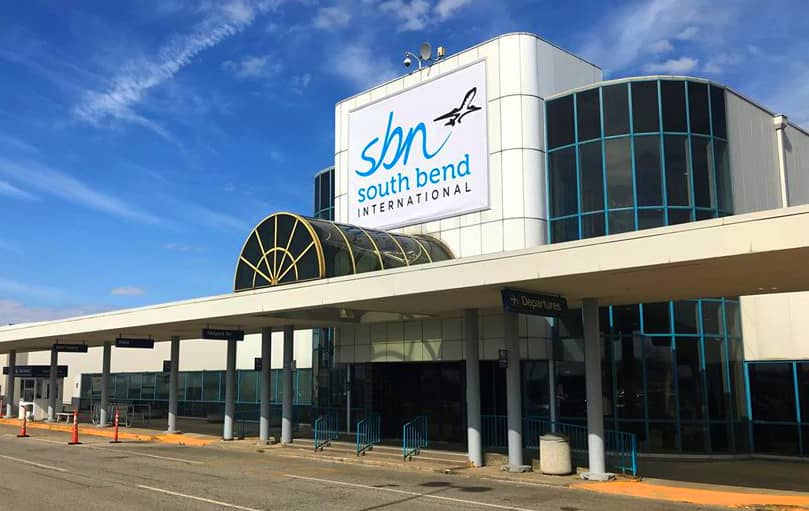 ---

---
If you're still beginning every vacation, business trip or getaway weekend by schlepping your luggage, your family, and heaven knows what else to one of the Chicagoland airports, the crew at South Bend International Airport has one simple question for you. Why? Really. WHY?
Why are you getting up in practically the middle of the night to drive for anywhere from 90 to 150 minutes before you even get to the parking lot or garage, then paying a range of $15 to $42 per day to park your vehicle, depending on how far from the terminal you are willing to be. Inevitably, you'll have paid tolls along the way if you want any expediency in getting to the airport in the first place. Inasmuch as they are among the busiest airports in the nation, you'll frequently be faced with heavy traffic approaching the air field, followed by long lines not only for check in, but also for TSA security checks when traveling through Chicago. Then, too, they strongly encourage arriving at least two hours before your flight is scheduled to depart or up to three hours in advance if you are traveling internationally.
I know you're going to argue that the price of the airline ticket itself is very often cheaper than flying from a smaller airport such as South Bend, but the reality is that once you add in the factors of fuel to drive farther, tolls to get there, and higher parking fees to keep your vehicle safe while you're away, not to mention the additional wear and tear on your car, or the value of your personal time, you might actually discover that the peace of mind of fast, smart and affordable options at South Bend swing the pendulum well back into your favor.
While the trip to Chicago might offer non-stop options to your ultimate destination, South Bend provides non-stop flights to 11 major destinations from four airlines, as well as the option of one-stop flying to almost anywhere in the world. I know personally, because I have flown to Paris, France from South Bend with a single stop, as well as on many occasions to Washington, D.C., Las Vegas, Boston, Baton Rouge and other locations.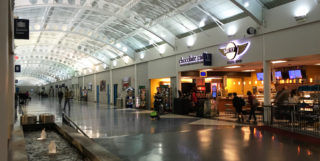 I always have very close-in parking, even in the long term lot at South Bend, always find very short lines at the check-in counter, TSA security check points, and can even grab a cup of coffee or a quick breakfast sandwich literally across the concourse from my gate at Bar Fly hosted by South Bend Chocolate Company.
When South Bend International, known by its airport code of SBN, says in their marketing, "Happy Starts Here!" they truly do put a smile on the face of travelers from our region who frequently travel less than 30 minutes to get to the airport, pay as little as $10 a day for parking on site — with the seventh day free — and make quick business of the short lines and easy access to whatever they need at the popular air field.
There's an actual Trip Cost calculator on the front page of the SBN website that lets you see the reality of the true cost of flying locally as compared to the bigger Chicago airports when you factor in all of the tolls, parking fees, and ancillary things that add up when making the longer trip just to get to the airport.
Who doesn't want to save time, money, headaches and stress by starting your vacation or business travel from literally next door? For that matter, how many people forget the fact that once they land in Chicago, they still have the not so pleasant task of retrieving their baggage, then their car, paying the parking fee, fighting airport traffic to get back on the interstates and toll roads and the 90 to 150 minute or more drive back home before they can collapse on the couch or bed in their own home and call it a day? Conversely, it takes just minutes to accomplish those same tasks and a quick drive back north to the comfort and safety of your own home.
Realize, too, that the more that everyone adopts SBN as their home airport, the more that the airline industry will consider adding flights and service to the regional marketplace, bringing additional options and opportunities for more non-stop destinations, and more links to our own favorite hot spots. The impact on the regional economy is significant and only has a chance to increase as use of the airport increases. The staff and management at SBN work continually to negotiate with carriers to bring additional airlines, flight schedules and more to the local population. Those carriers want to – and need to – see filled seats on existing flights and routes before they're willing to consider new or added options.
I frequently hear people voicing concerns about flight cancelations, delays, or lost luggage. Recognize first and foremost, that SBN does not cancel or delay flights ever. Only the airlines do. SBN does not lose your luggage. Only the airlines do. The odds of flight cancelations and delays typically run higher at larger airports, however, the ripple effect can impact local options, meaning if an airport is impacted by weather or other reasons, clearly flights from SBN to that airport will be impacted by those cancelations or delays.
As you have may have heard me say many times on the radio through the years, "I fly SBN, do YOU?" Next time you're booking a getaway, a trip of a lifetime, or a quick trip to meet clients, before you automatically start the process by scouring for options out of Chicago, make your way to www.FlySBN.com and see how you can save time, money, headaches and stress by beginning and ending your trip right here at home.
Spring Break is at hand. Where are you headed…and how much will it cost you to get there? If you want to know the real cost comparison of SBN vs ORD or MDW…use that handy little Trip Cost Calculator online. It's free! Click this link for more: http://www.FlySBN.com
---

---