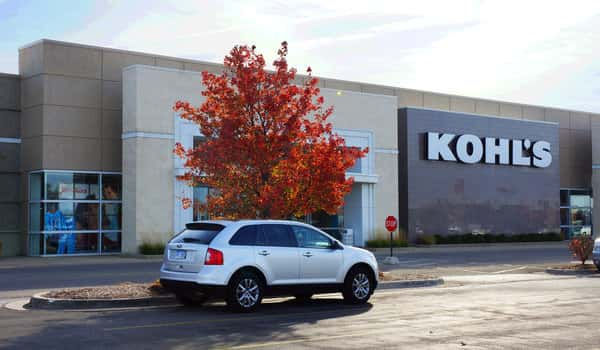 In an ongoing bid "to find new and innovative ways to drive sales in 2016," Kohl's Corporation says today they will be piloting a new smaller format Kohl's store and will close 18 underperforming stores in an effort to save nearly $55-million in annual SG&A savings and depreciation. Specific stores targeted for closure are expected to be announced by the end of March.
"SG&A" is accounting parlance for "selling, general & administrative" costs affiliated with any retailer.
The 18 underperformers represent "less than one percent of total sales," and their shut down will incur approximately $150-$170-million in charges tied to the closures as well as organizational realignment at the company's corporate offices which occurred earlier this month.
The Benton Harbor Kohl's, pictured above, is one of more than 1,160 stores nation wide flying the Kohl's flag, and while nothing is ever guaranteed, it would appear unlikely that the Fairplain Plaza store is at risk in light of the fact that they are currently advertising for three new employees in several departments. Store management, as is the case system-wide, won't know the fate of the store until the rest of the system learns when the announced closings are revealed next month.
Kevin Mansell is Chairman, President & CEO of Kohl's. He says today, "While the decision to close stores is a difficult one, we evaluated all of the elements that contribute to making a store successful, and we were thoughtful and stratetic in our approach." He adds, "We are committed to leveraging our resources on our more productive assets."
Mansell also expressed concern for employees impacted by the shut downs, saying, "We also wnated to provide the best options for our associates and are proud that every affected store associate will be offered a position at a nearby Kohl's location, or if they prefer, a competitive severance package."
The new pilot smaller format Kohl's format store will open in seven locations in various regions around the country. Mansell says, "We see exciting growth potential in the new stores and new formats that we are opening this year and are heavily investing in the health of our overall stores portfolio to continue to serve our current and future customers."
Kohl's Corporation reported quarterly and annual results, showing a sales increase of barely 0.4-percent, which was below their expectations. The closure of 18 stores is not a major cut, but it does mark the first time in the history of the company that they've announced multiple store closures.
Stay tuned for which stores will be closed, with the list due out by the end of next month.