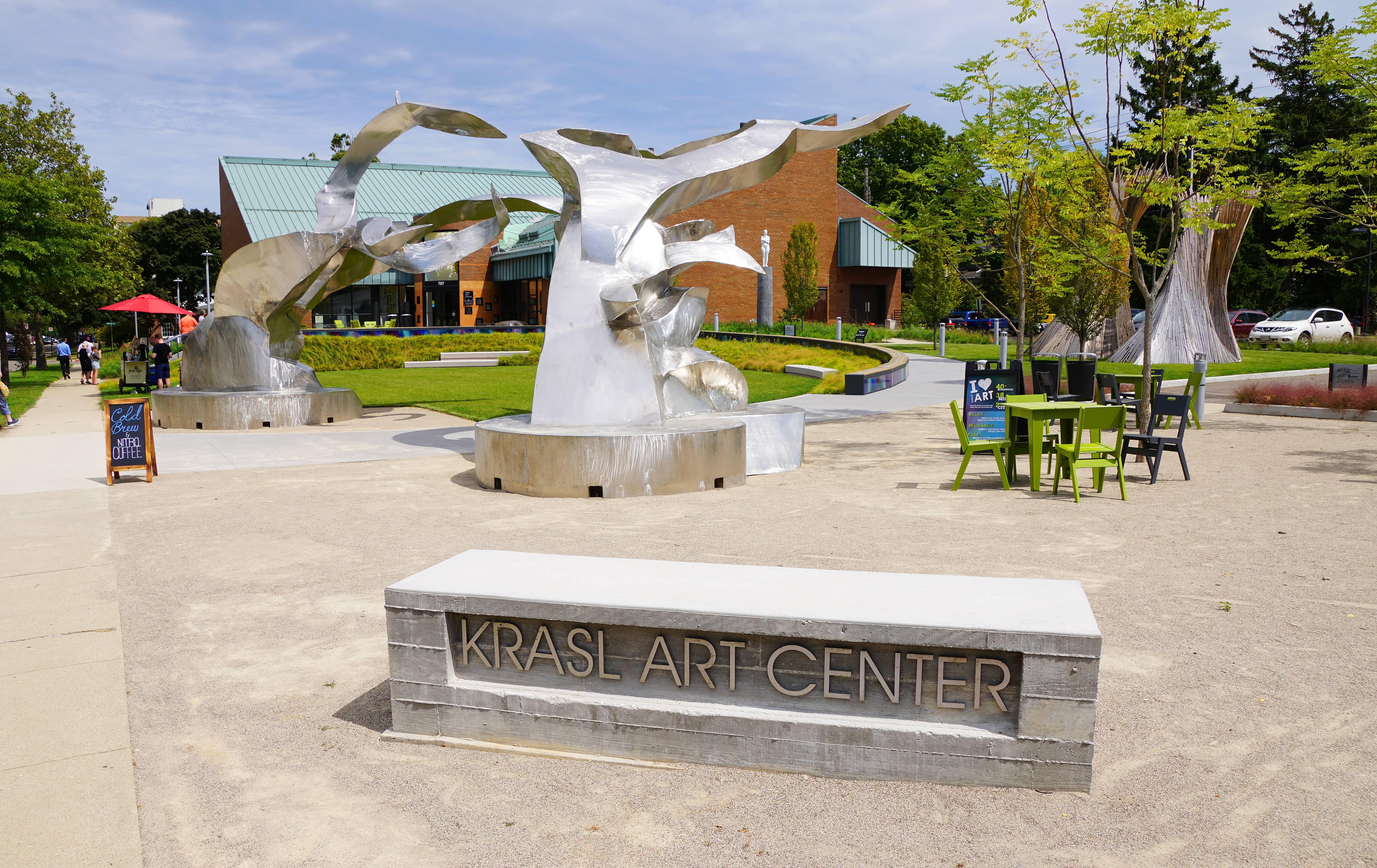 The Krasl Art Center has announced its board of directors for the upcoming year. The Krasl told us more:
Krasl Art Center (KAC) is pleased to announce its Board of Directors for the upcoming year as well as its Commitment to Diversity and Inclusion.
November 18, KAC announced the updated roster of directors at its annual meeting of the membership and highlighted projects from the past year, many of which touch on efforts to increase diversity and inclusion. The night included a welcome by Board president Brian Edlefson, a presentation by Emanuel and Sharon Brown, founders of the AFrican AMErican History & Literature Gallery in Benton Harbor, on the importance of art to community, and previewed over 140 artworks in its opening celebration of the  Community ⇄  Members' Show (pronounced "community members show") featuring KAC member and Berrien County artists. The Browns chose this year's Members' Award recipient, Sara Alexis. The exhibition is on-view through January 8, 2023 and guests are invited to vote for the People's Choice Award.
KAC's New Board of Directors
Krasl Art Center's board of Directors is composed of 12 community members for the 2022-2023 term. There are four officer positions and eight members, which include:
Brian Edlefson – President
Grace Kelmer – Vice President
J. Paul Fletcher – Secretary
Steven J. Wessel – Treasurer
Anna Brooks
Nicole Brown
R. Budd Haemer
Paulette Johnson
Dr. Katherine Kwon
Laura Lukas
Princella Tobias
Zachary Vaughn
Princellia Tobias is the newest member. Princella is a native of Southwest Michigan, and the founder and Chief Executive Officer of the Benton Spirit Community Newspaper. Prior to starting the Benton Spirit, she worked for two United States senators (Alan J. Dixon and Carol Moseley-Braun), and former Mayor Harold Washington of Chicago, Illinois, as well as several national and international corporations and organizations.
KAC's Commitment to Diversity and Inclusion
KAC is a community resource, art museum, and educational institution. It is a collection of staff, faculty, artists, volunteers, students, experimental and artistic spaces, outdoor grounds, and community activations. As such, KAC realizes its unique ability to provide creative experiences that are truly accessible, equitable, and inclusive to all members of the community.
KAC's Pledge
"Krasl Art Center is committed to consciously examining, identifying and addressing systemic racism and inequality of all kinds and its effects within our organization, community, and professional field. We strive to take a holistic and integrative approach, operating as an anti-racist organization and a brave space that puts humanity first. Krasl Art Center believes that, through our unique position and the power of art, we can creatively produce, promote, and discuss the relevant work needing to be done to continue to grow and heal our communities."
The full statement – which outlines the acknowledged challenges, resources, and evidence behind the pledge – may be found online at //krasl.org/about/deai-commitment-values/
The statement was approved on October 24, 2022, by KAC's Board of Directors and crafted over the past year by the following committee members:
Brian Edlefson (KAC Board President)
Tami Fauver (KAC Staff)
Liz Garey
Joseph Gonzales
Julia Gourley Donohue (KAC Staff)
Paulette Johnson (KAC Board Member)
Nathan Margoni (KAC Staff)
Syndey Sentell
This work is ongoing at KAC. Look for updates monthly on Social Media and in KAC's email newsletter. The Public is invited to share insights and thoughts through an anonymous form at //krasl.org/about/deai-commitment-values/
KAC invites the community to experience artwork indoors and out 7 days a week April – December, and 5 days a week January – March, through gallery exhibits and public art placement.  KAC is always FREE & open to the Public.