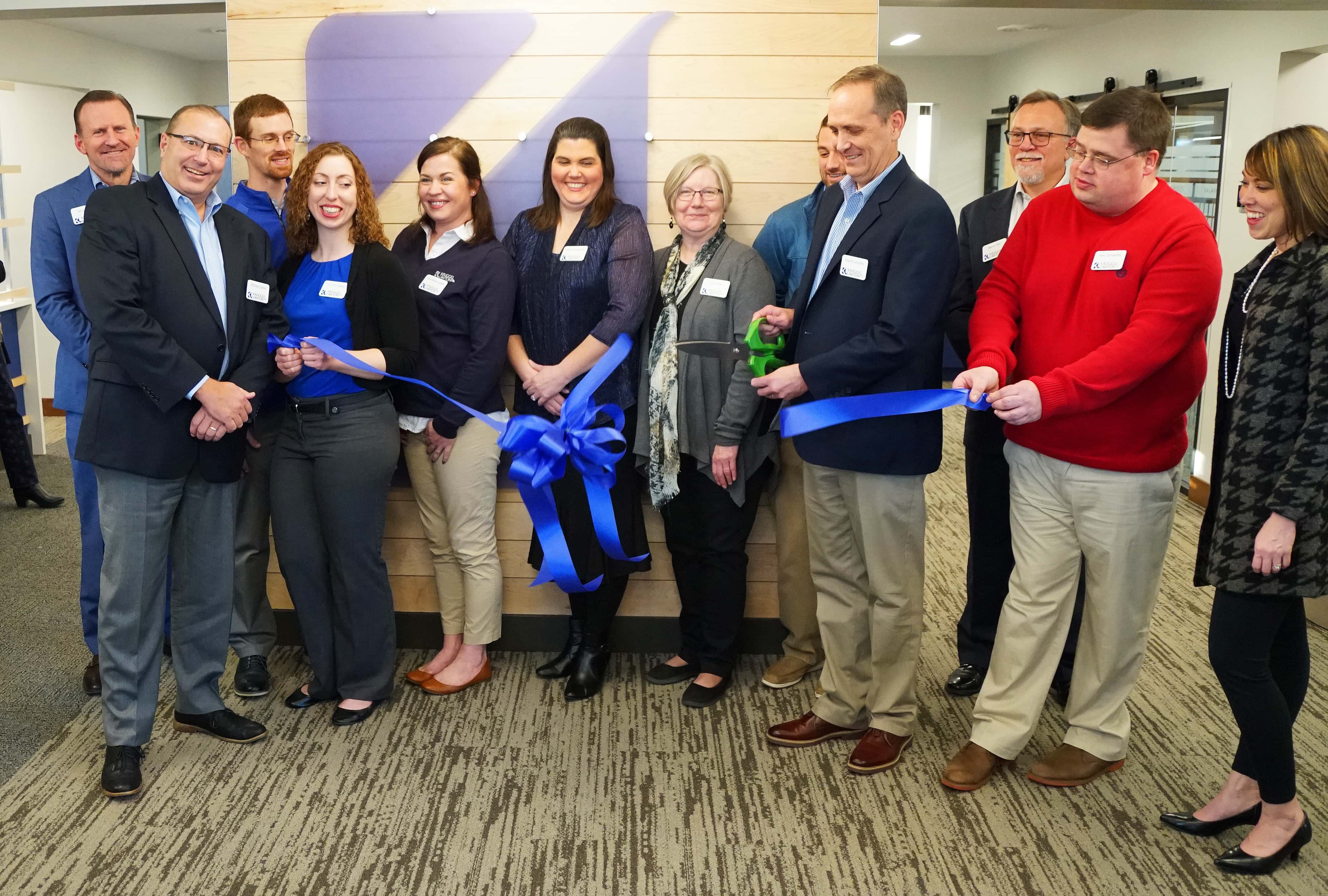 ---

---
Three years ago the long-running CPA firm of Schaffer & Layher in St. Joseph teamed up with Kruggel Lawton CPAs of Northwest Indiana. It has been a spectacular marriage from the get-go, and they cemented the relationship even further with a formal ribbon cutting ceremony at their new home near Lake Michigan on Tuesday.
It was in December of 2015 that Schaffer and Layher joined forces with Kruggel Lawton, and in the years since then, the firm has continued to grow and expand its employee base as well as its culture and clientele.
The firm recently completed a total renovation of the 6,000 square-foot office building which they bought from Perry Ballard. The new office sits very close to Lake Michigan and Benton Harbor's Jean Klock Park at 526 Upton Drive in St. Joseph.
Last night they conducted the ribbon cutting with Cornerstone Chamber of Commerce leading the ceremonies, and Partner Dave Schaffer, CPA, welcome everyone and talked about the great synergy afforded the entire team by the new surroundings and the firm's plans to be a part of the local community for many generations to come.
Managing Partner Barry Hall, CPA, CGMA, says, "We wanted a space that would afford us room to grow and be reflective of our company and culture. The offices were built to achieve this and will allow us to better serve our growing client base."
Dramatically updated and open architecture work spaces have been configured to encourage collaboration, as well outfitted with convertible standing-or-sitting desks that include access and connectivity to the latest cutting edge technology. Additionally, the basement level multipurpose room features seating for up to 50 people, which will be used for future on-site client seminars.
Schaffer says, "We're thrilled about this move, as it represents yet another step in our ongoing commitment to growth and expansion. We look forward to welcoming clients to our new office location and continuing to provide the personal, expert service they have relied on for many years."
Kruggel, Lawton & Company, LLC, is a full-service accounting and business consulting firm offering assurance services, tax compliance and consulting, estate planning, business valuation, business accounting services, and executive searches. Kruggel Lawton also offers national and international resources as an independent member of the BDO Alliance USA. In addition to their new offices located in St. Joseph, Kruggel Lawton also has facilities in both South Bend and Elkhart, Indiana. You can visit them online at the link below to learn more:
---

---