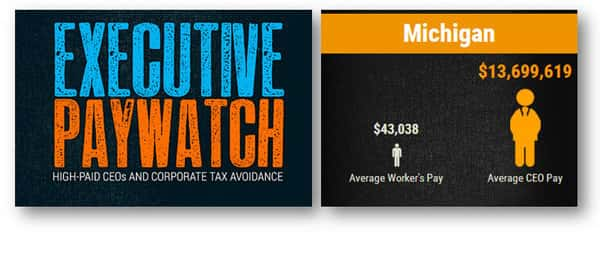 "There is something really wrong with this picture." That's the assessment of Michigan AFL-CIO President Ron Bieber after scanning the latest labor report on the imbalance between compensation paid to CEOs in Michigan and that of the average Michigan worker.
Bieber says, "America is supposed to be a place where if you work hard and apply yourself, you can earn enough to sustain a family." He adds, "But that's not what we're seeing." What the new report from Bieber's office reveals is that Michigan-based CEOs among companies listed on the S&P 500 were paid 318 times more than average Michigan workers in 2015. Their annual Executive PayWatch report shows that average compensation for S&P 500 CEOs in Michigan was $13,699,619 in 2015, while the average pay for working people clocked in a just $43,038.
Bieber contends, "CEOs have manipulated the rules in their favor, and the numbers speak for themselves. We need an economy that works for everyone, not just the wealthy."
The Executive PayWatch website is the most comprehensive searchable online database tracking CEO pay. This year's report highlights Mondelez International, which represents one of the most egregious examples of CEO-to-worker pay inequality. That company, which makes Nabisco products including Oreos, Chips Ahoy and Ritz Crackers, announced earlier this year that in order to reduce costs, it is sending 600 family-sustaining jobs from Illinois to Mexico, where workers face poor labor and safety standards. Mondelez CEO Irene Rosenfeld made $19.7-million in 2015 — or $9,471.15 per hour.
Bieber says, "The best way to restore opportunity is by empowering working people to speak up together for fair wages, strong benefits, and a secure retirement."
This year's Executive PayWatch report also found:
The average S&P 500 CEO in Michigan earns approximately $6,586.35 per hour. At that rate, these CEOs only have to work about 6.5-hours to make as much as an average worker earns in an entire year.
S&P 500 CEOs in Michigan were paid 771 times more than full-time minimum wage workers, who earn just $8.50 an hour.
Nationally, the average production and non-supervisory worker earned approximately $36,900 per year in 2015, a wage that, when adjusted for inflation, has remained stagnant for 50-years.
To see the complete report, click this link:  http://www.aflcio.org/Corporate-Watch/Paywatch-2016