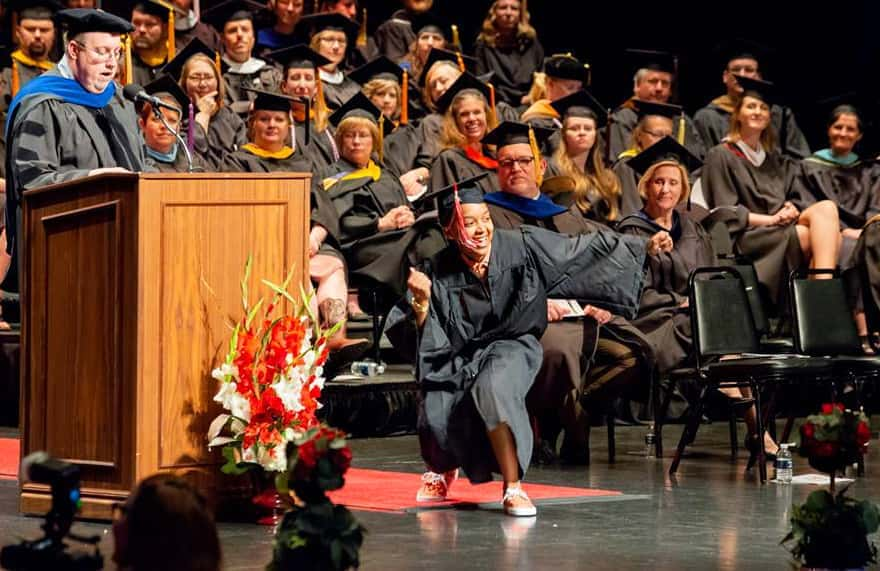 Like seemingly every other college and high school class in America, Lake Michigan College's Class of 2020 has been forced to innovate around the ceremonies, and they're planning accordingly for this Friday, with two follow-on options in the months ahead.
Inasmuch as Lake Michigan College graduates must forego a traditional commencement ceremony this year to protect themselves and their families from COVID-19, they're still finding ways to safely celebrate graduation.
To mark the College's 73rd annual commencement, LMC has planned three opportunities for 2020 graduates.
A pre-recorded virtual ceremony featuring Chair of LMC's Board of Trustees, Debra Johnson; LMC President, Trevor Kubatzke; Provost; student speaker and nursing major, Nicole Crenshaw; Vice President of Academic Affairs, Leslie Kellogg; Board of Trustees Treasurer, John Grover; and several faculty members will be published June 5th at this link:
lakemichigancollege.edu/2020grads
The graduates of 2020 will receive degrees from 31 areas of study, 12 certificate programs, totaling 413 associate degrees, one bachelor's degree, and 27 certificates.
One hundred thirty-eight students are graduating with honors, 58 with high honors and 17 with highest honors.
The ceremony includes students who graduated in the Summer of 2019, Fall of 2019 and Spring of 2020 semesters.
Then, on November 14th, LMC has scheduled an open house reception for the Class of 2020 in the Mendel Center's Grand Upton Hall. Additionally, for those who would like the formality of an in-person event, LMC is also extending an invitation for 2020 grads to participate in the 2021 Commencement Ceremony on May 2, 2021.
For more about the Class of 2020, including a list of graduates and degrees, visit the LMC website.
(The photo accompanying this story on Moody on the Market is from ceremonies at LMC in 2018, and is courtesy of Lake Michigan College.)
Graduates include:
Honors notations:
* (3.25-3.74 G.P.A.) – Honors
** (3.75-3.99 G.P.A.) – High Honors
*** (4.00 G.P.A.) – Highest Honors
Bachelor's Degree Recipient 
Watervliet
Eric Gallegos
Associate Degree Recipients 
Allegan
Johnathon Michael Beckwith *; Ashlyn Alise Clement *; Megan Marie Collins ***; Mason Brooks Hooker; Camden Kenneth Hoover; Stephanie Lynn Klinkhammer; Alexander Damon Letts; Alison Faith McKellips *; Brandon Casey Nicholson; Caylie Emilia Riess *; Lukas Jurien Vlietstra; Lexis Marie Wilson *
Allendale
Caitlin Nicole Woodworth
Ann Arbor
Daille Marian-Margaret Held ***; Bree Beth-Denise Linton
Bangor
Juliana Nicole DeVisser **; Elena Alexandra Guel *; Hannah Louise Householder; Bethany Marie Oliver ***; Bethany Brooke Ross *; Giselle Adriana Ruiz; Samantha Lynn Zordan-Bradley **
Baroda
Meghan Leigh Bourlier-Viveros; Tracie Lea Burtchett; Nicole Anne Ferrer *; Kaitlyn Irene Harlan; Rachel Lynn Hawkins; Nichole L Lovell *; Chapin Elles Schultz; Jessica Marie Walker; Ariana Leeann Warfield
Benton Harbor
Akeeya Chene Alexander; Jonel Latrice Archibald; Keairra Laniece Autry *; Marcheta Beal; Tashama Brown **; Maurice D Bruce; Dezahrae Doniesha Burton; Christina R Burwell; Zaida Castillo *; Toni Chuhak; Jasmin Lee Closson *; Gayja-Dee Codlin; Equinishia Nicole Crenshaw; Heather Marie Fisher; Sydney Grace Gardner; Casie Elizabeth Gohr; Micah Cedrick Goss, Jr. *; Glenn Halder *; De'Leeshia Hall *; Violette Rosen-Cadence Hall *; Maggie J Hines *; Ta-kia Patricie Hipps *; Jessica Renee Isbrecht **; Charles Vaughn Johan **; Pamela Chanel Johnson *; Abigail Irene Joyce; Autumn J Kinsey; Lachelle Aleysha Knox; Kailah Jonise Lee; Alyssa Lindquist; Meagan Elizabeth Metelko *; Kiana Renee Morrison; Qiyamah Anisa Muhammad; Davaris W. Palmer; Abigail Damaris Pelaez-Piedra; Chokwe' Kyauntay-Kyeise Pitchford II; Jaricxel Ramirez-Mata *; Erica Elis Ray; Katarra Cha'Tonda Roberts; Raquel Shayla Rose; Aaron Robert Schmidt; Lauren Yor'el Scott; Kevin Anthony Skorupa **; Aiden Connor Stormont **; Kristin Roxanne Taylor; Nashalee Thomas; Katie Lyn Warren *; Jolene Ellen Watson *; Kayonna Muranda Williams; Tristan Roy-Everett Wright **; Tyler Steven Zech
Berrien Center
James Roger Markle
Berrien Springs
Ellen Achianor; Jonathan Houston Capps; Douglas Jase Clark; Chloe Sinclaire Daniels; Alejandro Guzman *; Kyle Colby Hager; Paulvin Kenani Jungu; Violet Namaona Khaula *; Mwawi Kumwenda; Naomi Kumwenda *; Rhonda Jane Leak *; Ethan Ray Manke; Carly Suzanne Mazigian; Brittany Nicole McClelland *; Samantha Anna McElligott *; Jovan Clinton McLean; Cynthia Meza *; Juliet Mugadza *; Mwenya Mwenya; Kimberly Card Kholiwe Ndlovu *; Ashley Marie Nitz; Jessika Ann Rishaug; Olivia Gallagher Scherer *; Branden William Siewert *; Tamara William *; Merhunissa Tinashe Woods * 
Bloomingdale
Michelle Ann Engel; Victoria Leigh Hendrickson *; Brian Joseph Lacitignola **
Bridgman
Kennedy Suzanne Jones *; Lauren Veronica McCall *; Trevor James Scheideman *; Doreen Lynn Schmaltz; Zachary Dean Smith **; Natalie Rose Strefling *; MacKenzie Mabry Warren; Elizabeth J Winter **
Buchanan
Lucie Irene Behrle; Peyton Nicole Cavanaugh; Denelle Raye Clark *; Haley Ann Dey *; Brendan Charles Dodson **; Lauren Ruth Emerick; Danielle Diane Ernsberger *; Rebecka Lee Hoyt *; Myeshia Michelle Mayo; Justin Dean Polk *; Lane Allen Roberts; Troy A Strawser; Ashlee Ranae Wagner *; Sharifa S Williams *
Burlington
Shai-Anne T'nayjah Swaby
Byron Center
Stephen Daniel Miller **
Coloma
Derrick Michael Allred; Catherine Terese Bremer **; Natalie J Carow *; Tiffany Renee Clubs; Tiffany Renee Crider; Alyssa Ann Dillenbeck; Kayla Nicole Dykstra *; Alysa Renee Gould *; Emily Elizabeth Anne Greenman *; Angela Marie Hayes; Amy Lynn Hess; Narelle Sydney Hickmon **; Tristen Louise Howard; Jaidyn Loraine Hutsell **; Jacob Edward Huttenga *; Jacqueline Grace King; Jennifer Lynn Kitchman; Victoria Rose Kolenko; Paige Lynn Massey-Orlando *; Kathryn Faye Ann Pawluk; Elizabeth Lynn Pelate; Nadesta Lee Piper *; Rebecca Ann-Lee Saldana; Clayton Charles Stakley; Kelly Briann Sutherland; Oscar Velasquez; Joseph Scott Willmeng ***
Covert
Brenda Aguilar *
Dowagiac
Mariano Brito; Jerrica Isis Hargreaves; Brittany Nichole Shugars
Eau Claire
Michael Amos Little; Michael Kane Slack *; Jonathan Raymond Upson *
Edwardsburg
Ricole B Haas; Devin Mikel Pulling
Elkhart, Indiana
Cassandra Ann Lyvere **
Farmington Hills
Matthew S Bryan ***
Fennville
Miguel Angel Bernabe *; Cara Marie Blok *; Casandra Yazmin Flores-Calderon *; Elena Borisovna Giordano **; Emily Rubith Hernandez; Jessica Janet Mendoza *; Carmela Morales; Aaron Robert Trujillo
Fort Collins, Colorado
Whitney Valentina Kyles *
Gahanna, Ohio
Samantha Noelle Jenkins *
Galien
Jenna Rae Darnell *
Garrett, Indiana
Alexis Christine Silva
Gobles
Haley Jean Ballou; Amy Lynn Barajas *; Jennifer Marie Lechman
Grand Junction
Tamara Elizabeth Garcia
Grand Rapids
Kris Ann Kohane *
Granger, Indiana
Brielle Renee Williamson
Hartford
Ashley Marie Clark; Tyler Raymond Gendron **; Aida Navarro; Aaron Palomo-Galvez **; Jaelyn Taylor Pitre; Antonio Reynaga; Nathan Shuler **
Holland
Samantha River Johnson **; Nicolas Morales **
Holley, New York
Kelsie Ross Johnstone
Hopkins
Hannah Elizabeth Claire Crouch; Alexander Thomas Tuinstra; Madalynn Elizabeth Yetman ***
Indianapolis, Indiana
Jonathan Kyung-Shik Chang
Kalamazoo
Nicole Marie Dotson; Madeline S. Kelley
Lakeville, Indiana
Rachel Elizabeth Badowski *
Lansing
Kaleb Robert Bruke ***
Lawrence
Alexia Adrianna Haughton
Lawton
Alexia Adrianna Haughton; Elizabeth Ann Lee *; Randi Leigh Moerman; Jamie Lyn Sirrine 
Leslie
Nicklaus James Henman
London, Ontario, Canada
Travis Michael Keys
Marshall
Jarrett Allen DeLand
Martin
Caylee Ann Coburn *; Bryce Daniel Smith **; Jack Nathaniel Sunnerville **
Mishawaka, Indiana
Dana Marie Herron; Chelsey Lynn Manis; Courtney L Ramsey *; Ric'Kesha Desha Swanson; Heather Michelle Young 
Moline
Madison Joy Procter
New Buffalo
Bethany Marie Buckner *
Newaygo
Tahya Marie Briggs *
Niles
Matthew William Baker *; Claudine Elena Bayles **; Hunter Richard Lee Bedell; Isaiah Paul Bella; Zachary Charles Borton; Ashley Nichole Connors *; Ashley Marie Damouth; Karl William Erdman **; Jessalyn Renee Fields; Hailey Rae Harrison; Jorden Mathew Hess *; Steven Paul Horner ***; Lauren Michelle Ludwig **; Jose Adolfo Magana Jr. *; Andrew Michael McGuirt; Courtney Lynn Meyers *; Sarah Megan Mitchell; James Haniel Pearman *; Alexa Michele Pierce; Alexis Grace Reynolds *; Matthew Dale Riley; Haley Marie Rood; Rebecca Ann Ruggles; Emmeline Katherine-Marija Schwarz *; Shaylee Grayce Smith *; Justin Nicholas Williamson; Kinsley Anne Worke; Dylan Tyler Yates
Ostego
Karen Cathy Chui ***;  Mackenzie Catherine Ellinger *; Sydney Elisabeth Mancino ***; Morgan Ann Rapa **; Garrison Reed Youngs
Paw Paw
Ly'Nette Reann Givhan; Kiarra Dawn Herson *; Roy Lee Jackson *; Austin Robert Keene *; Kaylei Paige Mead *; Tyler Michael Pursley *
Plainfield
Sierre Venee Johnson
Plainwell
Olivia Emme Barnhart *; Trevyn Ahren Rayne Bell *; Charlie Noelle Crossley *; Naomi Grace Lutz *; Maci Melissa Wilson *
Portage
Megan Kennedy Lawrence *; Sidney Paige Miller **
Pullman
Nadia Chavonne Allen *; Mary Rebecca Hernandez; Hunter Patrick Yetzke *
St. Joseph
Andrew James Adams; Connor Reece Anderson; William Michael Arney; Jennifer Lynn Buyce *; Zacary Lloyd Calvetti; Tyler Phillip Criss *; Kennedy Alexis Crow *;  Austin Riley Dukesherer; Robert Thomas Ebeling; Stephanie Joy Enders *; Angela Mary Forestieri **; Samuel Douglas Frobel *; Katherine Marlene Gaytan **; Janelle Rose Gehrke **; Vincent A Gilfoyle; Mitchel Wayne Grier *; Josephine Jaffray Henke *; Jessica Lee Huebel; Nicholas Tyler Jewell; Alejandro Jimenez; Kevin Mathew Jones; Patrick Lester Jordan **; Nicole Elizabeth Kessman; Haley Joy Kohn; Zachary Steven Kuriata; Haley Elizabeth Kutchie; Laurie Katherine Lardner; Adyson Paige Lull; Julius Moses Mbwambo *; Whitney Joy Ostyn **; Eric James Pounders *; Anna Marie Raschke; Isabela Ariana Razay; Brandon James Rockey **; Gabrielle Anna Rothrock; James Edward Saad; Jordan Faith Sanderson ***; Blane Marvin Schadler; Andrew John Simpson Jr.; Daniele Sortino; Ryan Lewis Stevens *; Rebecca Carrie Terris; Robert John Tofil *; Alaina Lynn Wells *; Jared Hans Willer **; Alexa Nicolle Wright; Bradley Patrick Wright; Cassidy Payton Zavoral *; Donald Robert Zimmer **; Nakeisha Ann Redmond
San Antonio, Texas
Allison Rae Livergood
Saugatuck
Sydney Marie Vernier **
Sawyer
Abbigale Ann Kissinger; Kayla Marie Kissinger **; Maria Stephania Patino *
Sodus
Colleen Marie Carlson; Andrew Todd Duell
South Bend, Indiana
Heaven Leigh Alcala; Maureen Anne Bauer **; Olga Camacho *; Amy H Carlson **; Adrian Anthony Lee; Monica Ann May; Kelsey Audra Rose Rems
South Haven
Grace Carolyn Barner *; Jessica Calderon **; Wenona R Campbell *; Andis Janis Klavins ***; Jacqueline Kayla Perry; Dawn Marie Ridley *; Sherice Nicole Singer; Paige Le Worley
Sterling Heights
Alexis Marie Krolikowski ***
Stevensville
Jonathan McClain Bowman; Emma Carolyn Breitkreuz; Allison Marie Gillette *; Mathew Robert Gooding **; Cierra Faith Iverson; Kyle Lee Johnson; Nicholas G Kormanik; Ann-Marie Koss; Gracie Jean Lee; Aimee Kathleen Lewald; Dylan Alexander Liggett; Vivianna Lylia Lucio; Paula J Masson; Sara Rose McGilvra *; Frank Nelson Melcher; Megan Nicole Miazga; Katie O'Neal ***; Peggy Dineen O'Neill *: Adianna Michele Rangel; Kristin R Robbins; Luke A Rose; Stephanie Bean Schmidt *; Sophia M Strudas; Kaylee Yavonne Thompson; Philip Michael Timmreck **; Synthia Ann Wheeler; Nicholas Anthony White
Three Oaks
Katherine Anne Jovanovic; Thomas Daniel Krieger; Madison I Mead; Madeline Marie Necas *
Topeka, Kansas
Stephen Benjamin Nainggolan
Toronto, Ontario, Canada
Owen John Benson; Aaron Kobe Federman *
Union
Michael Anthony Svatos
Valparaiso, Indiana
Trey Lewis Weisjahn **
Victoria, Melbourne, Australia
Bailey Thomas-Jamie Pearce
Watervliet
LaCross Sky Baginske *; Taylor Renee Beukelman; Chyna Marie Coulson; Aspen Lydia-Rose Gerlach *; Kaitlyn Elizabeth Hobbs *; Jennifer Lynn Howard *: Jobe Alan Kerr **; Benjamin Joseph Loshbough; Danielle Marie Smith; Brandi Lee Snider *; Audra Elizabeth Vilag *; Natalie Leona Wesaw; Brian Jacob Zastko **
Wayland
Agenda Lyn Domsitz; Samantha Lyn Miedema; Shannon Nichole Veld ***
West Olive
Victoria Lynn Zuniga
Wheaton, Illinois
Aymia Alease Flowers
White Pigeon
Brianna Marie Dressler
Woodhaven
Alejandro Jr Garcia III
Wyoming
Meaghan Jean Dalecki *; Katelin Haynes Kendall
Zeeland
Macee Ann Morey *; Rochelle Marie Palsrok *; Erika K Van Hoven
Advanced Certificate Recipients 
Baroda
Tracie Lea Burtchett
Benton Harbor
Joanne Elaine Lewis *; Ta-Kia Patricie Hipps *
Berrien Springs
Juwon Lee **
Bloomingdale
Brian J Lacitignola **
Buchanan
Justin Aaron Cozadd *** 
Fennville
Cindy Nicole Clouse * 
Mishawaka, Indiana
Courtney Dachel Smith 
Niles
Ashley Nichole Connors *; Steven Paul Horner *** 
Pullman
Mary Rebecca Hernandez 
St. Joseph
Ashley Renee Jensen 
Sawyer
Maria Stephania Patino * 
South Haven
Alyssa Andrea Keller 
Topeka, Kansas
Stephen Benjamin Nainggolan 
Wyoming
Meaghan Jean Dalecki *
Certificate of Achievement Recipients 
Allegan
James Richard Page 
Baroda
Aaron Alexander Valley; Jason Andrew Pressnitz 
Berrien Springs
Robert Andrew Baker 
Coloma
Azzaria Michelle Gunn; Adara Heaven Rush 
Kalamazoo
MacIntyre David Hemingway
Plainwell
David Drew Stowell
Stevensville
Gage Westin Lucker
Watervliet
Taylor Renee Beukelman; Kirstie Joy Sexton