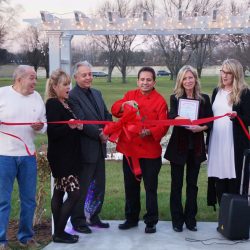 Al Sebrechts may be in his 70s, but don't tell him he should be resting on his laurels. He's been nothing short of a human dynamo over the past 17 months since he and a couple of partners decided to convert the former VFW Hall on Napier Avenue into a first-class event venue to help resolve the ever increasing demand from brides and grooms in search of a place to hold their wedding reception.
Sebrechts was beaming brightly this evening as Cornerstone Chamber of Commerce officials swept in to help host a combined ribbon cutting ceremony and business after hours event to showcase the amazing new Lake Michigan Gardens Event Center across Napier from Lake Michigan College. While they share the same name, the new venue is not related to the community college in any manner.
Since buying the dilapidated party hall in July of 2016, Sebrechts and his brother Joe rolled up their sleeves, fired up the jackhammer and went to town on the striking makeover.
Al says when they took possession of the abandoned building, which had sat empty for up to five years, the drop ceiling was doing just that — dropping — and the HVAC vents were collapsing while the tile floor was buckling and everything was in disarray.
You could never tell that tonight as chamber members and other invited guests got personalized tours of the conversion of the 9,700 square foot building that sits back well off of the roadway on nearly 17 acres of land. The Sebrechts brothers partnered with Attorney Charlie Ammeson in buying the place and have spent seemingly every waking moment creating the fairy tale atmosphere that now punctuates the event center.
After gutting the building to the cinderblock walls, Sebrecht & Sebrecht essentially went to town in every regard. They removed completely and replaced the suspended ceiling system, put on a new roof, sprayed in new insulation, hand crafted a sharp new bar complete with a stonewall backbar, dug the basin for a new water feature fountain pond out front and built a sizable new picnic pavilion, five pergolas for use as photo opportunities and created a much-in-demand new reception and event center that can be rented by anyone in need of event space.
The new Lake Michigan Gardens can handle crowds of up to 250 indoors and is under the management of Christania Waggoner and Chef Eduardo Pesantez from Cravings Catering Company.
Waggoner told ribbon cutting attendees that there was a clear and defined need for yet another wedding venue inasmuch as 13,000 weddings have taken place in Berrien County in the past ten years alone.
Showcasing both some of the culinary talents of Eduardo and his crew and the various options available for wedding receptions for virtually every budget range, the Business After Hours afforded guest the chance to scope out the new building and grounds and already several business organizations were launching talks regarding hosting business meetings, training sessions and other events in the house.
Al Sebrechts was animated in showing off his new center where he also reworked the entire kitchen area, built a new outdoor kitchen complete with a sizable grill station under the picnic pavilion, a warm new Bridal Salon where the wedding party can prep prior to their big moments and more. Paved parking for nearly 100 cars can be supplemented with tons of additional parking along the entry road and on the grassy areas if needed.
The new stone-lined fountain pond was finished off by Brookside Nursery and Jim Small from "The Outdoor Kitchen" installed the new grill under the pavilion, but virtually everything else inside was handled by the Sebrechts brothers in their labor of love.
The cornerstone on the building indicates that the original VFW hall was built and put into action in 1976, but Curious Kids Executive Director Lori Marciniak was reminiscing from when her parents ran the hall and told of her own wedding reception  there in the 1980s.
Al tells me one of the last things they did coming into the fall season was plant more than 2,300 flowers on the grounds and he's hopeful the place will absolutely pop with color come spring.
One thing is certain…the tremendous handiwork of two hard-working guys is already a thing of beauty whether a single flower survives or not. Besides, it's the radiant brides that will be grabbing everyone's attention when the new venue gets pressed into action in the weeks, months and years to come.
Meanwhile, with any luck at all, Al can just sidle up to the bar and finally, maybe (but don't count on it) rest on his laurels for a change.
You'll find Lake Michigan Gardens at 2584 Napier Avenue in Benton Harbor, and they are now taking bookings for events there by calling 252-GARDENS (252-427-3367) or online at the link below. You can also follow them on Facebook to learn more.
While the name includes "gardens," it is a full service indoor/outdoor venue and will operate year round. Here's the link:
http://www.LakeMichiganGardens.com