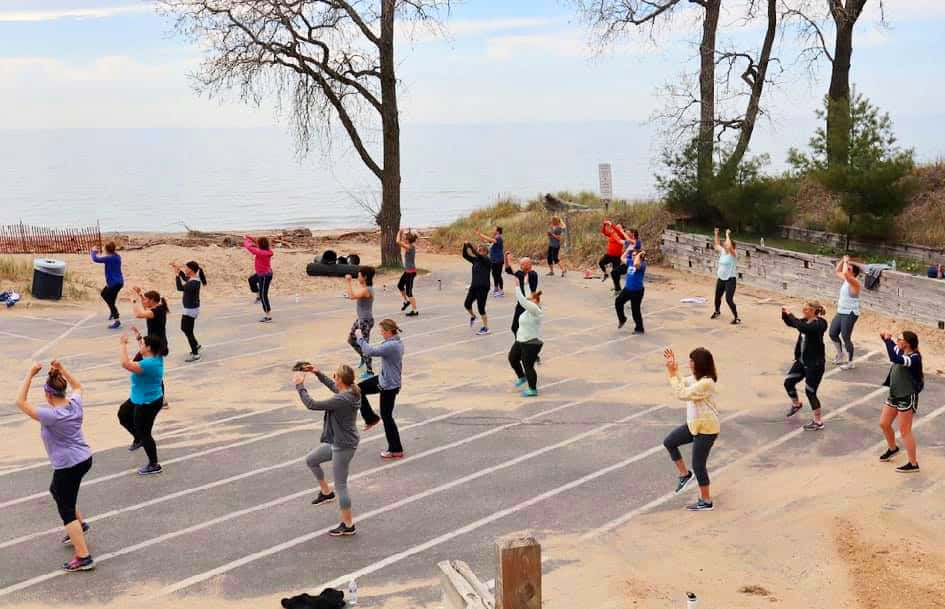 One month ago, Lacey Lucas captured a brilliant idea to help ease the pent up demand during the shelter-in-place order from the governor by taking to the shores of Lake Michigan at Weko Beach in Bridgman to host a Social Distancing Fitness Class there.
As owner and operator of Lake Side Fit in Bridgman, a small 24-hour gym and fitness studio that had been chugging along nicely until the coronavirus pandemic relegated everybody to their own homes, and precluded (and still does) gyms and fitness studios from opening anywhere in Michigan.
Ahead of her brainstorm to take her outdoor class to the shore, she had already decided that rather than sit on the sidelines and worry about what the future might hold, she had taken to the Internet, creating YouTube workout videos during the quarantine to keep her members and friends engaged and working on their own personal health and fitness goals.
On Sunday evening, May 3rd, after obtaining all of the proper and official approvals from the City of Bridgman, the Bridgman Police Department and Lake Township authorities, Lacey and her Lake Side Fit organization held their first Social Distancing Fitness Class.
Lacey admits she was overwhelmed at the positive response with 27 people joining her for the class, all at least 6-feet away from one another, in a safe venture approved even under the governor's executive orders which allow for outside activities with proper social distancing.
Emboldened and delighted by that success and the strong appeal for an encore, Lacey then planned another session for, Thursday, May 7th at Weko Beach. Even more people were ready for that when it ended up being derailed and she was force to cancel it before it could take.
Now, thanks to Gov. Whitmer's expansion allowing outdoor fitness classes of up to 100 people, Lacey is back at it with plans for another Social Distancing Fitness Class at Weko Beach in Bridgman this Friday evening at 7pm. She has garnered all of the officials approvals from the City of Bridgman, and the Parks Department at Weko Beach. In fact, she plans to continue to teach classes at the beach until the government allows her gym to reopen.
It was about nine years ago, that Lacey took a yoga class at the YMCA in St. Joseph that became a life changing moment for her, as she realized instantly that she wanted to teach fitness as a practice. Her adventure in that realm became increasingly serious to the point that her husband offered up "the crazy idea of opening up a studio in Bridgman, not even knowing that was always a dream of mine."
Lake Side Fit is located at 4171 Lake Street in Bridgman, and features a whole host of classes when in full operation. The studio can be reached by phone at 269-449-3092.
Her beach front class plan is just another great example of a small business entrepreneur in Michigan's Great Southwest adapting in a nimble way to keep her clients engaged and happy during a tough time.
Check out her YouTube videos through her Facebook fan page or at this link: