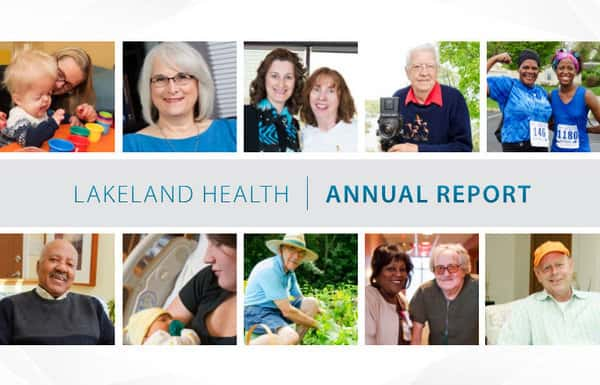 With nearly 4,000 associates, Lakeland Health is Berrien County's largest employer. The 3,934 people engaged racked up some pretty impressive numbers in their own right throughout 2015, and it's all detailed in the 2015 Lakeland Health Annual Report released to the general public today. There's some interesting reading in a colorful format for those with even a passing interest.
For the record, 1,823 babies were born, 59,378 inpatient days were logged, 76,200 homecare visits were made, and the emergency department witnessed more than 80,660 visits last year alone.
Lakeland Health has published their 2015 corporate annual report highlighting accomplishments from the past year, including: a by-the-numbers look at the people, facilities, and patients; 2015 community benefit use of funds; and stories of how the organization's care has made a difference in patients' lives.
The report also highlights Lakeland's efforts to improve care by helping to launch the formation of a clinically integrated network with six of Michigan's leading health systems, a partnership established with Mary Free Bed Rehabilitation Network, and participation in a reverse trade mission with a delegation of healthcare executives and government officials from Brazil.
Dr. Loren Hamel, President & CEO of Lakeland Health tells us, "No longer are we only treating an illness or injury in the hospital setting." He explains, "Today, we are just as focused on wellness and prevention initiatives that are designed to keep patients healthy – and out of the hospital in the first place. You can see that idea at work in this annual report."
Also among the highlights in 2015, the Lakeland medical education program graduated a class of 14 medical residents through a partnership with the Michigan State University College of Osteopathic Medicine. Construction also began on a new housing option for medical residents and area residents at the site of the former Lakeland Continuing Care Center in St. Joseph.
Here's a link to the full 32-page report from Lakeland: