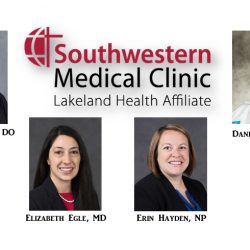 The Lakeland Health team is growing once again, as the regional health giant announces the addition of a family practice to the fold and three new medical providers who have signed on to that practice at the same time, expanding health care options in Michigan's Great Southwest.
Lakeland Health has announced today that the family practice of Frederick Born, DO, recently became a Lakeland Medical Practice. Located at 4077 S. Cleveland Avenue in St. Joseph, the former Stevensville Family Practice will now be known as Southwestern Medical Clinic, St. Joseph.
Lakeland Health will oversee daily operations and is excited to announce that the practice is also expanding. Three new medical providers, Daniel Benson, DO, Elizabeth Egle, MD, and Erin Hayden, NP, will join Dr. Born, along with many other long-time staff, in caring for current and new patients.
James Savoie is Director of Primary Care Services for Lakeland Health. He tells us, "The addition of this primary care practice is another indicator of Lakeland's commitment to expanding access to high-quality health care close to home by recruiting top medical talent." Savoie concludes, "Adding more primary care practices to the Lakeland family provides community members of all ages with more access to healthcare options."
For more information about the practice and services offered, or to schedule an appointment, you can call (269) 429-2992 at your convenience.