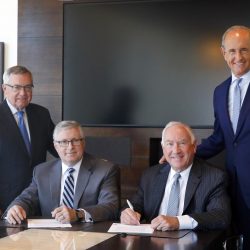 The physical footprint of Lakeland Health isn't the only thing growing larger. The entire health system locally is on the verge of a major merger with Spectrum Health of Grand Rapids.
The Boards of Directors of Spectrum Health and Lakeland Health announced today that they intend to integrate. Both organizations see the value of coming together to focus on high quality care and improving the health of our communities. Together they will be pursuing a definitive agreement and due diligence over the next few months.  The agreement is expected to be finalized by October 1, 2018.
Richard Breon is President & CEO of Spectrum Health. He says, "We have a long-standing relationship with Lakeland Health and admire their excellent clinical care, strong leadership team and commitment to the community." Breon adds, "Our board has spent the past year diligently focused on our growth and partnership strategy in the context of current and anticipated future trends in the industry, such as consumer-centric care and precision medicine. This integration brings benefits to both organizations in terms of improving affordability, quality and access. We are confident that with our aligned cultures and a shared focus on caring for our communities, we can achieve significant impact on health improvement."
Lakeland Health is a comprehensive three-hospital health system serving Michigan's Great Southwest with more than 4,000 employees and 450 providers. Lakeland Health would proceed as a division of Spectrum Health, retaining oversight by a local board of directors, local capital investment considerations, and local philanthropic efforts.
Lakeland Health President & CEO Dr. Loren Hamel says, "We are excited about what our two organizations joining together will mean for our community," adding, "Lakeland's number one priority has been to take great care of our friends and neighbors -- the integration with Spectrum Health will provide an unprecedented opportunity to do that even better."  Hamel notes, "The benefits of integration will be many. We see great value in sharing and standardizing our approaches to continuously improving the health care we provide, to enhancing the overall health of the communities we serve, to lowering the overall cost of care, and to make our organizations the best places to attract the best talent. Spectrum Health's top tier performance, geographic proximity, and cultural similarity will make this a great partnership."
Dan Hopp, Chairman of the Board of Directors of Lakeland Health, says, "The Lakeland Board has been deliberate about understanding where health care is going and what it takes to succeed.  The positive impact of size and scale have been topics of conversation at the board level for some time."
Hopp adds, "The integration conversation with Spectrum Health to date has exceeded our expectations for a partner for providing health care services to our community.  I have been impressed by the cultural fit Lakeland has with Spectrum Health – their commitment to innovation, employee relations, and quality aligns well with ours. Spectrum Health offers capacity beyond our ability to develop locally.  Being part of a larger system will truly benefit our community."
Dick DeVos, Chairman of the Spectrum Health System Board of Directors adds, "In today's dynamic health care industry, it's exciting when two organizations can see the vision of being better together. Spectrum Health and Lakeland Health realize that together we will strengthen and improve health outcomes for the people we serve. This integration ensures commitment to the community and an investment in continued access to best-in-class physicians and caregivers."
Lakeland Health is a member of Helen DeVos Children's Hospital Partners in Children's Health and also has partnered with Spectrum Health Medical Group for specialty services, including cardiovascular care.
These existing relationships have resulted in improvements in quality and access as well as financial savings and operational support for Lakeland Health through shared services.
Spectrum Health is a not-for-profit health system, based in West Michigan, offering a full continuum of care through the Spectrum Health Hospital Group, which is comprised of 12 hospitals, including Helen DeVos Children's Hospital; 180 ambulatory and service sites; 3,600 physicians and advanced practice providers, including 1,500 members of the Spectrum Health Medical Group; and Priority Health, a health plan that served 996,000 members in fiscal year 2017. Spectrum Health is West Michigan's largest employer, with 26,000 employees. The organization provided $372 million in community benefit during its 2017 fiscal year. Spectrum Health was named one of the nation's 15 Top Health Systems—and in the top five among the largest health systems—in 2017 by Truven Health Analytics®, part of IBM Watson HealthTM. This was the sixth time the organization received this recognition.
Lakeland Health, located in southwest Michigan, is a not-for-profit, community-owned health system, which includes three hospitals, an outpatient surgery center, a cancer center, rehabilitation centers, long-term care, hospice, home care services, and physician practices. Lakeland Health is Berrien County's largest employer, with over 4,000 employees. Lakeland was ranked as a 15 Top U.S. Health System by Truven Health Analytics®, part of IBM Watson HealthTM, in 2017.  Lakeland provides clinical and support services at 40 locations throughout southwest Michigan, and partners with more than 450 affiliated physicians and other providers. For more information, visit www.lakelandhealth.org.
An infographic detailing the numbers can be viewed at the link below: