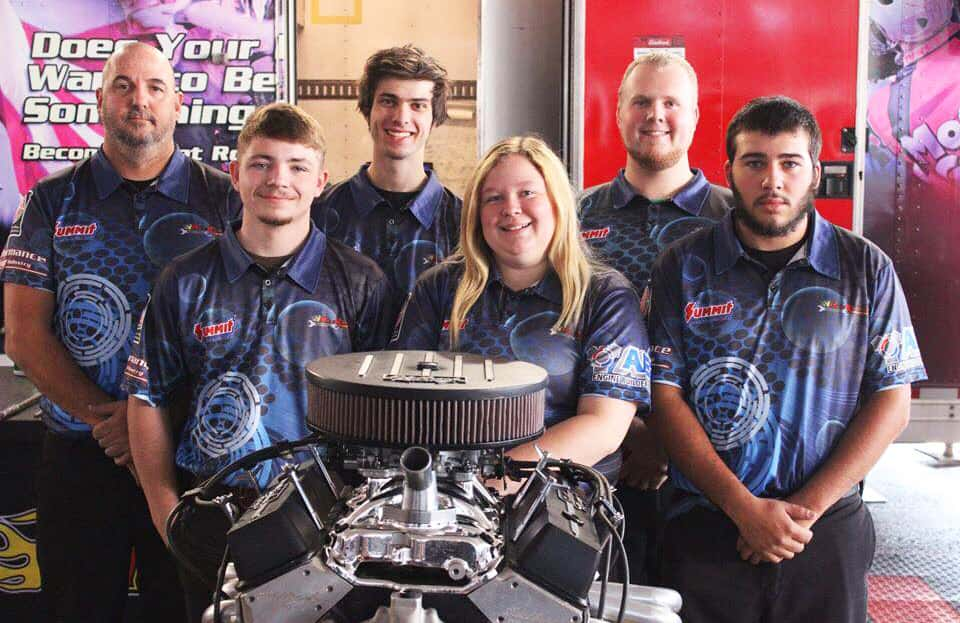 One of the star components of last month's celebration of Manufacturer's Day in Southwest Michigan has gone on to national stardom, finishing second in the country in the National Engine Build Championship at the Specialty Equipment Market Association Show in Las Vegas, affectionately referred to as The Super Bowl for Gear Heads.
The Engine Build Team from Lakeshore's Auto Tech Career & Technical Education class scored a Second Place finish out of the Top 25 Teams at the major show with a team made up of students from Berrien Springs, Lakeshore, Lake Michigan Catholic, Michigan Lutheran, and St. Joe. They are coached by Doug Haygood. Their average time over three individual builds was 24:31. The first place team was from Eastern Oklahoma Tech Center, but their winning pace has not been posted as yet.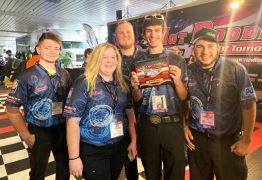 The SEMA acronym originally stood for Speed Equipment Manufacturing Association, however in 1970, government regulations became an issue and the name was changed to Specialty Equipment Market Association to improve the overall image of the association.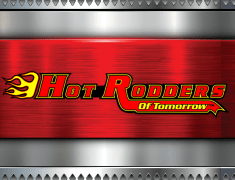 Since 2008, Hot Rodders of Tomorrow has been inspiring young people to lead successful careers in the automotive industry and beyond through its Engine Challenge competition. The final, culminative events took place again this year at the SEMA Show.
Teams of high schoolers, such as Lakeshore's Auto Tech team, learn critical life skills such as teamwork, critical thinking, on-the-fly initiative and communication as they tear down and reassemble Chevy 350 engines without power tools. Some of them will go on to become engineers and pursue science, technology, engineering and math (STEM) careers, and many will join the automotive industry. All of them learn how to be productive and contribute, wherever they end up working.
The teams consist of five students, with only four actually working on the engine. The team captain sits behind a counter and calls the shots, laying out tools and parts for the rest of the team. The small-block engine is disassembled all the way down to the crankshaft, then it is rebuilt with every torque spec and clearance checked by a judge. The engine begins the round as a runnable crate motor and is returned to running condition, often within 20 minutes or less by the best in the business.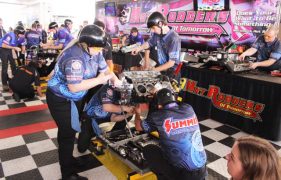 A new competition was recently added to the classic engine challenge: An electronics challenge debuted at the SEMA Show in 2017. Students must complete circuits, fix problems and pass a 10-question test about electronic components and concepts. The new challenge is crucial to building the future of the automotive workforce, as technology plays an ever-greater role in nearly every industry segment.
The initial competitions take place all across the United States, with high-school teams preparing and competing all year long for the lowest time. By way of example, in 2017, HotRodders of Tomorrow held a total of 14 qualifying events in 11 states. With 158 teams from 54 different high schools, that is a grand total of nearly 800 young people who will graduate high school with a major leg up in the automotive industry. They will have a significant amount of mechanical training and be ready to enter the workforce with higher pay, or they may further their education, many of them with scholarships.
Competitors earned scholarships amounting to $3.78 million in the year 2017. Last year, they offered a record $4.2 million in scholarship vouchers. That money will help high-achieving competitors who might otherwise not be able to afford any more advanced education become highly trained professionals in the automotive industry.
The competition is unique because it allows students who might otherwise never gain an interest in the automotive industry to experience the joy of working with engines and tools firsthand. It has also helped encourage people who might otherwise never have considered getting into a STEM field to do so. Unlike many sports, it offers an opportunity for male and female teams to best one another in direct competition or work together on the same team.
As the organization continues to expand and grow in popularity, yet another challenge, dubbed "The LS Challenge," debuted at the show this year allowing college students to get involved working with a newer, more advanced engine.
The team photo accompanying this story on Moody on the Market is courtesy of Emma Haygood and shows (left to right) Doug Haygood, Lakeshore HS Auto Tech Instructor; Jacob Boelcke, Lakeshore HS; Kent Ristow, Jr, Lake MI Catholic; Emily Camburn, St. Joe HS; Chris Graebel, MI Lutheran HS; Cody Pompey, Berrien Springs HS.