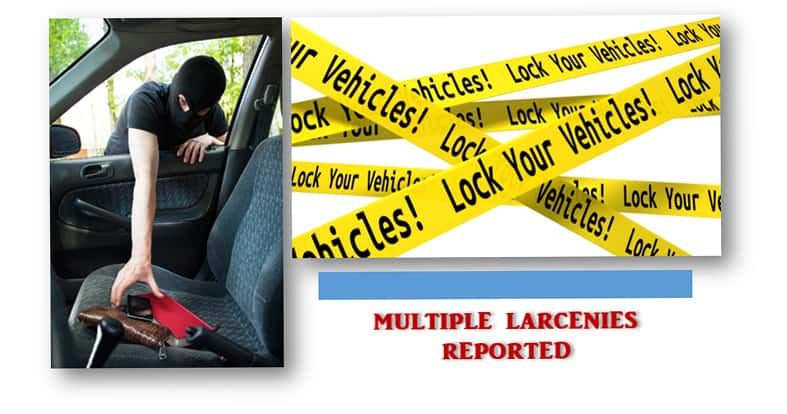 After as many reports in recent weeks, event months and years, police have to shake their heads over the sheer volume of people who persist in leaving valuables inside unlocked cars and then wonder why things have been stolen.
Lincoln Township Police are out with another spate of larcenies from unlocked vehicles discovered in the pre-dawn hours of this morning, Friday, September 6, 2019.
Here's what they posted a short while ago on their Facebook page about the incidents:
At approximately 4:30am on September 6, 2019, the Lincoln Township Police Department was called to the area of Greg Drive, Williamsburg Drive and Briarwood Drive neighborhoods regarding multiple larcenies from unlocked motor vehicles. Suspects walked from car to car and removed valuables from vehicles that were unlocked. Only unlocked vehicles were entered and no vehicles were damaged to gain entry.
The Lincoln Township K9 was called to the area and began tracking the suspects. The K9 tracked the suspects to a driveway on Briarwood Drive, where the suspects entered an unlocked 2016 Honda CRV (maroon with a Grand Valley Sticker in the back window) that had the keys in it. The suspects apparently left the scene in the stolen vehicle as the K9 lost the track at that point.
During this investigation, it was determined that several homes in the area have video surveillance. At least two suspects can be seen walking through yards, from vehicle to vehicle. The Lincoln Township Police are in the process of reviewing the surveillance video that has been obtained. As of this post, no footage is of a quality that would provide additional suspect information.
The two suspects are on foot wearing dark clothing and appear to be young (late teens or early 20s) males with thin builds.
The incidents in Lincoln Township are similar to incidents that have happened in surrounding jurisdictions over the past couple of weeks. It is unknown if they are connected, but we are working with the surrounding jurisdictions in an attempt to identify the suspects.
We encourage everyone to lock your vehicles and keep all valuables in your trunk or home. Please do not leave your keys in a vehicle parked in your drive OR parked in your garage, with the garage door open. Many families have multiple cars in the drive and those cars may have a garage door opener in it. If these cars are left unlocked, it provides suspects additional access to the home or valuables.
Anyone with information is asked to contact the Lincoln Township Police at 269-429-2444.