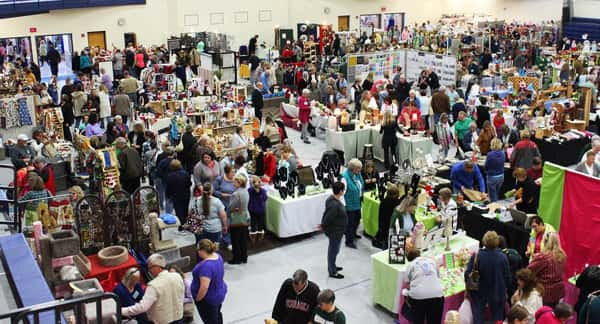 Generally speaking, craft shows can be a fairly common occurrence in many communities, but few can match the scope, scale and caliber of the tradition that has become the St. Joseph Lions Club Arts & Crafts Show at the St. Joseph High School Fieldhouse each fall. This year is not likely to be an exception, either, as the club has worked to arrange for another first-class event early next month.
The 12th Annual St. Joseph Lions Arts & Crafts Show is slated to run from 9am until 4pm on Saturday, November 5, 2016 at the St. Joseph High School Fieldhouse. Vern Breuker is the perennial event chairman for the big show and he says "This arts and crafts show is unique because of its size and the fact that it has the comforts of being totally indoors." He adds, "While craft shows are common in many communities, the Lions have brought an added dimension to the concept of traditional, hand-made, items sold by crafters in an open area. We have taken the concept of a craft show and made it into a family entertainment day."
In addition to having more than 100 artists and crafters participating in the event, another special feature is the addition of face painting for the kids, raffles and lots of refreshments.
St. Joe Lions Club President Dennis Lundgren notes that parking is free, but there is a $1 per person admission fee at the door all of the proceeds from which go to serve worthy projects in the community such as the Camp Leo Summer Camp for children with special needs, swings at the beach and on the St. Joe Bluff, eye exams and glasses for the less fortunate among us, and a host of other projects throughout the community. The St. Joseph Lions have been serving the community for more than 80-years now.
You can see more examples of what has been offered in recent years by clicking onto the event's Facebook page below: