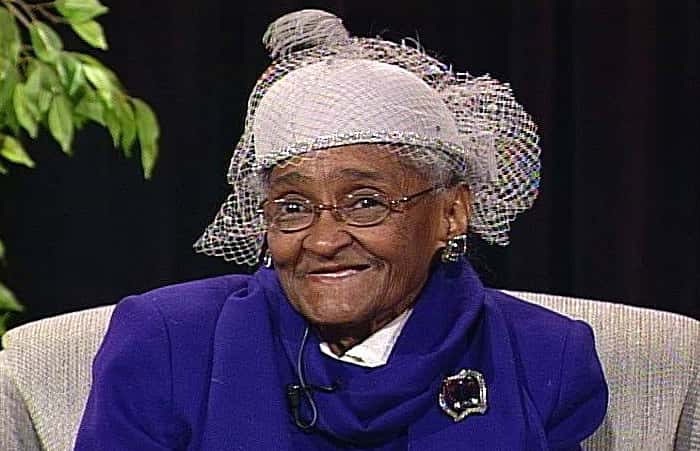 A diversity pioneer in Michigan's Great Southwest cut from the same cloth as the Rev. Dr. Martin Luther King, Jr. will forever be remembered for her similarities to him thanks to the 25th Annual Martin Luther King Jr. Celebration today at Lake Michigan College in Benton Harbor where she was named recipient of the college's MLK Diversity Award.
Mabel Lee Johnson was posthumously honored as Lake Michigan College's Martin Luther King Jr. Diversity Award recipient during this morning's 25th annual Martin Luther King Jr. Celebration and Community Breakfast in The Mendel Center's Grand Upton Hall on the Benton Harbor campus.
It was a record-breaking year for attendance with more than 600 guests who braved icy winter weather to come together and reflect on King's legacy of service.
Presenters included Alonzo Kelly, the President & CEO of Kelly Leadership Group, LLC…LMC Board Chair Debra Johnson…LMC President Dr. Trevor Kubatzke…and U.S. Congressman Fred Upton.
Upton sang a verse of the folk song, "Abraham, Martin and John," and told the crowd, "We have not made the progress in the way that we treat each other or the way we talk to each other and it still divides us."
LMC students, Lezlyn Villa and Shaniya Sanders, both from Holland, Michigan, read their award-winning, "A Legacy of Service" essays, and guests enjoyed performances by LMC's Soundwaves acapella group and The All God's Children Community Choir.
Mabel Lee Johnson, a former resident of Benton Harbor who passed away nearly a year ago on January 22, 2019, at the age of 98, was selected by the LMC Board of Trustees for her work as a diversity pioneer, educator and volunteer. For the past 19 years, LMC has recognized individuals or area organizations who embody the work of Martin Luther King, Jr.
Johnson's daughter, Chief Judge for Berrien County Trial Court, Mabel Johnson Mayfield, accepted the award on her behalf, telling the audience, "Darkness cannot drive out darkness. Only light can do that," and adding, "Hate cannot drive out hate. Only love can do that. Mabel Lee Johnson loved. …. I ask of you, if her, why not you?"
Kubatzke announced the creation of a $500 Mabel Lee Johnson Scholarship, and in response, Mayfield announced her family's gift of an additional endowed scholarship fund.
The renowned local Judge says, "A scholarship in her name took our breath away," and adds, "It was a family decision that an endowed scholarship should be established in her name to ensure, at minimum, one scholarship recipient on the campus of LMC in perpetuity, God willing for the next 100-plus years."
The scholarship will be named "Impact 356" after Johnson's favorite Bible verse, Proverbs, Chapter Three, Verses Five and Six. Johnson Mayfield invited the crowd to chip in stating, "If you desire to be a part of the Impact 356 scholarship legacy, your contribution is graciously appreciated and will be added to the endowment fund."
Almost 30 people have already come forward to donate. Anyone else interested in contributing to the fund may contact Barbara Craig at the LMC Foundation at craig@lakemichigancollege.edu.
Here is more of the story of Mabel Lee Johnson:
Ms. Johnson was the ninth of 10 children born to Hosie and Jannie Lee on Feb. 13, 1920, in an area known as "Dark Corner" in Cotton Plant, Arkansas. She completed two years at Arkansas Baptist College when she accepted the marriage proposal of the Rev. Thomas Paul Johnson with the stipulation that he would not hinder her desire to be the first of her siblings to complete college. They married on August 23, 1942, and in 1949, she graduated from Arkansas Agricultural, Mechanical & Normal College — now known as the University of Arkansas at Pine Bluff —with a Bachelor of Arts degree in Education.
Ms. Johnson taught for 21 years in Arkansas and 24 years in Indiana, impacting the lives of students and parents at seven different elementary schools during her career. By her husband's side, she also served as First Lady to five different congregations. For decades, she served in various positions in the State and National Baptist Conventions, where she met and engaged with Rev. Dr. Martin Luther King, Jr. She was associated with those involved with the desegregation work of the Little Rock 9 and the Arkansas NAACP.
From 1963-1999, the Johnsons served at Galilee Missionary Baptist Church in Gary, Indiana. She was instrumental in the Ministerial Wives Coterie of Gary that collaborated on the integration of the membership of Church Women United in the mid-1960s.
Ms. Johnson was a lifelong member of the NAACP. When her husband retired in 1999 and they relocated to Benton Harbor to be close to their daughter and her family, she transferred her active participation to Church Women United – Area V, and also began volunteering at the Readiness Center, a commitment she continued through December of 2018.
In addition to today's celebration, LMC will be honoring Martin Luther King Jr. throughout the week with a series of events.
What Can Be Done to Reduce Prejudice and Discrimination?
Noon-1:30 pm on Tuesday, January 21st in the Grand Upton Hall of the Mendel Center.
The community, LMC students and employees will have the opportunity to hear a free panel discussion featuring Kortney Moore, Calling All Colors, Co-Director and All God's Children Community Choir, Choir Director; Sandy Feldman, Race Relations Council, Board Secretary, All God's Children Community Choir Co-Founder and Choir Director, and Calling All Colors Board Member; and Charmae Sanders, Lake Michigan College Start to Finish Operations Manager.
Red Hawks Volunteer: Hats and Scarves
11:30 am-2 pm on Wednesday, January 22nd at the Hawk's Nest in the Main Building.
LMC students will be making hats and scarves for those in the community in need.
Building Bridges Across the Racial Divide
Noon-1 pm on Wednesday, January 22nd in the Blue Lecture Hall of the Main Building.
Local authors Larry and Sandy Feldman will present a free discussion of concepts and examples drawn from their recently published book, Building Bridges Across the Racial Divide. This book offers a hopeful view of how well-constructed diversity initiatives can combat entrenched racial prejudice and segregation. A book signing will take place directly following. All are invited to attend.
Red Hawks Volunteer: Bean Soup Packing
11:30 am-12:30 pm on Wednesday, January 22nd in the Hawk's Nest of the Main Building.
LMC students will help assemble dried bean soup and rice packets for area food pantries.