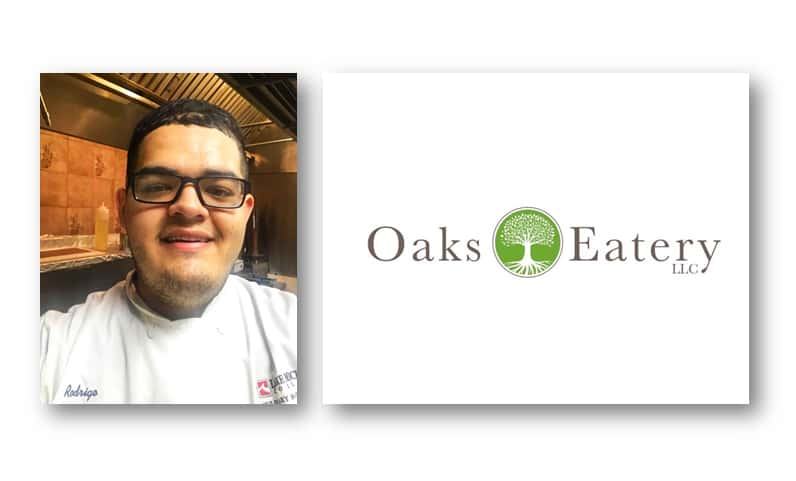 Some people just know what they've been cut out for. Call it intuition. Call it dedication. Call it "a calling." Ultimately, it's all about being driven, and if there's anyone who has been driven since his formative years it is the man I know as Rodrigo Abarca.
Rodrigo comes from a family of top notch restaurateurs and that very likely was an early and steady influence in his life, because he is now just weeks away from opening his own restaurant in the heart of downtown Three Oaks in space immediately adjacent to the famous Drier's Meat Market.
He calls his forthcoming new venture the Oaks Eatery and you can find it in the central business district of Three Oaks at 8 South Elm Street.
Rodrigo tells me Oaks Eatery will be a breakfast and lunch restaurant with a lot of Mexican infusion." He says, "The food is made fresh with as locally-sourced ingredients as I can possible obtain. Farm to table."
It's not a big space…seating capacity is right at 50 guests, but Rodrigo pledges to please your palate.
He is leasing the first floor of the building, and describes his plan as, "A place were you get superb service and a place where you can enjoy brunch and great coffee."
It's a completely different style from the place most of us who know Rodrigo have seen him knocking around — Joe's Cafe at the Scottdale Crossroads across from Pater True Value.
Family members own Joe's Cafe, and that's where Rodrigo got his start, and his father works with Chef Abel at The Mason Jar in the Benton Harbor Arts District, and Abel is his cousin, so he's starting with good stock. After graduation from Lakeshore High School, Rodrigo advanced to both the Culinary and Hospitality programs at Lake Michigan College where the head of those programs, Chris Woodruff, had great pride in his work ethic.
Woodruff says, "Rodrigo has been a joy to know since the day I met him!" He adds, "I met him long after he had started working at Joe's where he learned all about the industry at a young age. He came to LMC to get more experience in the kitchen and was driven enough to get both the Culinary and Hospitality degrees to learn more about the front of the house also.  He has always had a desire to open his own restaurant."
Despite family ties to the culinary industry, Rodrigo says he's flying solo on his first venture. He's proud of earning his dual degrees in Culinary Management and Hospitality Management, and plans to have a team of about 10 people in place when he opens up shop in the spring, with a target of some time next month, in March.
He knows it will be a lot of work, but he's never shied away from hard work. He tells me, "The menu will be my concept and ideas and I will be in the kitchen a lot of the time but I will oversee front of the house as well. I have a strong team all together in the front and back of the house."
Abarca has attained industry certifications such as all of the Servsafe certifications, Food safety, allergen safety, and alcohol safety regimens from the trade.
He promises, "Oaks Eatery will have a nice Mexican infusion in the menu as well as many other popular breakfast items that are well known. We focus on quality ingredients and strive for perfection."
LMC's Woodruff says Rodrigo has remained steadfast in his drive to launch his own restaurant, saying, "He worked at a bunch of different restaurants and hotels during college learning so much in and out of the classroom, even traveling to to New York City and Chicago to professional shows to learn even more about the industry." He adds that Abarca, "Learned a lot about healthy nutritional eating while he was in college and wants to share that with others," and concludes, "I can't wait to try his offerings!"
As for Rodrigo. He's working around the clock, taking deliveries on equipment and supplies and is exuberant saying, "I'm super excited for the grand opening which I'm hoping will be in the month of March!"
Stay tuned for the Oaks Eatery in downtown Three Oaks from a dedicated and driven student of the trade, Rodrigo Abarca.