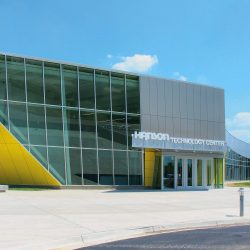 If you've been looking for a high-skilled, high-paying job...and you've paid any attention at all to the fact that there are many such jobs searching for qualified candidates to fill them...this could be your perfect summertime opportunity to get on the fast track toward gaining one of those employment opportunities.
Lake Michigan College is offering a fast-track Automation Engineering Pre-Apprentice Academy this summer at its new Hanson Technology Center on the Napier Avenue Campus in Benton Harbor.
The academy packs one semester's worth of classroom and hands-on lab time into just seven weeks. Successful students will earn 14 college credits in these areas:
Engineering Design & Graphics
Advanced Cad Techniques
Industrial Safety
Introduction to Robotics
Blueprint Reading and Sketching.
Graduates will earn 270 hours of instructional training toward a registered apprenticeship and gain the basic knowledge and skills to launch successful careers in the Automation Engineering field.
This great fast-track academy runs June 25th to August 10th. The schedule runs Monday through Friday from 7 am to 3:30 pm at the Hanson Technology Center at 2755 East Napier Avenue in Benton Harbor.
You can learn more and register by June 21 by contacting Dr. Ken Flowers at (269) 927-4103 or flowers@lakemichigancollege.edu. Enrollment is limited to 15 students, and tools will be provided.
The amazing Hanson Technology Center opened in 2016 on Lake Michigan College's Benton Harbor Campus. The bright and open, ultra-modern space attracts and educates future generations of southwest Michigan makers to study engineering, mechatronics, energy production, machine tool, skilled trades and welding.
The state of the art facility includes a simulation classroom and robotics, CNC and welding labs. A Fab Lab is open to students and community members to invent and create everything imaginable on 3-D and laser printers, textile machinery and wood working tools. You can learn more by clicking the link below: