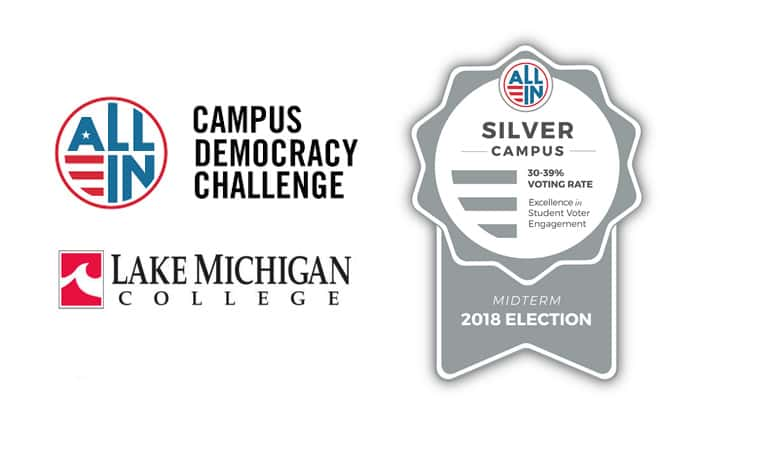 Success is frequently measured in metrics, percentages, and attainment of all sorts. Success for the dynamic student voter engagement campaigns of recent years at Lake Michigan College now wears a medal.
At a Washington D.C. ceremony earlier this month, Lake Michigan College was recognized for increasing student voter rates in a dramatic fashion. LMC was among 149 U.S. colleges and universities who earned an "ALL IN Campus Challenge" silver seal award for achieving a student voter participation rate between 30- and 39-percent in the 2018 midterm election.
LMC President Trevor Kubatzke tells us, "LMC's mission is to empower people and communities to thrive through education, innovation and experiences," and adds, "This award exemplifies what can happen when our college community works together on a common goal — to reduce apathy, increase engagement, and graduate civic-minded students prepared to solve the country's, and the world's, most pressing challenges."
More than 560 campuses, enrolling more than 6.2 million students, have joined the ALL IN Campus Challenge since its launch in summer 2016. Overall voter turnout for college students increased nationally more than two-fold between the 2014 and 2018 midterm elections, according to the National Study of Learning, Voting, and Engagement, an initiative of Tufts University's Institute for Democracy & Higher Education. LMC's student voter participation rate also doubled from 17-percent in 2014, to 35-percent in 2018.
The effort was spearheaded by LMC Political Science Professor, Dr. Tiffany Bohm. In fall of 2018 Bohm began teaching a new Campaigns and Elections course for students to gain hands-on experience with staffing voter registration tables, giving presentations, organizing chat forums and keeping students informed about candidates. Students heard from an array of guest speakers, learned about fiscal budgeting and practiced analyzing voter data using Statistical Analysis Software.
Bohm also led "LMC Votes," the college's first ever campus-wide voter registration and get out the vote campaign resulting in over 100 newly registered voters and a national "Voter Friendly Campus" designation for the college in 2019-20.
Bohm says, "We're proud to be among institutions throughout the country that are changing campus culture by promoting nonpartisan civic engagement efforts," and notes, "Our goal is to help all students become active and informed citizens, who will participate responsibly in American democracy throughout their lifetimes."
The ALL IN Campus Democracy Challenge is a nonpartisan, national initiative recognizing and supporting campuses as they work to increase nonpartisan engagement and full student voter participation. The Challenge encourages higher education institutions to help students form the habits of active and informed citizenship, and make participation a core value on their campus. The ALL IN Challenge does not support or oppose candidates for public office or take a stand for or against any political party.