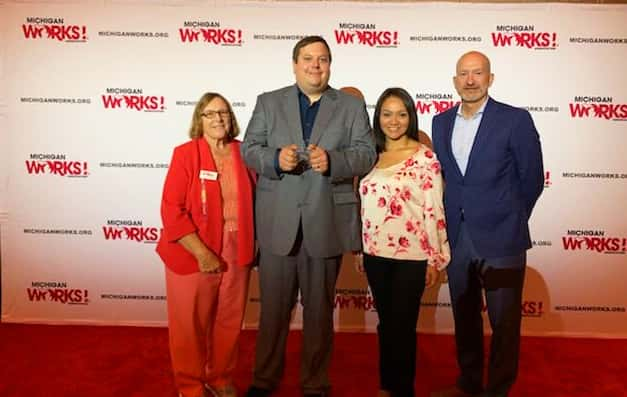 Anybody who has ever crossed paths with Rick VanIttersum from Michigan Works! Berrien, Cass, Van Buren will not be surprised at all to learn that he has garnered statewide recognition today as a "Shining Star" in the Michigan Works! Association realm.
VanIttersum's legendary work to meet employment needs in the tri-county region has been officially recognized at the statewide association's annual conference in Kalamazoo this morning.
VanIttersum serves as the Vocational Training Manager for Michigan Works! Berrien, Cass, Van Buren. In that role, he works on a variety of projects all designed to improve the customer experience with an improved response time.
Luann Dunsford, Chief Executive Officer of the statewide Michigan Works! Association says, "Rick's work and continuous efforts toward productivity and quality make a daily positive contribution to our continued network success," and adds, "He is a proven asset to our network and the community, making him an excellent choice for this award."
VanIttersum has a reputation for having a continuous improvement mindset, constantly asking how the agency can do things better.
His own Executive Director at Michigan Works! Berrien, Cass, Van Buren, Lily Brewer, says, "Rick is often described by his teammates as organized, efficient and a subject matter expert." Brewer notes, "All of these characteristics represent our organization's purpose of inspiring positive economic change one person, one business, and one community at a time."
VanIttersum says he is honored to receive this award, telling us, "I'm humbled to be recognized as one of this year's Shining Star Awardees," and adding, "It is a great honor to join my peers throughout the state who all are making a difference in our respective communities."
Established in 1987, the Michigan Works! Association fosters high-quality employment and training programs serving employers and workers by providing support activities and a forum for information exchange for Michigan's talent development system. For more information, you can visit online at http://www.michiganworks.org, or call (517) 371-1100.
Michigan Works! of Berrien, Cass, Van Buren is part of a statewide network of workforce development boards. Michigan Works! specializes in educating, training, and employing individuals of all ages. Under the Kinexus Group flag, they work with local businesses to find out what keeps them up at night and help them tackle the most pressing challenges they may face, including attracting and retaining talent. For more information, visit online at www.miworks.org.