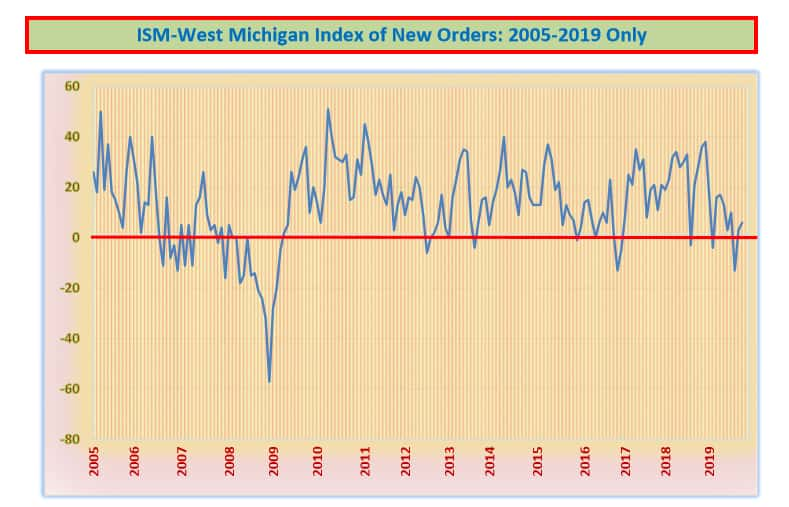 The West Michigan industrial economy continued a recent pattern of slow, marginal growth in August, but the anecdotal comments range from cautious concern to reports of all-time highs. It's the sort of month that leaves Professor Brian Long at Grand Valley State University sometimes scratching his head trying to piece it all together.
Long is the Director of Supply Chain Management Research at Grand Valley State University, and his monthly survey of manufacturers, suppliers and other vendors to industry attempts to encapsulate the mood in an ever-moving snapshot of the industrial economy.
Dr. Long say, "Although our West Michigan statistics dipped in July, the August report returned to what we termed, 'very modest growth.' For September, the growth rate improved again." Long says that according to the data collected in mid-September, his all important New Orders Index of business improvement, edged up to +6 from +3. Conversely, September's Production Index moved down to +6 from +9. Meanwhile, activity in the purchasing offices, his Purchasing Index, edged lower to -6 from +2. It's the anecdotal comments that can throw everything to the wind, with Professor Long saying that September comments from some survey participants continue to be cautious, while others are still reporting business conditions at an all-time high.
Turning his attention to the Automotive Sector in detail, Long notes that, "Although many firms reported unusually strong sales in August, the September 2nd edition of Automotive News reported a sharp drop in sales." Honda fell 14.1-percent, and both Toyota and the Nissan Group dropped 16.5-percent. Although the Detroit Three have all quit posting monthly sales figures, estimates are that September sales for General Motors were down 10.4-percent, Ford lost 11.8-percent, and Fiat-Chrysler shed 10.2-percent. Although sales for the industry were down 12.0-percent for the month, David Phillips, the Managing Editor for Automotive News, was quick to point out that the decline in industry sales for the first nine months of the year is still only 1.6-percent. He further comments: "Even though 2019 has been marked by six monthly U.S. sales declines, the toll on the industry has been relatively small, with demand slipping less than a percentage point through August. That changed in a big way in September, as the biggest Asian automakers recorded double-digit sales declines and estimates for the Detroit Three showed double-digit drops as well. Still, the seasonally adjusted annual sales rate came in at a robust 17.16 million."
Professor Long's West Michigan Pricing Index edged up to +5 from August's +4. Although the world economy continues to slow, J.P. Morgan's international Pricing index rose higher in September to 51.0 from 50.2. In most cases, the higher costs are blamed on either Brexit or the U.S. trade war with China.
Looking forward, Long reports that in September the West Michigan's Short Term Business Outlook, which asks local firms about the perception for the next three to six months, fell from +10 to an all-time low of +0. However, the September index for the Long Term Business Outlook, which queries the perception for the next three to five years, remained more stable, still edging slightly lower to +19 from +25. Almost all measures of "confidence" or "sentiment" are heavily influenced by the daily news cycle. Professor Long says, "Most recently, the stagnation of the trade talks with China have begun to take a toll on the world economic outlook, given that there is no immediate end in sight."
Turning to the jobs scene, Dr. Long notes, "After three months of pessimism, a note of encouragement comes from September's local Employment Index, which edged up to +8 from +1. Numerous recent headlines proclaimed that the national unemployment rate fell to 3.5-percent in September, a 50-year low. Even U-6, the broad-based unemployment statistic that includes marginally attached workers and discouraged job seekers, has fallen to 7.0-percent. However, the UAW strike and the apparent softening auto market has brought Michigan's August (latest month available) unemployment rate up to 4.2-percent from 3.9-percent in August 2018."
As is tradition, Dr. Long includes anonymous, anecdotal, verbatim comments from survey participants in his report to help flavor the more Borax nature of the numbers. Here are some of September's comments:
"Another slow month, after some very nice ones. Hoping to finish the year strong."
"Vendors have stocked up on most components, so lead times have dropped quite a bit. This has been very helpful for repair jobs."
"It feels like the economy is softening, although, we are still doing well."
"Auto business appears to be slowing. Sales have leveled off a bit, but still hopeful for solid Q4 for 2019."
"The GM strike creates too many unknowns at this time to plan in the near term. However, sales have been rising to Q1 levels. We will see…"
"We had a record year of construction and road projects, and are already working on the 2020 construction season."
"At this point it appears we will finish the year in double digit growth for our manufacturing business unit."
"Right now, the market is flourishing with plenty of supply. There is a huge improvement in the supply for things such as plating lead time which the industry was struggling with. Raw material availability has also improved."
"Wages are all time high due to the competition in the market for talents."
You can read Dr. Long's entire report at the link below: