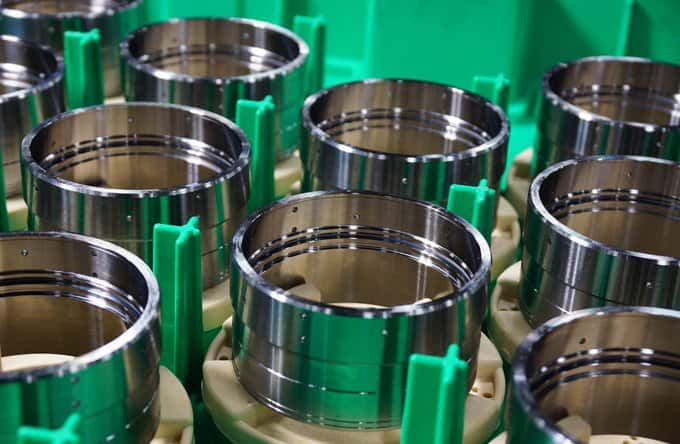 He cautioned in his report last month that "one month does not constitute a trend," and sure enough, it didn't. Grand Valley State University Professor Dr. Brian Long is out with his latest analysis of the West Michigan Industrial Economy based on input to his monthly survey as Director of Supply Chain Management Research, and he says that "marginal growth" has returned to the region after that downturn in July.
Long says, "After last month's substantial dip, the pace of the West Michigan industrial economy has returned to a very modest growth rate." Long tells us that according to the data collected in his mid-August survey, his closely-watched New Orders Index of business improvement, rebounded substantially to a +3 reading from July's -13. In a similar move, August's Production Index bounced up to +9 from -15.
Long tells us that his Purchasing Index also flipped back to +2 from a negative 6 reading a month earlier, and adds, "Anecdotal comments from our survey participants continue to be mixed, although the mood continues to drift in a more cautious direction."
Turning his attention to specific industrial markets, Long says — regarding the automotive field — "Although the Detroit Three have all decided to quit posting monthly sales figures, the remaining nameplates reported very positive sales for August." According to the September 4th edition of Automotive News, sales for the industry (without the Detroit Three) bounced up +12.2-percent in August. The industry's Seasonally Adjusted Annualized Rate came in at an estimated 16.5 million units, down from 17.1 million in August a year earlier.
Among the firms still reporting monthly, VW improved by 7.7-percent, Subaru added 7.9-percent, Hyundai-Kia gained 13.3-percent, Honda added 17.6-percent, Toyota bounced up 11.3-percent, and the Nissan Group bounced even higher adding 13.2-percent. Jeff Schuster, head of global vehicle forecasts at LMC Automotive, further notes: "Consumers continue to shake off the political and trade turbulence because the economy remains on solid, if somewhat slowing, footing. This foundation, combined with higher fleet volume in the first half of the year, will keep the industry above 17 million units for a fifth year in a row."
On the industrial inflation front, Professor Long says that his Price Index for West Michigan edged up to +4 from July's -2, and considerably higher than June's index of -13. At the national level, ISM's U.S. Price Index rose modestly to -8, up from -10.
When surveying the West Michigan industrial marketplace regarding their degree of confidence going forward, Dr. Long says this his Short-Term Business Outlook, which asks local firms about the perception for the next three to six months, tiptoed up modestly to +10 from +6. Meanwhile, the index for the Long-Term Business Outlook, which queries the perception for the next three to five years, remains more stable but edged slightly lower to +25 from +28. Just like most months, both of those indices are heavily influenced by the current news cycle. Hence, the West Michigan survey respondents apparently do not see any major shift in the current outlook.
Looking at the West Michigan Unemployment picture, Long's Employment Index for the region has been one of the stronger statistics over the past thirty months or so. However, the index has now turned decidedly flat, coming in at -1 for July and +1 for August.
Most manufacturers in the region are feeling the impact of the international trade wars to some degree or other. Professor Long writes, "For West Michigan, the impact of the trade war with China is a two-edged sword, and both sides are bad. The news media has highlighted the impact on farmers, which has resulted in falling prices for corn, soybeans, pork, and other agricultural exports. And then there is the import side of the sword. Many West Michigan industrial firms have come to rely on a wide range of industrial commodities subject to new tariffs that are driving up prices." The professor adds, "Initially, many Chinese exporters were reluctantly willing to accept lower prices in orders to retain the business relationship. Both buyers and sellers believed that the governments for both countries would soon reach an agreement, and some modified form of trade between the two countries would resume. But that was 18 months ago, and now the rhetoric has turned pessimistic."
Continuing his study of trade issues, Long tells us, "Even though trade talks have resumed, there is no concrete indication about how much longer the trade war will continue. On the selling side, our farmers are impacted by falling prices for corn and soybeans. On the buying side, the industrial firms are now being bitten by higher prices. It is noteworthy that at least some of these firms are now actively looking for sourcing outside of China. However, for China, sales to the U.S. have become a gigantic cash cow. At some point, tariffs or no tariffs, the Chinese may come to realize that they may be permanently losing business."
As is his custom, Professor Long also shares anecdotal comments verbatim in an anonymous method, and here are some from his August report, directly from participants themselves:
"We're seeing some softening in sales lately."
"Business steady and strong."
"Business is strong. The customer orders forecast is slightly lower, but we are shipping many items. Current orders are higher than forecast."
"We're cautious about the future."
"We had our best July in history this year."
"The uncertainty related to trade, tariffs, and recession is worrying our customers."
"We will be at least 10-percent above forecast for this month. We have been busy enough this summer to prevent us from building inventory going into our busy season. We are expecting a lot of overtime this fall."
"Sales feel weak in the capital equipment arena, although we are still holding our own."
"The second half rebound is underway. Our major general commodities continue to be down in prices."
"We are seeing a little softening in the market."
"Business over the next few months appears to be steady."
"We still need more machine operators, and we are having a hard time finding enough hourly workers for production."
"Things are starting to slow down a little."
"We had a good month, but it is last of a windfall project. Now it's back to business as usual."
You can see Dr. Brian Long's entire report by clicking the link below: