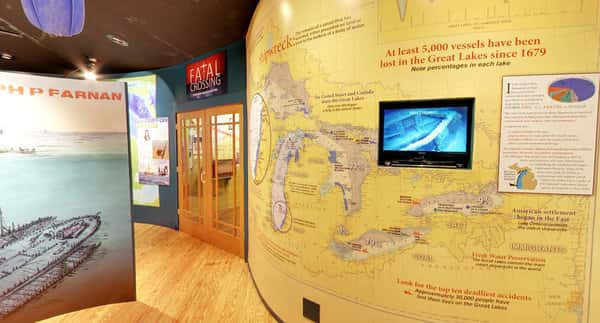 Anybody who has ever jumped from a dorm room to an apartment or condo knows the pressure. Anybody who has ever advanced from the stereotypical bachelor-pad to a single-family home can directly relate. So, when Patti Montgomery Reinert tells her tale of cramped quarters, or conjures the image of 50-lbs of sugar for a 10-lb sack…you should pretty well get the picture.
The Michigan Maritime Museum has purely and simply outgrown the space it calls home. After spending the last forty years in a building originally constructed as a temporary visitors pavilion at the Palisades Nuclear Power Plant at Cover, the museum has begun the exploratory phase and moved into the initial planning stages of replacing the old South Haven structure with a new multiple gallery exhibit facility.
Montgomery Reinert is the Executive Director of the Museum and she contends, "We've grown significantly over the past decade and our needs have far surpassed our space in so many of our day-to-day operations." She points out, "The current building was never meant to be a museum, but we have adapted it as much as possible. Our hope is to provide a new multi-functional building that will allow us to expand our education programs, adding classrooms, lecture and presentation space, as well as spacious exhibition galleries."
The new building as a museum facility would include elements necessary in proper artifact care, according to the director, "such as a controlled climate and artifact conservation area, proper lighting, as well as advanced security standards which many institutions demand in lending artifacts." Montgomery Reinert says, "These changes alone would give us the capability of becoming a year round attraction to our community and West Michigan."
Museum officials are considering a capital campaign to raise funds and have launched preliminary discussions with the City of South Haven to create a greatly expanded facility which would include a shared area. That space would provide the Museum additional areas for educational events and could also provide space for public and private assemblies.
The South Haven City Council, as part of their annual priority-setting efforts, has made a commitment to foster economic development and job creation. One of the Council's adopted priorities is to seek collaboration with the Museum to develop a capital improvement plan for the museum building.
As part of the planning process, the South Haven City Council plans to conduct an analysis to determine if the site can house a shared conference space, which could positively impact the year round local economy. As has been noted by South Haven Mayor Robert Burr, "The Michigan Maritime Museum capital improvement project has the potential to create a world-class atmosphere that would promote our city." Burr adds, "This project, if properly planned and implemented, has the potential to create a wonderful shared space that, in addition to maritime education, could host a variety of public and private gatherings." The Mayor is of the opinion that such a shared space would be very popular for business conferences, weddings, and gatherings for local groups.
While all of the buildings on the museum campus are owned by the Michigan Maritime Museum, the property itself is owned by the City of South Haven and is leased to the Museum on a long-term basis. Should the project come to fruition, a target date for completion is contemplated for the spring of 2018.
The current museum is located at the drawbridge over the Black River in South Haven, and is a 501(c)3 organization where donations are tax deductible. Learn more online by clicking the link below: